I love learning about new foods from friends. And my friend Silvia (who I met when I was working as a tech at Northwestern) has introduced me to two amazing foods that I eat VERY regularly:

1. Parmesan cheese. I know this sounds weird, but before Silvia I never liked Parmesan. Probably b/c my only experience with it had been the powdered crap from a green can (the smell still makes my stomach turn...ugh). And then one day Silvia came back from a trip home to Italy with this GIANT block of ah-may-zing Parmesan cheese. The super aged, thick-rind kind. Wow! And over time I've come to love it more and more. Although I mainly use it on pasta (see below), my favorite way to eat it is the same way she introduced me to the cheese all those years ago: with pears. This is especially odd since I didn't even like pears! (Something about their texture turns me off.) But I love Asian pears (the only pear I like) with a chunk of aged Parmesan for the most amazing snack.

2. Italian-style pasta. OK, so you may think that pasta basically means Italian style. But I'm talking about AUTHENTIC pasta, at least authentic to Silvia :) And for that there's no pasta sauce, no slow-simmered tomatoes, no tomato paste. And with only a few ingredients and a handful of minutes you'll have the most delicious pasta dish. All you'll need is olive oil, fresh tomatoes, onions, garlic, pasta, herbs and salt & pepper.

I'm sure over the years I've totally bastardized Silvia's pasta, but its always delicious.

She had taught me to use regular tomatoes (like Roma) but all I had on hand were mini heirloom tomatoes. So I used those instead.


Sautee the tomatoes with thinly sliced onions in a liberal amount of olive oil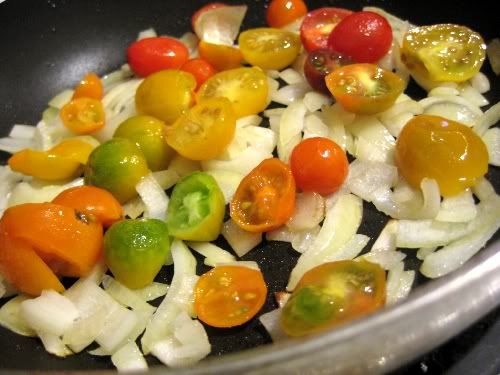 When soft, add chopped garlic
Cook until done. I threw in some spinach for some extra flavor and color.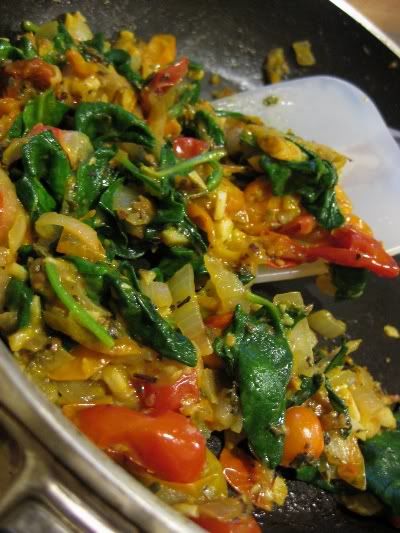 Add salt, pepper and any herbs you may want. Throw over some pasta and you're done. I decided to top this batch with cheese. (I used some Parmesan for the kick and mozzarella for the melty)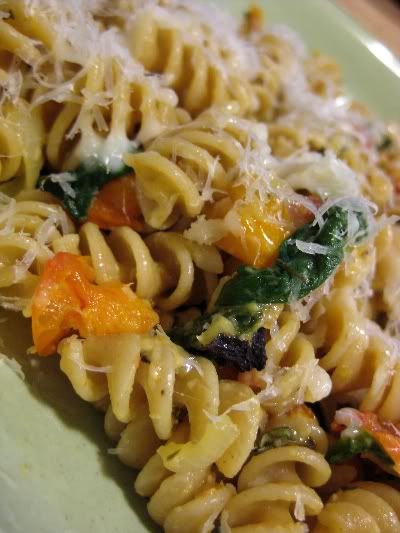 As you can see, this is not a saucy in-your-face pasta. The flavors are clean, delicate and fresh. I can see why this would be a staple in anyones house: simple, flavorful, healthy and delicious.

Thank you Silvia for introducing me to such delicious food. I still can't quite make it as good as you do- but I try. And hopefully I've done it justice.

Jackie