What does this look like to you???
If you said Lox and Cream cheese- you FAIL. But that's the first thing that comes to peoples' minds.
What would you tell me if I told you it was actually grapefruit and goat cheese?!? Look again. Can you see it?
Yes, I know it SOUNDS weird. Cheese and fruit used to sound so bizarre to me when I was younger. I even made fun of my mom one day when she told me of how they used to eat watermelon with a hard white cheese (like brick or provolone) on hot days back home (in Iraq). But now that I'm older I realize people always pair up fruit and cheese- and its considered fancy shmancy. (Haha, I wonder what my mom would say to them). Blue cheese + cranberries (and walnuts in the ever so popular salad), Parmesan + pears (I LOVE this combo), etc.
But when I first heard about grapefruit and goat cheese it just sounded sooooo weird. The bitterness of grapefruit with the creamy and tart goat cheese?!? But surprisingly the flavors work together amazingly. The first (and only) time I'd seen this combo was at the Mayo Reserve tasting room in Sonoma where they do wine and food pairings. And by food I mean bite-sized snacks. Its a great way though to get little bites of unique flavors (plus delicious wine for only $25. At the reserve they served the dish as a little bite of foccacia bread with goat cheese, grapefruit, fresh dill and fennel (I think it was sliced super thin and left raw but I can't fully remember). It was, in addition to the dessert, the best thing I had that day. Ah-may-ZING!
The best part about it though was that its super simple to re-create at home. And I love bringing this to parties, BBQs, etc. Its easy to prepare everything in advance and set-up on site. Plus its so unique people love it.
I recently created my ghetto-fied version of this for my cake club meeting. And I decided to photo the process to give you ideas for your next party. Wanna see??


Prep the grapefruit. I freaking love grapefruit more and more as I get older. As a kid my dad would serve it with a little dish of sugar to dunk the slices in. But I actually prefer it au natural now.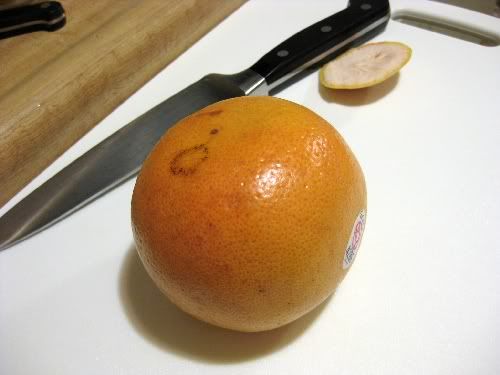 Segment the grapefruit. This step is literally the most time consuming- and it doesn't really take that long! You do this by slicing the skin off. Make sure you cut off everything to expose the sweet, juicy flesh. (Oh man, that sounds dirty.)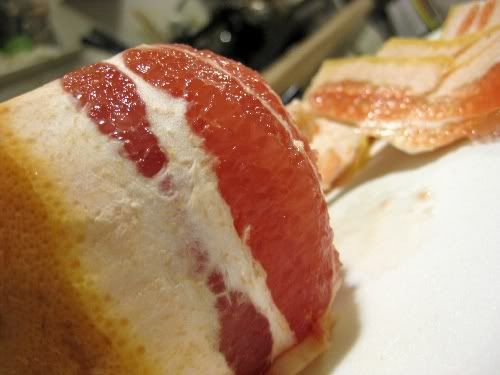 Then you cut out each wedge until you have a nice nekked grapefruit slice



Now its time to assemble. Spread goat cheese on a slice of bread. It is really best on foccacia, but this Italian loaf worked well.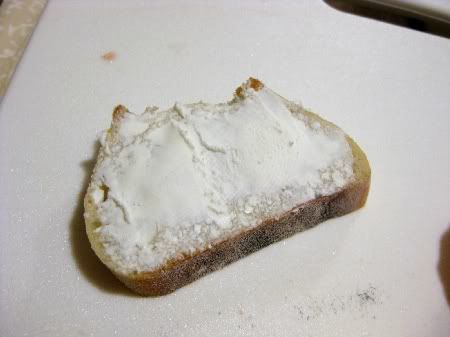 Sprinkle with some dried or fresh dill
Place a part of grapefruit wedge on the bread. Top with more dill for a splash of color.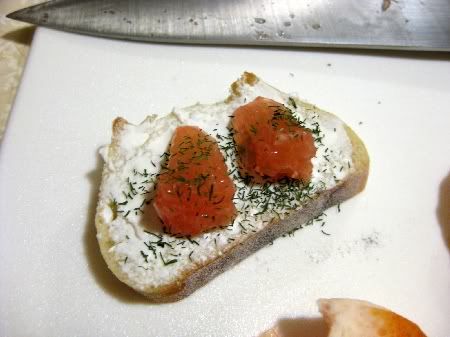 This bread was a bit larger so I cut it in half for two pop-in-your-mouth pieces. I ate both.

Of course it would be great to fully replicate the original recipe and top with thinly sliced fennel, but other than a little bit of crunch I didn't notice an appreciable difference in flavor with the fennel. So for ease I just keep it simple.

If you're planning on taking these somewhere else or prepping the day before a party I wouldn't fully assemble them. Just place the bread in one container (layers separated with wax paper to prevent cheese transfer) and the grapefruit slices in the other container. Then just assemble it later.



Do not eat all the grapefruit. I repeat, DO NOT eat all the grapefruit. But, please make sure to drink all the delicious juice that's left at the bottom of your container after assembling the dish. Fresh-squeezed grapefruit juice may just be my favorite...

Jackie