Back in June I was invited to a joint b-day celebration for Kelsey and Quintin, two friends who also happen to be dating. I had just recently defended my thesis and hadn't done ANYTHING for a long time (minimal cooking, no cake decorating). So I figured I'd give myself an excuse to do some fun decorating and surprise them with a birthday cake!

The only question was: how to decorate the cake? They're both into physical activities (running, biking, swimming, etc) but wanted to do something ELSE. And then it hit me, Kelsey loves astrology and I knew they were both Gemini. So I decided on an astrology cake.

I didn't have toooo much time so I kept things fairly simple. In advance I made astrology symbols out of fondant (yes, I made them all) and Stacey and I molded the Gemini twins (in the likeness of Kelsey and Quintin!) to place on top of the cake. After assembling the cake I just "spray painted" it blue and slapped on the decorations.

So here's the final cake (sorry about the blurry photos, my camera battery died ~1 minute after I snapped a few photos) You can see a few of the astrology symbols I made, they span the entire side of the cake.



Top view. (For all you math nerds out there the Pi symbol is actually the sign for Gemini.)



The cute Gemini couple. Can you tell the difference between the female figurine Stacey made vs. the male one I did. Yea, sculpting is NOT my forte. But I was happy to have captured Quintin's 6-pack and runner legs :)



The happy (and surprised) couple with their cake



Looks perfect on their center table!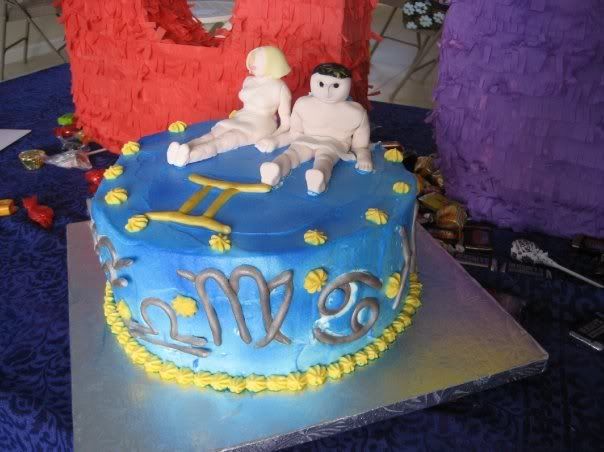 And check out the inside. Strawberries and cream... YUM!



Jackie