Grilled food = pure deliciousness. I think that's because it's such a primal desire to stick your food directly onto fire and eat it. (Don't be surprised if you ever hear me grunt with pleasure after eating a piece of perfectly grilled steak- that's just my inner cavegirl coming out.) And while grilled meat is pure heaven, grilled veggies are insanely good too. I think its a combination of the char + slight dehydration the veggies undergo that enhances/concentrates their flavors. mmmmmmmmmm.

Two veggies I love to grill are mushrooms and zucchini. While at the Milk Pail this weekend I bought this GIANT portobello mushroom cap. I mean just look at this thing- it's as big as my head! But just because it's mutant doesn't mean I won't eat it...



To grill it I usually just brush with olive oil, sprinkle with salt and pepper and grill until done. I often eat it by itself but my labmate Liz gave me a great suggestion: make a mushroom sandwich with goat cheese and grilled yellow and red peppers. I'm sad I didn't think of this earlier…

Another example of grilled awesomeness is zucchini. Grilling zucchini is hands-down my favorite way to prepare it. Sure, you could stuff it or roast it and it'll be good. But remember, grilled food = pure deliciousness. So if you want it PURELY delicious get your grills ready!

Slice the zucchini into fairly-thick slices (1/4-1/2").


Again, brush with olive oil and coat with salt (preferably kosher salt) and coarsely ground black pepper. Then arrange them on your grill (it doesn't hurt to make them look purty). My grill isn't giant but it only took 4 zucchini to fill up the grate.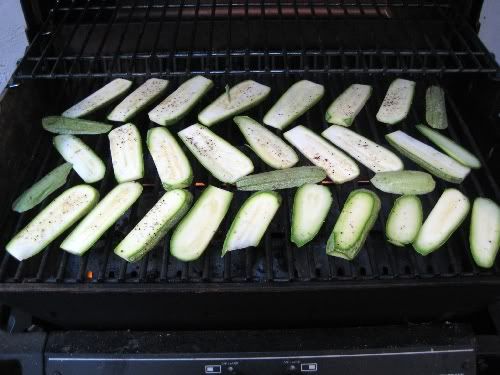 Then close the lid (heat should be on medium or medium low) and let them cook for about 5-10 minutes. The less charred you like them the longer they should cook on a lower temp.

After they've got nice grill marks go ahead and flip them all over. They're usually done after another 5 or so minutes (depending on how thick you cut them).



And that's it! The quickest and deliciousest way to cooked zucchini.

Unfortunately, I did had some grilling casualties... but that's to be expected. I see it as my sacrifice to the grill god.



But just look at how amazing they look. They're soft yet smokey and fall-apart tender. I really don't know if I can cook zucchini any other way anymore…


Jackie