Yes, I know it's been a while since my last post. Bah, I've been bad! But I was gone home for 2 solid weeks and taking care of back-logged posts before/after I left wasn't on the top of my list of things to do. But the recipes are starting to pile up (some I did months ago!) so I promise I'll be more consistent with writing them up. Plus, I'm excited to share with you guys the new toys I bought for taking pictures. Next time though...next time.

I was trying to figure out which post would be my "come-back" one and I settled on something I did back in Chicago with my little cousin. Why? Because I'm always homesick after seeing my friends/family back home so it'll be a fun way of re-living a good night.

As you can see, Melanie and I decided to make sliders.


Don't they look scrumptulescent?? And yes, the "burgers" tasted as good as they looked. But you may ask yourself, "why is Jackie using quotation marks around the word burger??"
Well, you'll have to click to


As you'll see, our burgers aren't really burgers but plain old cake. Yes, I said cake! Muuuaahhahahaha, I'm tricky like that.

You see, I was at my aunt's house and I saw Melanie starting to make pancakes one night. I asked her what she was doing and she said "It's my friend's birthday tomorrow, and we always make cupcakes or pancakes and bring them to school for each other." And just as she was about to add the liquids to her fancy pancake mix I literally yelled out "WAIT!!! I just saw this post online about these cute cupcakes and I've been wanting to make them... let's do that instead!"

So we raided my aunt's pantry and found that she had everything we needed, except for frosting. After a quick trip to Jewel we were set.

Step 1: Bake yellow cupcakes for the buns and chocolate cake (in a regular pan) for the burgers. [The original ones used brownies; I've also seen chocolate rice krispie treats used as well- whatever you want to use is fine.]

Step 2: Cut the chocolate cake into circles. My aunt has basically NO cooking supplies, so we improvised with a plastic cup from the Medieval Times. A few little taps and the cake pops right out!


(p.s. Ignore the big black spot on my left eye-ball. I blame it on my uncle's old camera we had to use to document the process... you know, for the blog!)



Step 3: Cut the cupcakes in half, horizontally (do the same for the chocolate cake if the "burger" is too thick).

Step 4: Assembly. Are you ready to assemble?!?



Melanie is!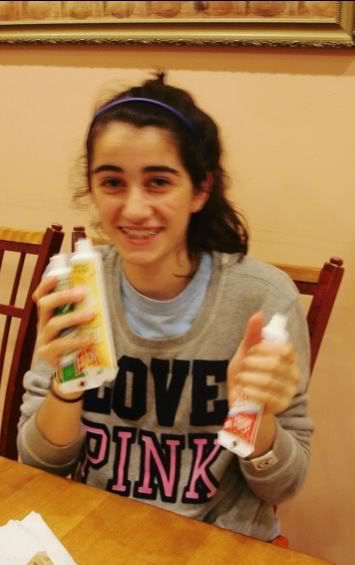 If I was at home I'd just color my own frosting. But like I said before, my aunt had basically nothing, so we just got the pre-colored stuff. Made life easier but they didn't taste all that great...

Anyways, assemble the sliders like this:



Make sure to really put the frosting all the way at the edge of the burger. Otherwise you won't see the lettuce, ketchup or mustard once you put the cupcake top on.

They may seem done but you've got one more teeny step. Use your finger to wet the "top bun" and sprinkle with a few sesame seeds.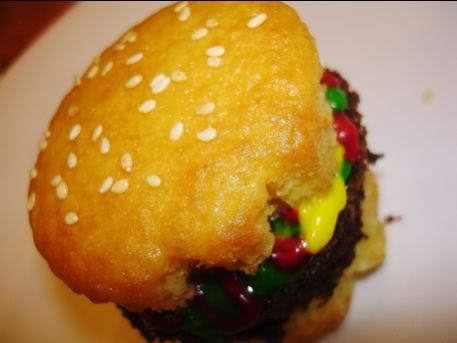 This step may not seem like much but TRUST ME, the sesame seeds are ESSENTIAL! The second you put them on, the cake instantly transforms itself into a burger right before your eyes. (Hot tip: You could turn these into cheeseburgers by using some colored fondant or a rolled-out orange starburst.)



We even made a double-decker
And viola! That's how you make a cake slider.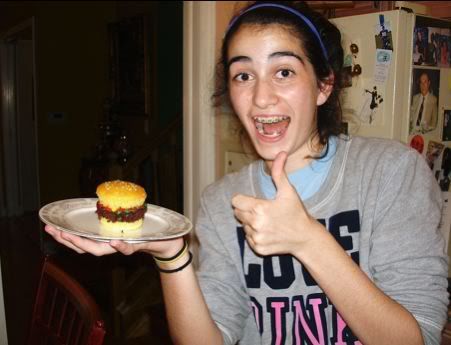 So how do they taste??
Let's see...



They're pretty big (but its OK, I have a big mouth.)
mmmmmmmmmm, delicious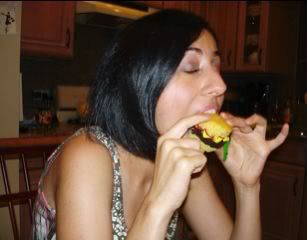 Melanie approves!
Even my aunt is getting in on the craze!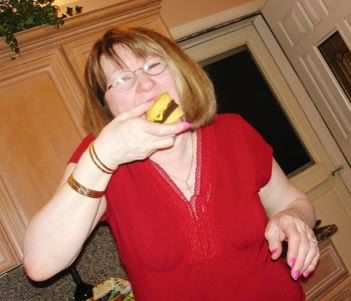 Verdict: So much fun!!! I loved them, the kids loved them (I had a bunch of cousins in town) and more importantly Melanie's friend loved them. Her first thought when she saw the tray was actually: "Why did Melanie bring me burgers?!?"

Now that's SUCCESS!!!

Jackie