This b-day cake was made for a graduate student that just joined my lab. What she wanted was a shoe box cake with a gumpaste shoe, kind of like this. But was VERY particular about EXACTLY what she wanted (shoe shape, color, logo etc). We even had an hour long meeting to go over all the details. To be honest I was a bit worried making this cake because I knew she had a vision in her head and I really wanted the cake to live up to her desires. Luckily it did...

Here's a little teaser of the bejeweled shoe with (rock candy) crystals.

Sadly I don't have process photos from the shoe construction, partly because I quasi made it up as I went along. (I used the book
Confetti Cakes
for detailed suggestions about how to go about constructing the cake/shoe, although I modified certain things for my needs.) But luckily I have all the cake photos after the jump!
Since the cake was for a pool party we wanted to go with something light. Yellow cake with strawberries and cream was the final verdict (for the recipes, you'll have to wait a few days until I make my "yellow cake throwdown" post)

First the cake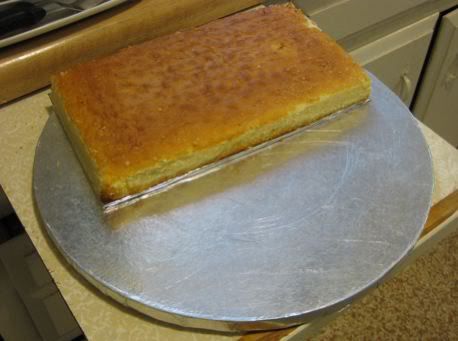 Then a thin layer of whipped cream



Next comes the chopped strawberries



And finally a healthy dose of ghetto "pastry cream" (3 oz pudding mix + 1.5 cups milk. Mix until thick. Fold in a half container cool whip + some extra whipped cream)



Repeat until all your layers are done. Then coat the whole thing in a layer of whipped cream frosting.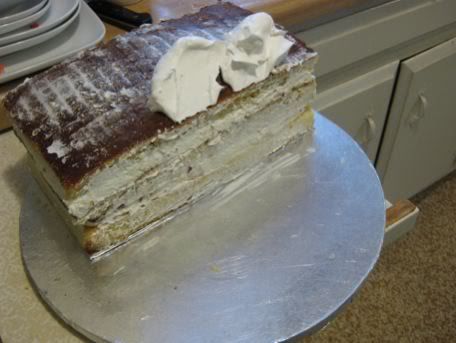 Once you've spent wayyyyy too long trying to get it perfectly smooth (and realizing in the meantime that your cake is super crooked), add the fondant stripes. The dowel is going to hold up the shoe box lid (which is ACTUALLY a shoe box lid covered in frosting ;)



See how nicely the lid sits on the cake??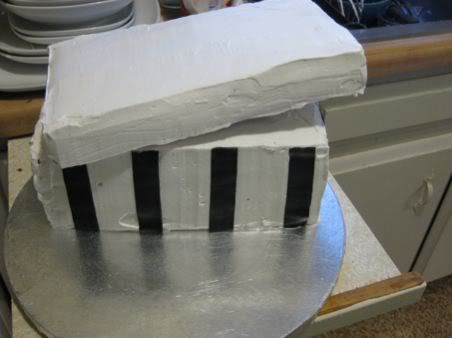 To make sure the lid didn't slide I taped some fondant on the underside of it and shaped it around the wooden dowel.



Once you add all the decorations (gumpaste tissue paper, lid decoration, shoe) it's all complete! (drumroll please...)



Side view of the cake



Shoe closeup!



Another shoe shot. She specifically wanted the shoe to say "size 11" (even though in reality the shoe was based on my size 8 foot)



Just look how excited Betty is with her new shoe!



I have to admit, I wasn't 100% pleased with the whipped cream frosting (couldn't easily get it smooth and straight enough). Yes, I know, I'm super anal and critical of my own work. But I was actually very proud of the shoe (see, I CAN be happy with my work... but only when I know its as good as I could have made it). It looked so real and was even better than the picture I was working from. Plus the birthday girl LOVED it, so I couldn't be more pleased.

Jackie