Have you ever gone to a restaurant and gotten chicken marsala and just ohhhh and ahhhh with how delicious it is? Well, I can practically guarantee to you this recipe is going to be BETTER than anything you've had before. Seriously, it's amazing!!

As usual, it's from Cooks Illustrated (I swear, they pay me nothing to plug them.) I followed the recipe basically as is, except I didn't use any pancetta and I replaced the button mushrooms with crimini mushrooms. I may have also cut down a bit on the butter (because sadly my ass loves butter just as much as I do), but it was still mouth watering. Serve this with some mashed potatoes and a veggie and you can single-handedly put any restaurant to shame!


Want to make this at home?


Floured chicken in the skillet. I think it'd probably be best with a stainless steel skillet but I don't have one (yet ANOTHER thing on my kitchen wish-list).



While the chicken is cooking, prep the mushrooms, garlic and marsala wine.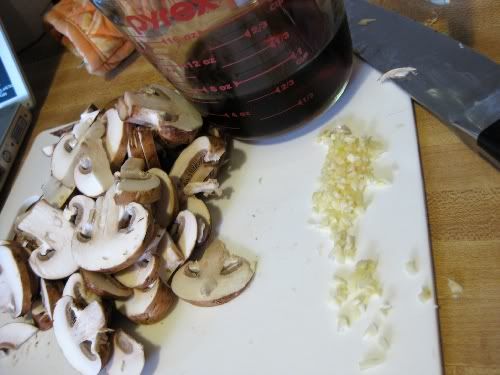 Time to flip the chicken. See the color on that? Delicious!



Chicken out, mushrooms in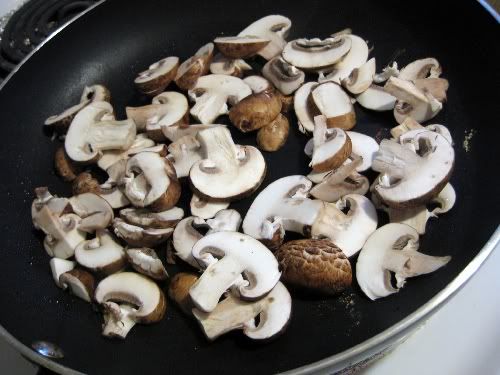 You have to get them nice and dark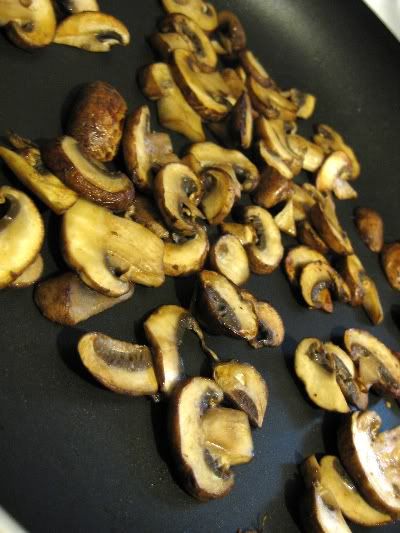 Letting the marsala wine reduce into sweet goodness.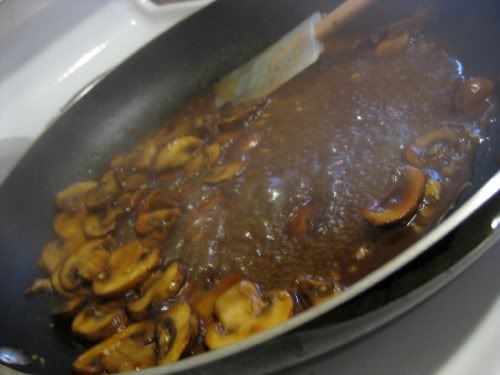 Just pour the mushrooms and sauce over the chicken and that's it, you're done! It's ridiculously simple and ridiculously good.

Bonus extreme food closeup!


Jackie

Chicken Marsala

Serves 4. Prep time: 15 minutes. Total time: 50 minutes.

Ingredients

4 boneless, skinless chicken breasts (about 5 ounces each)
1/2 cup unbleached all-purpose flour
table salt
ground black pepper
3 tablespoons vegetable oil
2 1/2 ounces pancetta (about 3 slices), cut into pieces 1 inch long and 1/8 inch wide
8 ounces white mushrooms , sliced (about 2 cups)
1 medium clove garlic , minced (about 1 teaspoon)
1 teaspoon tomato paste
1 1/2 cups marsala wine (sweet)
1 1/2 tablespoons lemon juice from 1 small lemon
3 tablespoons unsalted butter cut into 4 pieces, softened
2 tablespoons chopped fresh parsley leaves

Instructions

1. Adjust oven rack to lower-middle position, place large heatproof dinner plate on oven rack, and heat oven to 200 degrees. Heat 12-inch heavy-bottomed skillet over medium-high heat until very hot (you can hold your hand 2 inches above pan surface for 3 to 4 seconds), about 3 minutes.

2. Pound the thicker ends of the breasts if needed and pat chicken breasts dry. Meanwhile, place flour in shallow baking dish or pie plate. Season both sides of chicken cutlets with salt and pepper; working one piece at a time, coat both sides with flour. Lift breast from tapered end and shake to remove excess flour; set aside.

3. Add oil to hot skillet and heat until shimmering. Place floured cutlets in single layer in skillet and cook until golden brown, about 3-4 minutes. Using tongs, flip cutlets and cook on second side until golden brown and meat feels firm when pressed with finger, about 3-4 minutes longer. Transfer chicken to heated plate and return plate to oven.

4. Return skillet to low heat and add pancetta; sauté, stirring occasionally and scraping pan bottom to loosen browned bits until pancetta is brown and crisp, about 4 minutes. With slotted spoon, transfer pancetta to paper towel--lined plate. Add mushrooms and increase heat to medium-high; sauté, stirring occasionally and scraping pan bottom, until liquid released by mushrooms evaporates and mushrooms begin to brown, about 8 minutes.

5. Add garlic, tomato paste, and cooked pancetta; sauté while stirring until tomato paste begins to brown, about 1 minute. Off heat, add Marsala; return pan to high heat and simmer vigorously, scraping browned bits from pan bottom, until sauce is slightly syrupy and reduced to about 1 1/4 cups, about 5 minutes. Off heat, add lemon juice and any accumulated juices from chicken; whisk in butter 1 tablespoon at a time. Season to taste with salt and pepper, and stir in parsley. Pour sauce over chicken and serve immediately.