Last month I got an e mail from our to-be Cancer Biology administrator with the subject: "Big favor to ask..."

Favor from me?!? What could she possibly need? Hopefully I didn't forget to fill out some form required for graduation! Crap, I always forget stuff like that. Let's see what she wants:

"Hi Jackie,

As you know Dali [our current cancer biology admin] is leaving soon and we are planning to have a going away party for her. A lot of people have requested if you could do a cake for her. Could you please let me know if this is possible?"

Wow, my cakes are getting popular around here, people are asking for me BY NAME! :) It's not too surprising since I'd made Dali's baby shower cake less than a year before but it was still nice to be asked.

I instantly had a general idea of what I wanted to make. Dali and her family were leaving for France, so I'd make a big 'ole sheet cake representing a map. I'd have the Stanford tower on a map of the US and the Eiffel tower on a map of France. Then I'd make a plane (traveling along a dotted route) showing their trip from Stanford to Lyon. Finally, I'd have the family in France waving to everyone.

And that's exactly what I did. I was quite happy with how it came out. It looked pretty lame without the decorations but the second you added all the structures it came to life.

Here's the family with their (ginormous) cake. Yea, apparently I made enough cake to feed 100+ people, not 60. I'm so bad with estimating this stuff...


Want to see all the details?!


So I decided to make six 9x13 cakes (box mix- I had no kind of budget/time/energy to make it from scratch). Lookie all the eggs that went into these cakes!



OK, time to assemble the cakes. I had 2 orange-rum cakes on the left, 1 yellow + 1 chocolate cake in the middle, and 2 chocolate cakes on the right to appease all flavor palettes.



In between the cakes was my Italian Meringue Buttercream. How much buttercream did I make? Well, lets just say I used ~3 lb of butter, over 4 cups of sugar and ~20 egg whites (reconstituted powdered whites). Sounds like a lot, but it was a serious amount of cake. Plus I needed plenty to cover the top/sides of the giant thing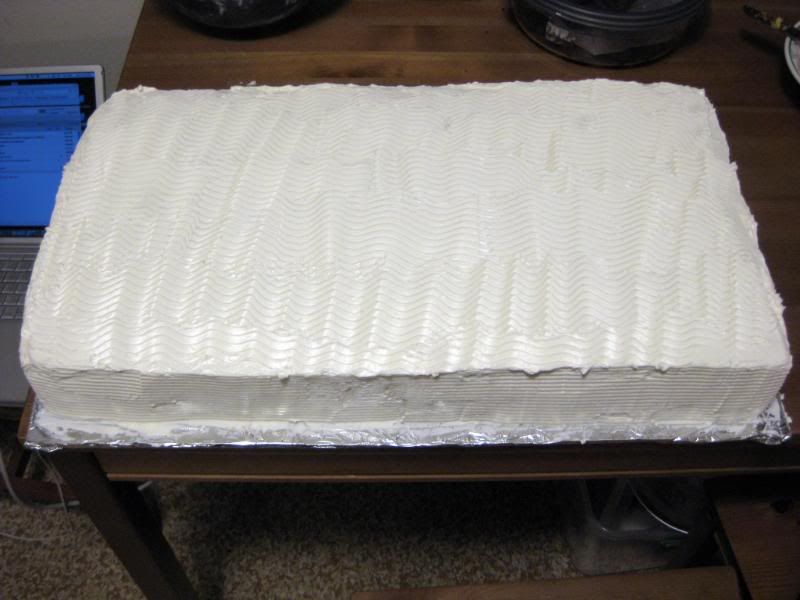 Like my wavy pattern on top?!? It's gonna be the ocean (yea for not having to worry about making the frosting on such a giant cake smooth). And FYI, I love cake decorating gadgets that are based upon spackling gadgets! Just check out sides of the cake.



So, how to highlight the ocean waves? Well, I put the cake in the fridge to harden up at this point. After it was hard I sprayed it with blue cake-coloring. Then I colored piping gel blue (piping gel is made of sugar but literally looks/feels a lot like cheap hair gel) and spread it over the top. What ended up happening is that the gel got into the grooves of the waves and my spreader scraped the tops of the waves causing a nice blue/white contrast to mimic water. I was pretty happy with how it turned out but probably could have used more gel to make the water more uniform.


See the details?


After that all I had to place on the cake was the writing and maps. All the figurines (plane, towers, family) were made a few days in advance and were placed on top of the cake on site.

Time for a ridiculous amount of photos! Are you ready?!

Top view

Wonder what that little white rectangle in the right hand corner of the cake says?!?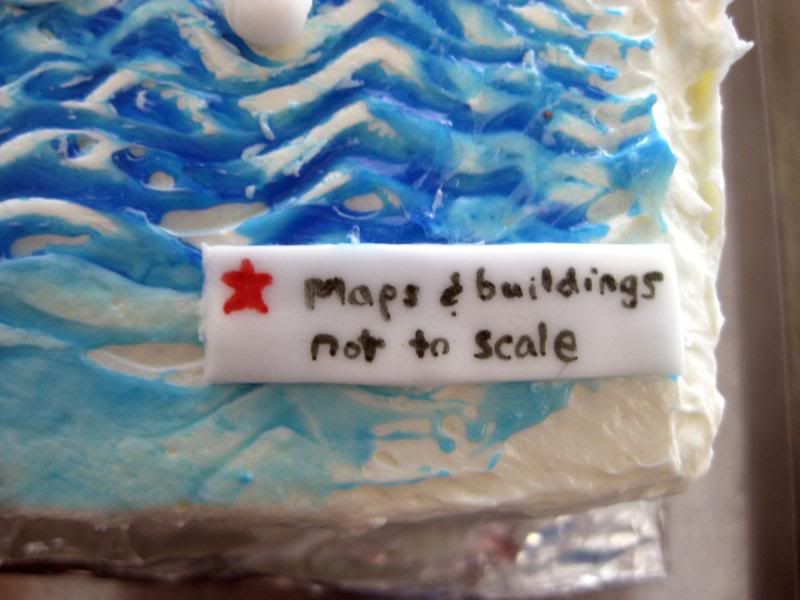 Yea, I'm nerdy like that. :)

Stanford tower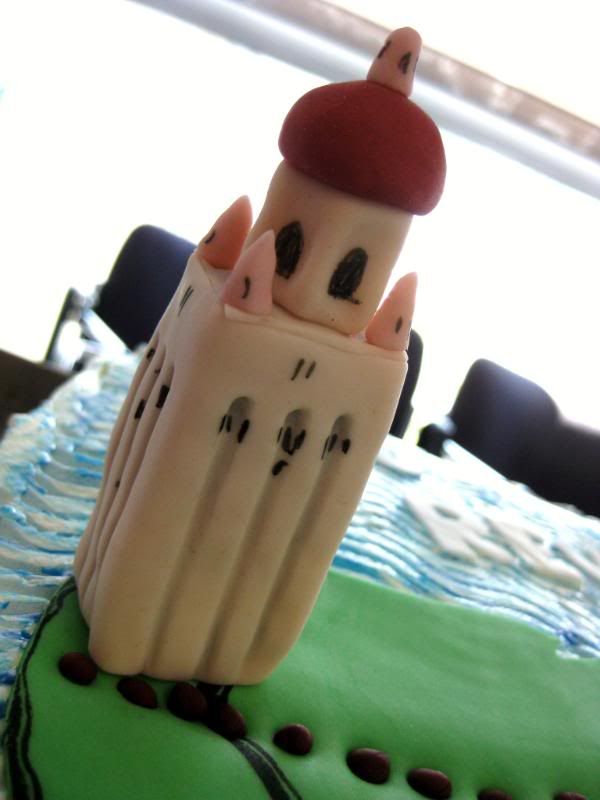 Eiffel tower

Da plane, da plane!! (Thanks Stacey for helping out on the plane. Didn't she do an amazing job?! I love the Air France touch.)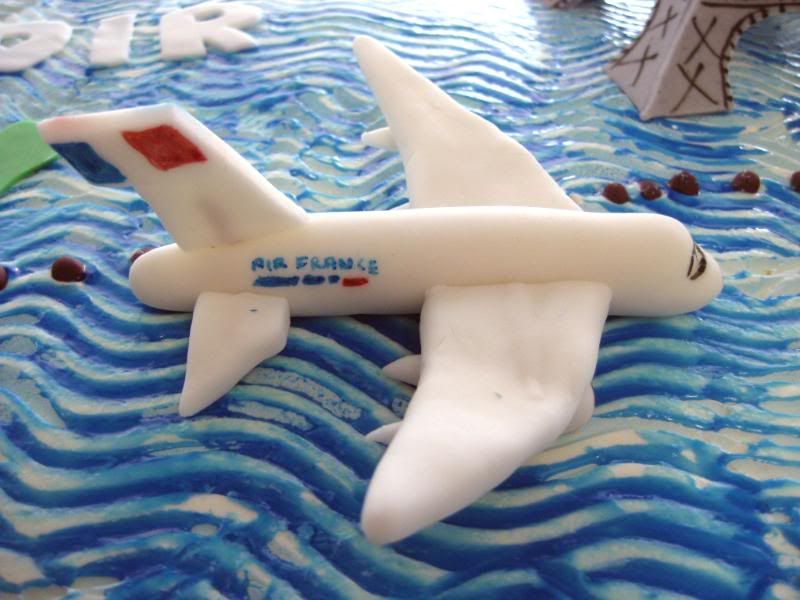 Front view of the plane. What attention to detail.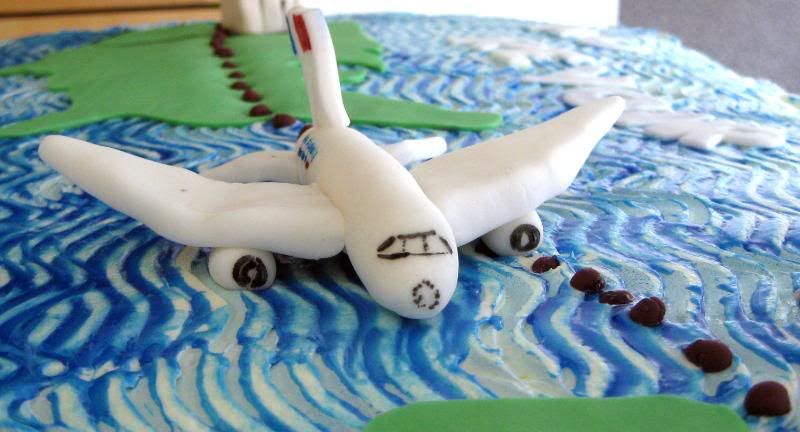 And finally, the family waving happily from France.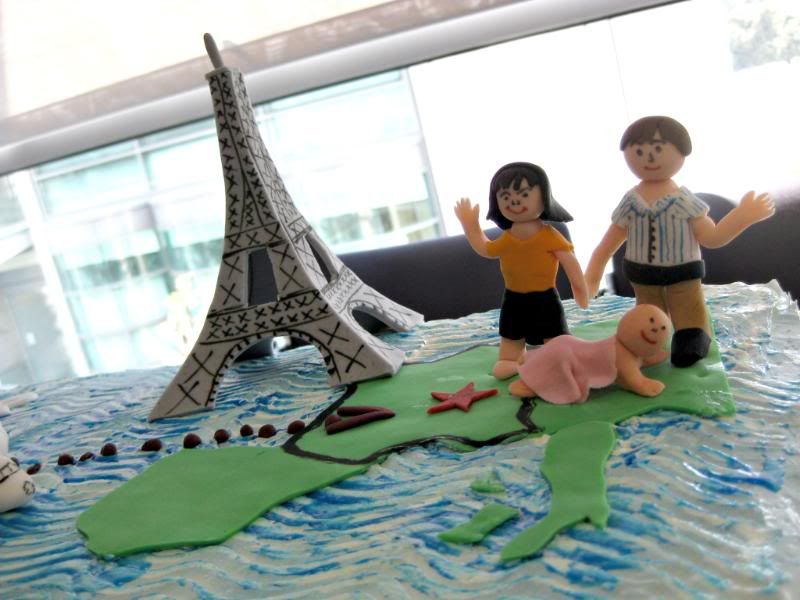 I think I did a pretty damn good job on Stephane's figurine. Look, he's even wearing a blue stripey shirt! :) (Go back and check out the first picture)

Needless to say it was a success. I love the reactions people have to my cakes and this one was no exception. Dali was ridiculously grateful (as always) and everyone had a great time finding all the fun little details on the cake.

And hopefully the next time I make a cake for 60 people I don't decide to be an idiot and bake 6 cakes (really Jackie, 10 people per 9x13 cake?!? What the hell was I thinking???)

Jackie