I'm not much of a sweet person. Wait, let me re-state that: I'm not much of a sweet person as far as my proclivity for sweets, I myself am quite sweet :)

When it comes to desserts I much prefer them fat-ass than sweet. Anything with copious amounts of cream or butter with a hint of sugar is my kinda dessert! Pastries and ice cream are my weakness. Especially ice cream in the summer time- I want to eat it every single day.

So while Ruth and Veronica were hanging out with Stacey and I we all decided to make some ice cream. I'd seen this recipe for Rainier cherry ice cream a few days prior so figured that would be great to make. Unfortunately, it required pre-freezing the cherries, which I hadn't done. But luckily Stacey had some frozen cherries from TJ in the freezer (not Rainier though...) so we went ahead and just used those instead.



(Note: Sadly I can't find the link to credit the original cook. But I'm posting a slightly modified version of the recipe, along with notes from the original. I also didn't have any white chocolate, but I'm keeping it in the recipe if you want to add it yourself.)

1 pint Rainier cherries
1 tablespoon lemon juice
1/4 cup sugar
1 oz. gourmet white chocolate, chilled for easy grating (Ghirardelli Sublime White Vanilla Dream White Chocolate With Vanilla Beans is supposedly the best- according to the original blogger)
1 cup milk
1/2 cup sugar
2 cups heavy cream
1 teaspoon vanilla extract

1. The day before: Clean and pit the cherries, then freeze them whole or halved, at least overnight. (This step helps break down the cherries so they don't freeze as solid pieces during the ice cream making process.) If you don't want to wait a day, just use pre-frozen cherries.

Also remember to stick your ice cream maker in the freezer. Stacey likes to keep it in the freezer at all times, because you just never know when you're gonna need to whip up some ice cream!

2. Thaw the cherries and dice into small pieces. Place in medium bowl (along with any cherry juice guts) and stir in 1 tablespoon lemon juice and 1/4 cup sugar. Allow cherries to macerate for about half an hour, stirring occasionally.

3. Grate the chilled white chocolate into a small bowl with a very fine grater. Cover the bowl with plastic wrap and put it in the refrigerator. (Chilling it helps prevent melting during the grating process.)

4. Pour 1 cup milk into a large bowl. Whisk in 1/2 cup sugar. Add 2 cups heavy cream and whisk until combined. Whisk in 1 teaspoon vanilla extract. Carefully pour off just the juices from the Rainier cherries into the large bowl and whisk to combine.

5. Turn ice cream machine on.

6. Carefully add the grated white chocolate in small amounts to the milk mixture, whisking rapidly to keep the bits suspended. As soon as the last of the chocolate is mixed in, pour the milk mixture into the ice cream machine.

7. Freeze in the ice cream machine for 20 minutes. Add Rainier cherries and freeze for another 5 minutes. Transfer to container and place in freezer. Freeze at least overnight before serving.

Final verdict: the ice cream was super creamy, almost TOO creamy, but I think part of the problem was that we ate it right away (and didn't let it sit overnight to harden up). Plus the cherry flavor as a bit weak (but that may have been because the frozen TJ cherries just don't have much flavor to begin with...) Quite delicious though, I'd definitely try it again with fresh cherries.

And just to make you drool some more, we ate the ice cream with some left-over cake, which made a great accompaniment to the ice cream.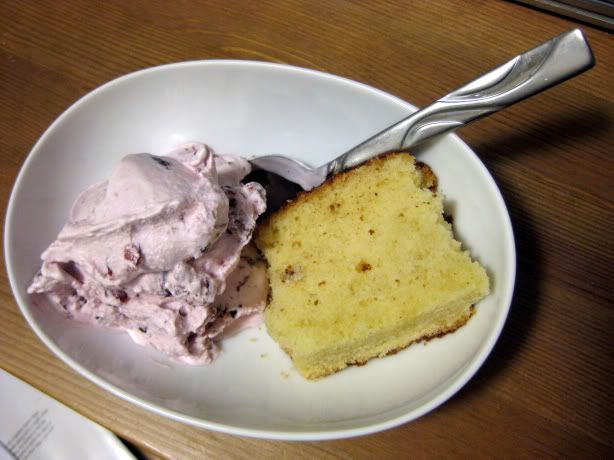 Jackie