I love me some mac 'n cheese. I used to always have a box of it in my cabinet for those nights where I'm ridiculously lazy and don't want to cook anything. But I feel in my older age I should start to stay away from overly processed foods, so I don't even buy it anymore (to avoid any temptation). But whats a girl to do when a craving for mac 'n cheese hits?!?

I'm sure there are some awesome macaroni and cheese recipes out there (I haven't really tried that many) but I wanted a recipe that would be super simple and super quick. And luckily I found this recipe in one of the cooking communities on livejournal.com. It's basically just a simple bechamel sauce with added cheese.

I finally had a chance to try out this recipe and I couldn't believe how easy and freaking delicious it was. Seriously easy (maybe 15 minutes max from start to finish) and soooooooo good. And although its probably also not super good for you, I can feel better about the fact that I just didn't consume 39,493 weird chemicals in one sitting. So that makes it "healthy" in my book!

I took lots of pictures of the process so you can see exactly what the sauce will look like at various stages. But to be honest, it was my first time attempting the sauce as well, so I can't say I did it 100% correctly either. But whatever, it turned out awesome so I'm sure it's a pretty forgiving recipe.

These are gonna be the two main ingredients of the dish (along with pasta of course). Why do broccoli and cheese go sooo well together?!? I'll never figure it out.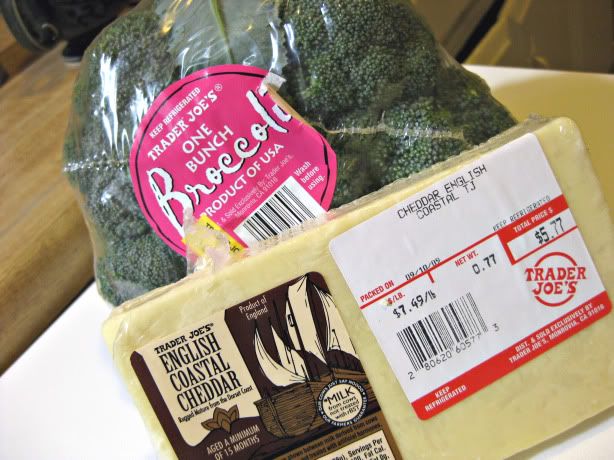 All you need for this recipe is butter, flour, milk and cheese (although I'll be adding a side of veggies). How simple is that?



Melt the butter in a pan on medium low heat. You'll be doing a lot of whisking so a non non-stick pan is ideal (yea for confusing double negatives!)



Add in equal portion flour and start whisking. This is what it looks like when you first add the flour.



Now keep whisking constantly (err on the side of caution and never stop whisking this sauce) for about 5-10 minutes, enough time to "cook" the flour (to remove the raw flour flavor). This is your roux. See how different it looks after a while?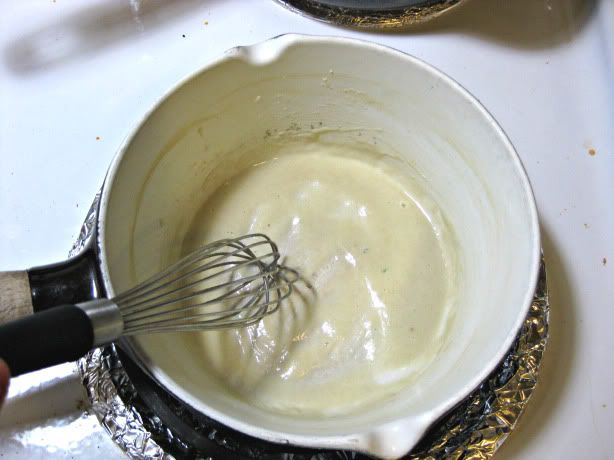 Now add a bit of the milk while stirring. It thickened up SUPER fast on me (handful of seconds). I'm not sure if this was supposed to happen, but it all got fixed in the end.



Add the rest of the milk and turn the heat up a bit to medium. Remember- KEEP WHISKING to work in any clumps that formed during the last step.



After a few minutes your milk sauce will look nice and creamy. See how its already pretty thick?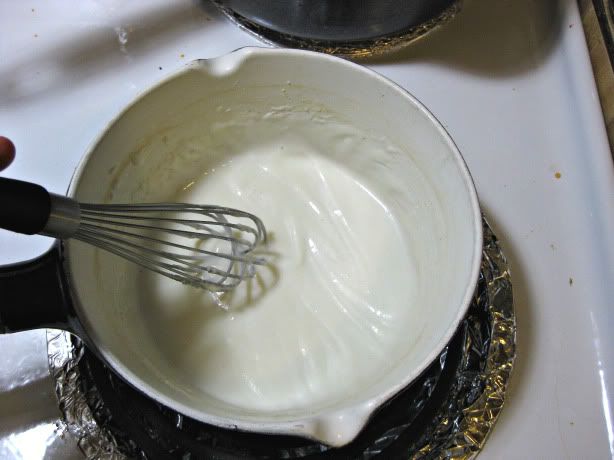 This is the point were you start to add your cheese. Again, keep the sauce moving and whisk whisk whisk. You don't want your sauce to overheat and break.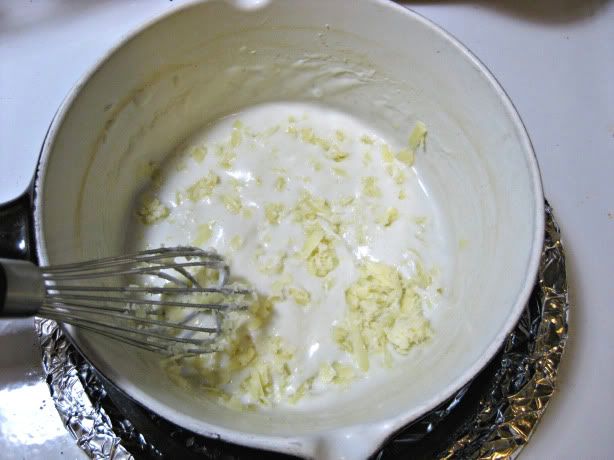 Here I added some nutmeg to the sauce. I don't know if it made much different, but I always see them add nutmeg to cheese/white sauces on cooking shows so I figured I'd do the same.



The sauce will be thickened but not super duper thick. Look how awesomely smooth it is!



Just pour it over your pasta of choice (I like whole wheat... you know, to make it healthy!)



And serve with a veggie to make it super healthy ;)



The pasta was ridiculously good and creamy, but not out-of-control creamy like an Alfredo sauce. And I got 2 servings out of my recipe so I'm sure it wasn't toooo bad for me. (Technically I could have eaten the whole thing in one sitting but I had to control myself.)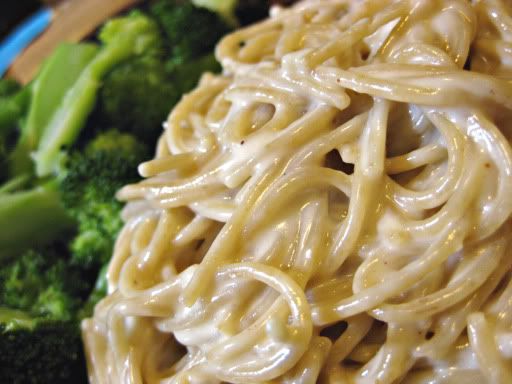 So if you like mac and cheese, you seriously need to try this dish. You may never go back to the orange stuff again...

Jackie

Cheese sauce recipe, serves "2"

1 TBSP butter
1 TBSP flour
1/2 cup milk
1/4- 1/2 cup cheese (I used a healthy 1/2 cup- I love me some cheese)
Salt to taste (I didn't add any, the cheddar was salty enough for me)
various add-ins (optional)

1. Start up a saucepan over med-low heat and melt the butter.

2. Add in flour and start whisking to combine.

3. Keep whisking for about 5-10 minutes. If you stop whisking for too long, the sauce will break and and you'll have to start over.

4. Whisk in about 1/3 of the milk and let it come back up to temperature.

5. Whisk in the rest of the milk and crank the heat up to medium.

6. Whisk for 2 minutes, then add in your cheese and whisk. Continue whisking until your whisk leaves trails in the sauce (few more minutes, maybe even less).

Ideas on recipe variations I read about:

* 1/4 to 1/2 cup sharp cheddar, dash of tabasco and worch. sauce for stovetop mac & cheese.
* 1/4 to 1/2 cup white cheddar to serve over shell pasta with a sliced grilled chicken breast for a gourmet take on mac & cheese
* 1/4 cup Parmesan cheese, oregano and lots of fresh ground pepper for a poor-man's Alfredo that's heaps healthier than its heavy cream based analogue
* 1/4 to 1/2 cup jack cheese with diced chilies to give your cheesesteaks a southwestern flavor
* 1/4 to 1/2 cup mild cheddar with a dash of chipotle tabasco over chips topped with either fresh salsa or mixed with spicy chili for some kickin' nachos.