Restaurant blogging today!

You've probably heard of soul food, but have you heard of Sol Food? It's a restaurant in San Raphael (just north of the Golden Gate bridge) that serves authentic Puerto Rican food. A post-doc in my lab has been ranting and raving about Sol Food for a loooooong time. And with Hector and I graduating and finishing up in the lab we decided to make a trip up there and eat some yummy food.

I should note that Hector is Puerto Rican and Khameeka's family is from the Caribbean, and they both say this is the best Puerto Rican food nearby. (Apparently "nearby" means up to 1.5 hours from Palo Alto!)

I got some pictures of the food, but they've got a lot of pics on their website, so check it out.

One of the first things you'll notice is the green building.


There's a great note outside the door they've posted from an uptight Marin resident who complained about the bright green paint job. Apparently he had enough time to write this note but not enough time to pull the stick out of his a$$...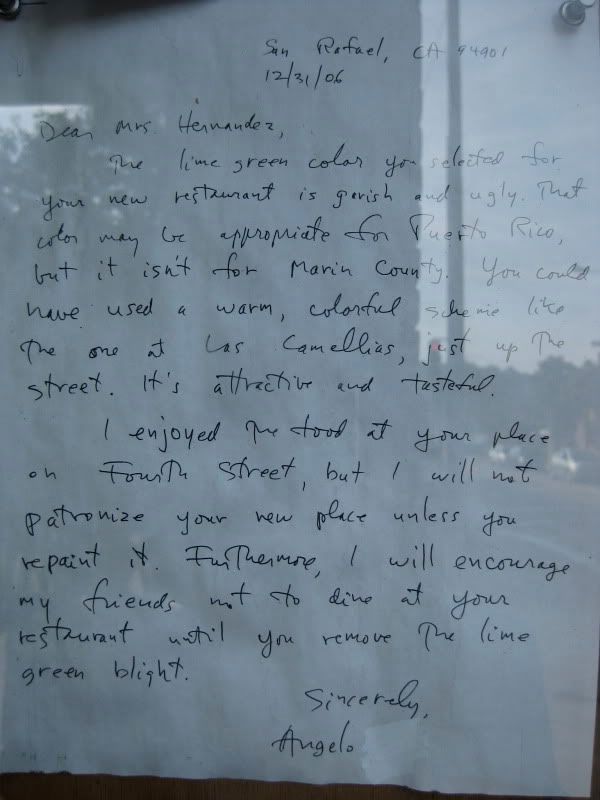 You get in line as soon as you walk through the door. Once you've placed your order they seat you, first-come first-serve.



You may already know that Puerto Ricans love their plantains. If not, you'll quickly learn it after one trip to Sol Food. I think every single dish has plantains in it. They even use them to weigh down the napkins. So clever!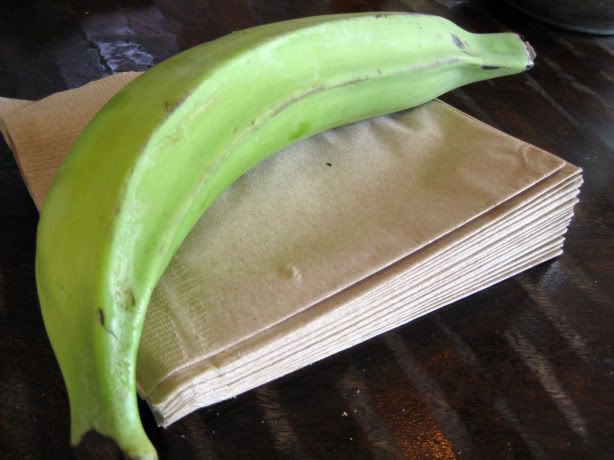 The decor inside is absolutely gorgeous. You're sitting inside but feel like you're on a patio or small street outside. Wooden tables/benches, colorful paint, greenery all over the place. Instantly brightens your spirits.



So what's good there?? A lot- but here are my personal favorites.

Best dish: Chuletas fritas.
These are just fried pork chops (thinly sliced). But they were ridiculously moist and delicious- best pork chop I've ever had.



Best side dish that should be it's own dish: Pasteles.
These are described as Puerto Rican tamales. I'm not a giant tamale fan (corn meal is just ah-right to me) but these are FABULOUS. Why?? Because they use plantains instead of corn for the starchy portion of the "tamales". Melt-in-your-mouth delicious. Here's a close-up shot:



(The pasteles came as part of the Sunday Special, a pork dish. The pork was good, nothing super special and perhaps a tad bit dry. But the pasteles more than made up for it!)

Best drink: toss up
Everyone got the Te Helado (orange mango iced tea) which was the most perfectly sweetened iced tea drink I've had. I decided to be a rebel and try something I've never had before: coconut water (unsweetened). It was less "coconuty" than I thought it was going to be, with a refreshing and light flavor.

Best everything else: Tostones (green/unripe plantains that are mashed and friend) and maduros (yellow/ripe plantains sliced and pan fried). For the tostones they smash a bunch of them together to make a giant disk, probably ~3" in diameter. You can get them plain (the purist in me actually preferred them this way) or topped with cheese/tomato/avocado. Look at how big they are!



Maduros are basically just ripened plantains sliced and pan fried. To me maduros = dessert. I love them because they're naturally sweet... like me (hahaha).

Look how happy (and full) we all are.



So the next time you're in SF or Marin County and are craving some Puerto Rican food, hit up Sol Food. And if you want to go to the ORIGINAL Sol Food, head one block up from the green building and look for the mini hut on the corner.



It has enough room to seat just a few people. Both restaurants were pretty bumpin'



And just because I can, a picture from our drive back to the peninsula.



Jackie