Another recipe from Dutch Girl Cooking!

This time its an Indian dish called Roti (search for "Roti" and go to the first post in the search). Yes, apparently this Dutch woman likes international foods. And I like her foods, so it's win-win for me. I'd seriously suggest you check out her original post, because she includes a recipe for scratch-made Indian bread with a bit of mashed potato inside which looks phenomenal. I didn't make it but I'm sure it's equally delicious as the Roti I made.

This is mostly all you'll need (plus chicken of course). So simple, most things people have laying around in their pantry.


Chop the potatoes, cover with water and place them to the side until you're ready to use them

There's a serious amount of onions in this dish. It'll make your kitchen smell amazing.



Sauteeing the onions and potatoes in pot #1. (I didn't have any green beans so I eliminated them...)



Pot #2 has the rest of your onions + chicken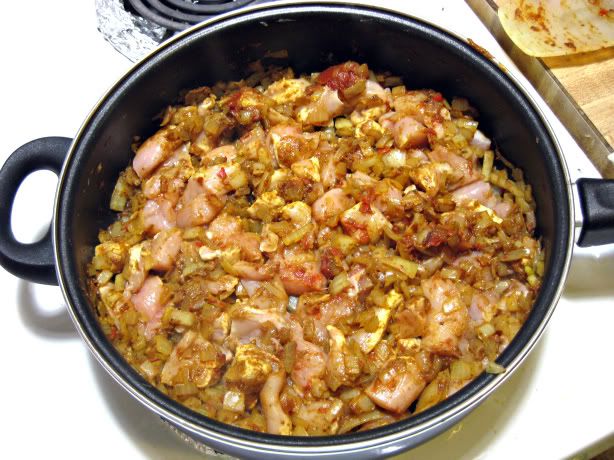 Mix the two pots and allow the mixture to simmer for 20 minutes. In the end, it'll look (something) like this.



Sadly I don't have any pretty plating pictures of the food. (Check out the Dutch Girl Cooking blog for some of those). Although my dish looks a bit different from hers in the end. I'm not sure if the potatoes should have been added a bit later, but my potatoes were seriously soft and the mixture had thickened quite a bit (almost like a thick stew/paste consistency), presumably from the starches. But whatever the case, it was a hearty and seriously delicious dish that would be perfect for the cooler winter months.

Jackie

Note: I probably also replaced some of the curry with garam masala. It's my new favorite thing to do with Indian spiced recipes: replace the curry with a 1:1 ratio of curry: garam masala.

Roti chicken, adapated from Dutch Girl Cooking

2 large chicken fillets (about a pound)
18 oz potatoes
7 oz green beans
1/2 red chili pepper (or Madame Jeanette)
2 medium onions
2 garlic cloves
1 tbsp curry powder (or 1/2 TBSP curry + 1/2 TBSP garam masala)
1 1/2 tsp curry powder
pinch ground cumin (or djinten)
1 tbsp tomato paste
chicken stock cube or chicken stock
4 tbsp sunflower oil
1/2 cup + 2 tbsp water
pepper
salt


Chop the potatoes in bite-sized pieces and place in bowl with cold water until ready to use.

Cut up 2 medium onions. Mince or grate garlic cloves (keeping them separated). Finely chop 1/2 chili.

Wash green beans (I didn't use them b/c I didn't have any)

Cut chicken in bite size pieces.

Heat 2 tbsp oil. Add half the chopped onions and 1 grated garlic clove and cook for 3 minutes. (Note: she states the recipe relies heavily on the use of sunflower oil and doesn't suggest substituting it. I'm sure it would have been even better had I used the sunflower oil, but I just used regular oil.)

Add 1 1/2 tsp curry powder and half the chicken stock cube (if using). Cook for a minute while you drain the potatoes. Add the potatoes and green beans, give it all a good stir and cook for another minute before pouring in 1/2 cup + 2 tbsp water in there as well (replace the water with liquid chicken stock if you're not using the cube).

Put the lid on and simmer, over low heat, for 10 minutes.

In a large skillet, heat 2 tbsp sun-flower oil, and add the remaining onions, garlic and chili pepper. Cook for 3 minutes before adding 1 tbsp curry powder, the remaining chicken stock and 1 tbsp tomato paste. Cook for 1 minute to sweeten the tomato paste.

Add chicken and cook for a few minutes, until the chicken is no longer pink. Add the chicken mix to the potatoes and beans and stir.

Season the chicken and potatoes with a generous amount of salt and optionally some pepper. Put the lid back on and simmer for another 20 minutes until the chicken and potatoes are well done.