I found this recipe off a food blog I love to read, Dutch Girl Cooking. Her recipes and photos always look ridiculously amazing. I mean seriously amazing. I've only made a few recipes from her site (the Roti recipe will come soon) but I have a feeling I should be making a lot more. They're usually fairly simple but chock full of flavor.

Of course my post will pale in comparison to hers, but I just had to post my attempt at her recipe. But I'd highly suggest you check out her site. For the specific recipe I'll be showing you guys today, search "Mezgaldi"

Basically these are just oven roasted onions. I didn't exactly know what I'd eat them with, but I knew I wanted to try them out. Turns out they're pretty damn good on their own (as a side dish) but work ridiculously well in salads. Yes, I said salads. Their subtle sweetness was unbelievably good in a spinach salad with some orange peppers, tomatoes and a balsamic dressing. But I think they'd work great with any kind of grilled steak or veggies as well.

First, you just need a few onions.



Then you have to peel and slice the onions. As you may recall, I probably have the world's most sensitive eyes for onions. So out come my swimmin... I mean cooking goggles.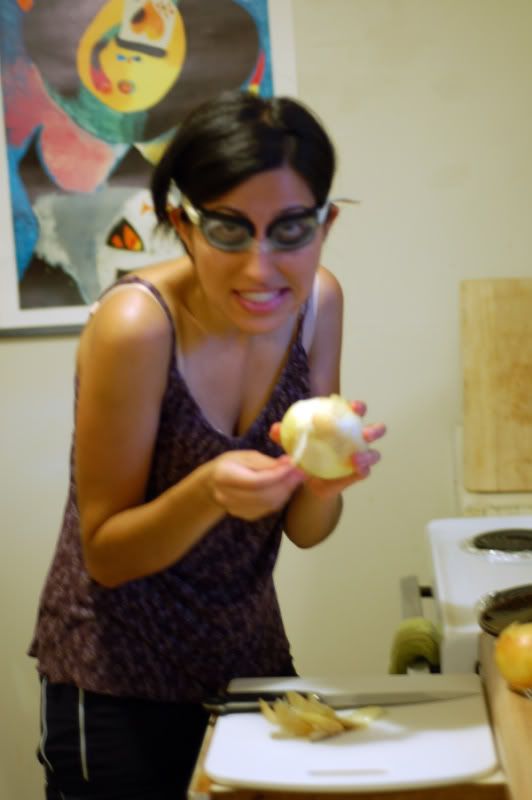 Alrighty, once they are sliced just brush the onions with the oil/spice mixture.



It'll be messy, no worries. Just do it over the baking dish you'll eventually be using. Start placing the onions in the dish (overlapping a bit if your dish is smaller like mine)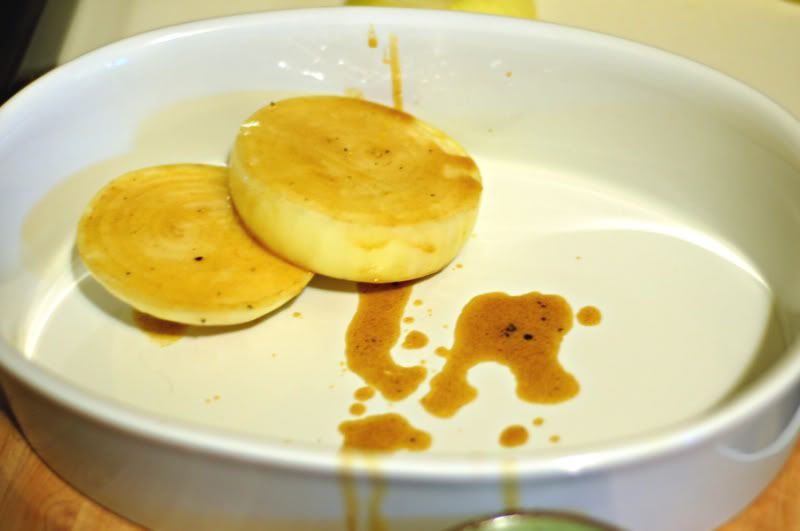 Once they're all done they'll look like this.



After that just cover in foil and bake. They'll be quite soft, so to give them a nice crust you'll sprinkle with a little bit of sugar and bake uncovered. I was worried the sugar would make them super sweet, but don't worry, it doesn't. A nice hint to bring out the natural sweetness of the onion is all it really does (along with allowing the tops to get golden brown).

Sadly I didn't get any pics of the final product, but I also didn't let them brown enough in the oven so they didn't look all that impressive. (I feared my cheap IKEA dish couldn't handle an increase in oven temperature...) But check out the Dutch Girl Cooking blog to see what they SHOULD have looked like.

Final verdict: If you like onions you'll love this recipe. They develop a really nice sweet flavor that works well in salads. I think a few missteps on my part meant the recipe didn't turn out quite as well as I had hoped. But I think it definitely deserves another shot- they were some damn tasty (and easy) onions.

Jackie

Recipe, adapted from Dutch Girl Cooking
4 medium-sized onions
1/4 tsp ground cinnamon
1/4 tsp ground ginger
1/8 tsp turmeric (or 1/4 tsp curry powder)
1/4 tsp coarse black pepper
3 TBSP oil
2 TBSP water
1 TBSP sugar

Preheat oven to 400 degrees F.

Peel 4 medium-sized onions. Slice into 1" thick slices.

In a small bowl combine 3 TBSP oil with 1/8 tsp turmeric (or 1/4 tsp curry powder), 1/4 tsp ground cinnamon, 1/4 tsp ground ginger and 1/4 tsp coarsely grinded black pepper. Brush the flavored oil on both sides of the onions slices.

Place the onions in an oven dish, with the slices overlapping. Pour remaining marinade (if any) on top of the onions. Add 1-2 TBSP water to the baking dish and tightly wrap with foil.

Bake for 40 to 45 minutes until nice and soft. When done, redistribute some of the juices from the bottom of the tray over the onions.

Sprinkle 1 TBSP granulated sugar on top of the onions.

Increase the oven temperature and cook the onions for another 10 to 15 minutes. You want the sugar on the onion to caramelize to a golden brown color.