A month or so ago my friend Kelsey contacted me about helping her decorate a cake. There were three women at her work who were all expecting within a few months of each other (all three were having boys) and she wanted to do something special.

I hadn't made a cake in a while and it was seriously the most perfect idea. I didn't have to bake or do dishes or prepare anything. All I had to do was grab all my cake decorating supplies and head over to her place for an evening of decorating fun. And 'OH BOY' was it a blast.

We ended up decorating this cake and 24 cupcakes, all within ~4 or so hours. Not bad!

Here was the cake in all its glory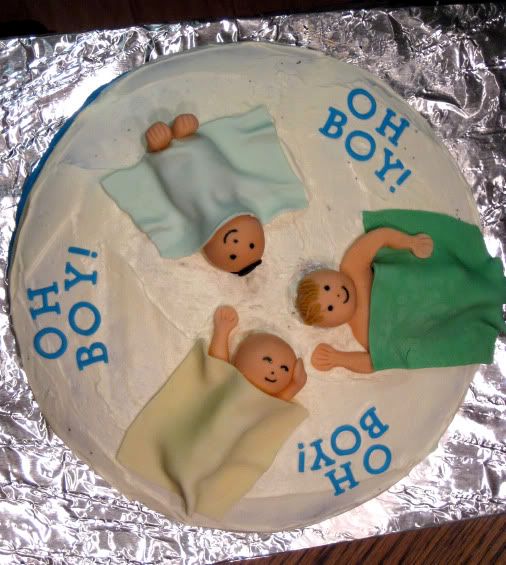 We had a great time laughing over our not-so-great sculpting abilities. We had our GIANT baby (green blanket), our CUTE baby (yellow blanket) and our BIGFOOT baby (blue blanket).
Wanna see all the awesome details?!?


First of all, look back at the original cake to see how giant the baby under the green blanket is. Especially in comparison to our teeny bitty baby under the blue blanket. [He's gonna eat cha.]

For the blue baby I wanted his feet to poke out from under the blanket . But I think I made his feet wayyyyyyy too big.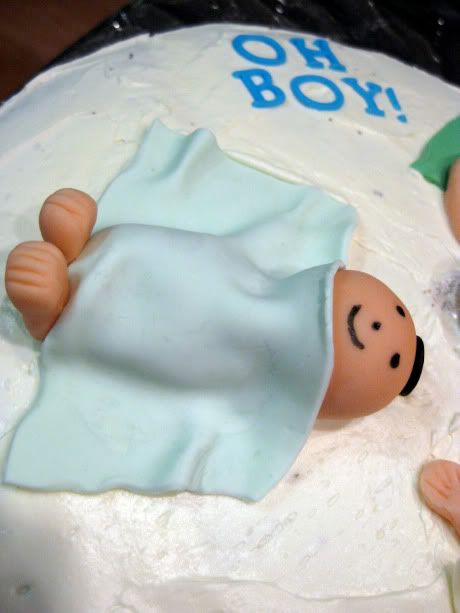 BIGFOOT!


They were all adorable, but I think the little sleeper was my favorite. (Yes, I'm not an ACTUAL mom yet, so I can play favorites.) His little hand on his head and the little smile as he's sleeping- too cute!


But the other babies were cute too. (OK, OK. I love them the same amount, just differently...even if they are freaks with their big bodies and ginormous feet. Happy?!) How could you not love them, just look at their hair!!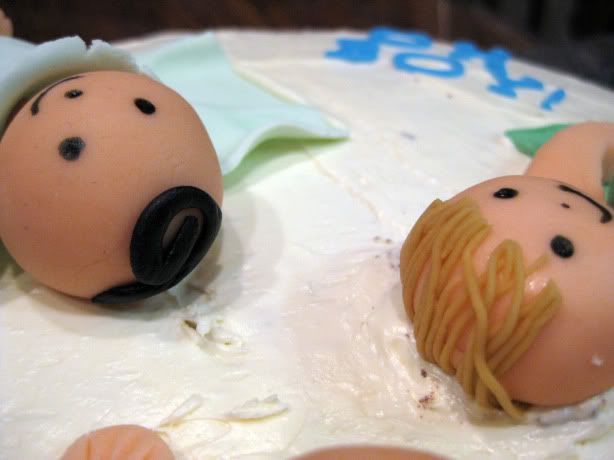 I made the hair on the right with the help of my awesome new cake decorating tool: a clay extruder (which works great on gumpaste).


I was so excited to use it for the first time. Here I'm working on the border.


See how uniform the border came out? Perfect!


And of course we had to whip up some cupcakes too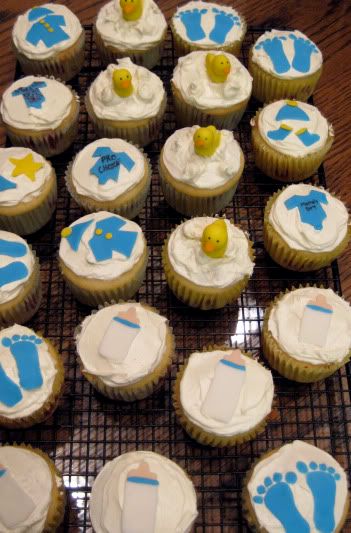 We had little feet, baby bottles, onesies and little clothes.


And to break the monotony of the blue decorations: rubber duckies!


Yea for cake decorating sans baking :)

Jackie