If you're a fan of chicken OR teriyaki you must read this post. Why?? Because I can guarantee you've never prepared chicken like this before and/or you've never made your own teriyaki sauce. And your life will not be complete until you do. Am I being overly dramatic?!? Not at all. :)

The beauty of this recipe is that you can use this method for cooking chicken for many recipes (eaten plain even) and use the teriyaki sauce for whatever you like. Each recipe will blow you away; make them together and you'll understand exactly what I'm talking about.

The other great thing about this recipe is that it is ridiculously simple. Almost no prep time and very little active cooking time. Which means there's really no way to mess it up.

Are you ready to make this mouth-watering creation??

Well, just follow along.

You'll need the following to get started:
chicken thighs (bone-in, skin on)
teriyaki sauce (made up of soy sauce, sugar, ginger, garlic, cornstarch and mirin if you have it)
(Recipe, as always, is at the end of the post)

Let's deal with the chicken first.

Heat oil in a pan on medium high, and then when super hot add the chicken skin side down. The trick here is weighing the chicken thighs down (to crisp up the skin and render the fat). Place a pot and a large can on top of the chicken to press down on the chicken.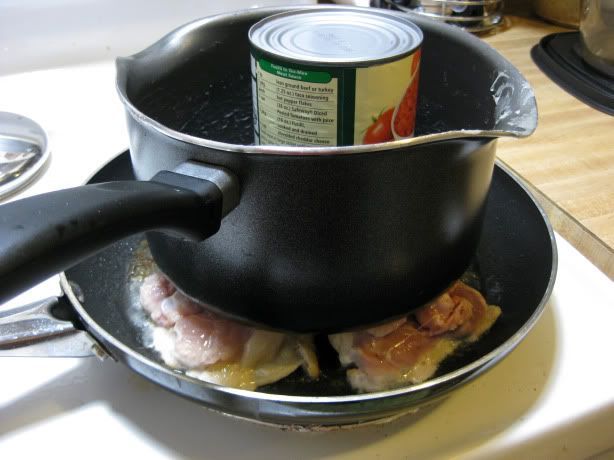 Can you see the fat just melting off from under the skin? But here's my warning: it's a violent process. Lots of loud popping sounds and fat spattering around. Can you hear it sizzling?? Good, it's working!


Now, walk away. Yes, I said walk away. Don't touch it, don't adjust it, don't do anything. Just let that cook for 16-20 minutes. Easy huh??

While the chicken is cooking, go ahead and prepare your teriyaki sauce by combining soy sauce, sugar, ginger, garlic, cornstarch and mirin (if you have it- I just eliminate it). And yes, it seems like a lot of sugar. It is, but it's delicious...


You'll be done making the sauce well before the 16-20 minutes is up. So easy!

Ready to flip? OK. Now make sure to protect yourself at all times, the heat is on pretty high and fat is splattering EVERYWHERE at this point. I covered my hands with a towel and used long tongs to flip the chicken over.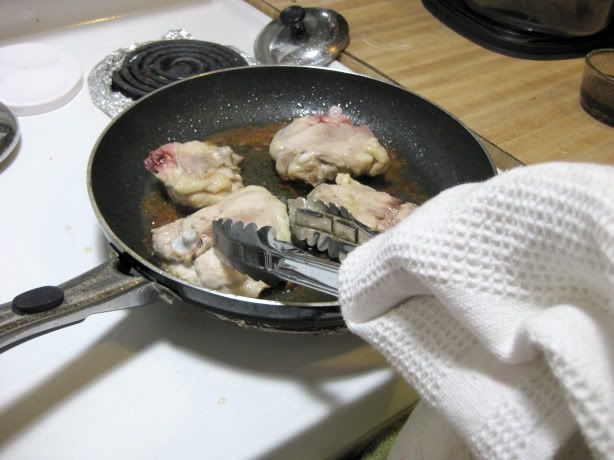 It's dangerous business this cooking, but it's totally worth it! Look at the color on that skin. Crispy, delicious and none of the nasty fat underneath it.


Continue to cook the chicken for another 3-5 minutes, or until done.

And if you didn't believe me about how splattery the whole process is, just check out this video. (Make sure to have the sound on!)




(And can I just say: Yea for my first video on the blog!!!!!! This new discovery is going to be a dangerous thing for me.)

At this point the chicken is done. So if you don't like teriyaki sauce you could just eat the chicken as-is for a delicious meal. But if you want to make it ultimately delicious, you're going to have to teriyaki it up.

Remove the chicken from the pan and drain off all the fat from the pan.
I know it looks pretty bad with all that grease, but the chicken isn't greasy at all. In fact, it's probably healthier since all of that fat is rendered and thrown away.But if it still bothers you, feel free to use a paper towel to dab off any excess fat on the chicken.
Now it's time for your chicken to get a teriyaki bath.
Add the teriyaki sauce to the pan. Be prepared, it's gonna sizzle!


Then ddd the chicken back to the pan and use a spoon to coat it with the teriyaki sauce.


As the cornstarch and heat help thicken the sauce it'll really start to cling onto the chicken and form a shiny and delicious coating.

I mean just look at it when it's all done. Mouth-wateringly good.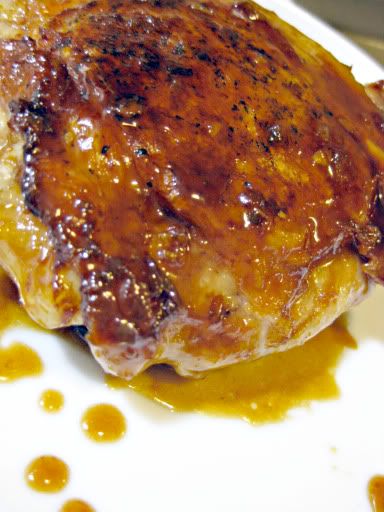 So there you have it folks- the most amazing chicken teriyaki. The chicken is juicy, the skin is crispy and the sauce is devine.

The only downside to this recipe: stove-top cleanup. The fat splatters everywhere...


Jackie

Stovetop Chicken Teriyaki, from Cooks Illustrated

Ingredients
8 bone-in, skin-on chicken thighs (about 5 ounces each), trimmed of excess fat and skin
Ground black pepper
2 teaspoons vegetable oil
1/2 cup soy sauce
1/2 cup sugar
2 tablespoons mirin
1/2 teaspoon grated fresh ginger
1 medium clove garlic , minced or pressed through garlic press (about 1 teaspoon)
1/2 teaspoon cornstarch

Instructions

1. Pat chicken dry chicken with paper towels, then season with pepper. Heat oil in 12-inch nonstick skillet over medium-high heat until just beginning to smoke. Place chicken skin side down in skillet; set heavy pot filled with three or four 28-ounce cans on top of chicken. Cook until skin is deep brown and very crisp, 16 to 20 minutes, checking browning after 10 minutes and adjusting heat as needed. Meanwhile, whisk soy sauce, sugar, mirin, ginger, garlic, and cornstarch together in small bowl.

2. Remove cans from skillet; using tongs, flip chicken thighs. Reduce heat to medium and continue to cook, without weight, until second sides are brown and instant-read thermometer inserted into center of thigh (not touching bone) registers about 175 degrees, 3 to 5 minutes longer. Transfer chicken to serving platter.

3. Pour off fat from skillet. Whisk soy mixture to recombine, then add to skillet; bring to simmer over medium heat. Return chicken and any accumulated juices to skillet; turn to coat chicken with sauce. Turn chicken skin side up and simmer until sauce is thick and glossy, about 3 minutes. Return chicken to serving platter; transfer sauce to small bowl and serve, passing sauce separately.

Note: Mirin, a sweet Japanese rice wine, is a key component of teriyaki; it can be found in the international section of most major supermarkets and in most Asian markets. If you cannot find it, use 2 tablespoons white wine and an extra teaspoon of sugar. If desired, low-sodium soy sauce can be used in place of regular soy sauce. Serve with steamed rice, preferably short grain.