For my individual posts on my Thanksgiving meal I guess I'll just go in order (from the "menu" I typed up on my first Thanksgiving post). Which means first up: stuffed mushrooms!

(Disclaimer: these posts are likely a bit more ghetto-fabulous than usual. Tried to take photos of the process but sometimes the madness of Thanksgiving just took over. So they'll be a lot simpler than usual. Luckily most of the recipes I'm using are from awesome cooking blogs that do a great job of photographing/writing up the recipes. So make sure to check them out too!)

Originally I was planning on making a wild mushroom galette for Thanksgiving from Smitten Kitchen. But after looking at the recipe again it just seemed a bit too labor intensive for the day. As Mr. Kenny Rogers would say, you gotta know when to hold 'em, know when to fold 'em and know when to walk away. So the mushroom galette would have to wait until another day.

But I still wanted to make an appetizer. Something quick and easy and not too filling (there would be plenty for dinner). Luckily it wasn't long ago that I saw these brie stuffed mushrooms on Pioneer Woman's blog. So in sticking with the mushroom theme, I had my new appetizer planned.

Check out her blog/pictures of this recipe. She's amazing!
http://thepioneerwoman.com/cooking/2009/11/mushrooms-stuffed-with-brie/

Now you'll see how much my blog sucks compared to hers. OK, let's get started...

Melt butter. A lot of butter. I rarely cook in such fat-ass ways, but for Thanksgiving I followed the recipes as-is and full-fat.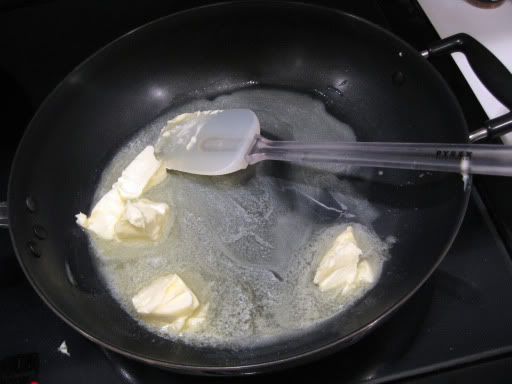 Add de-capped mushrooms and cook for a few minutes to soften them up a bit.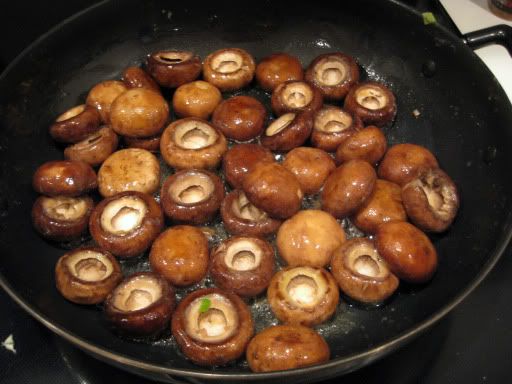 Remove mushrooms and place on a dish, cap side-down.

To the pan add onions + garlic + parsely + salt/pepper. Cook a few minutes until softenend.

Remove the skin from brie cheese and cut into chunks. Place chunks inside each mushroom.


Cover mushrooms with onion mixture. Pop into a 350 degree oven for 10-15 minutes, enough to soften the brie. Luckily Dan had a toaster oven b/c the only thing that fit in the oven was the turkey.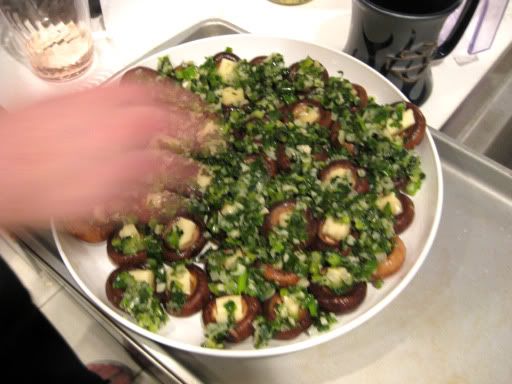 We then just placed them on a platter with a toothpick inserted into each one for a quick, delicious and light appetizer.

Jackie

Brie stuffed mushrooms, adapted from Pioneer Woman

Ingredients

* 1 package (8+ oz) mushrooms (cremini or white), washed and stems popped out
* 4 cloves Garlic, Minced
* 1/4 cups Flat-leaf Parsley, Chopped
* 4 whole (to 5) Green Onions, sliced
* Splash Of White Wine (optional)
* 1 wedge Of Brie Cheese

Instructions

Preheat oven to 350 degrees

Melt butter in large saucepan. Add mushroom caps and toss to coat in butter. Sprinkle lightly with salt and cook for a few minutes. Remove mushrooms from pan and place cap-side down in a baking dish.

In the same saucepan (without cleaning it) add the garlic, parsley, and green onions. Sprinkle very lightly with salt and pepper and splash in wine, if using. Cook a few minutes, or until wine evaporates.

Cut rind off of brie wedge, then cut pieces of brie to fit each mushroom cap. Place one cube inside each mushroom cap.

Top mushrooms with parsley/garlic mixture and place into the oven for 10-15 minutes, or until brie is melted.

Notes:
* They're best if you allow them to cool slightly.

* I felt the topping was a bit much compared to the mushrooms. You could probably almost double (or 1.5X) the mushrooms and keep the topping the same amount for a better balance.

* Also, I'd probably cook the garlic first for a little bit before adding the parsley and green onions. I'm not the biggest fan of raw garlic chunkers. Although it wasn't so bad (I chop up my garlic pretty small and I also cooked the onion mixture longer than she'd suggested) I still think it could have been mellowed down a tad bit. Personal preference though- adapt the recipe as you see fit!