I said I was gonna post my Thanksgiving dinner in order of the menu but I think I'm gonna end on the big one (aka the turkey). Therefore, I introduce to you my first side: mashed potatoes and gravy!

Thank goodness for making recipes in advance. Both the mashed potatoes and the turkey stock (made from the neck/giblets of the turkey) were made a day or two before thanksgiving. The only thing I had to do on Thanksgiving was heat up the potatoes and make the rest of the gravy from the turkey drippings (both done IMMEDIATELY after removing the turkey from the oven, as it rested for 30 minutes).

Let's start with the mashed potatoes first. My recipe comes from the Pioneer Woman: http://thepioneerwoman.com/cooking/2007/11/delicious_creamy_mashed_potatoes/

The biggest challenge with this recipe was the sheer quantity of potatoes! ~6 lb worth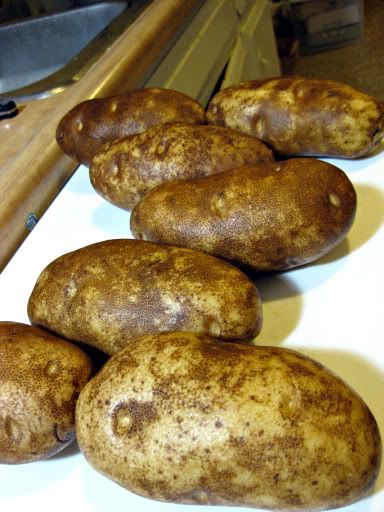 Chop into ~2" cubes (I peeled half of them and left the skin on half) and cover with cold water. Ideally, your potatoes will have more than just 1" of water above them in your pot. But this was one of my biggest pots (and I was too lazy to cook the potatoes in two.) But they cooked just fine!

Just boil the potatoes until a fork can easily pierce right through them.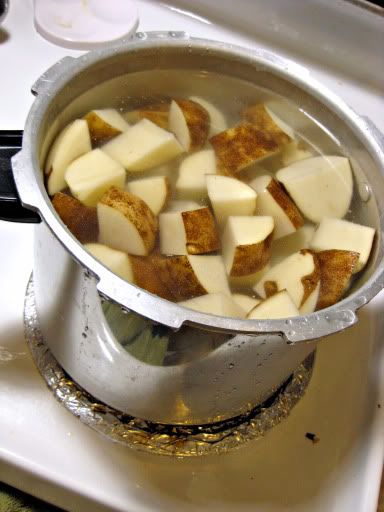 Drain potatoes and return to pot. Mash as best you can. These were SOOO many potatoes I had to stir/mash as I went. Then add a shit-ton of fat in the form of: butter, cream cheese, half and half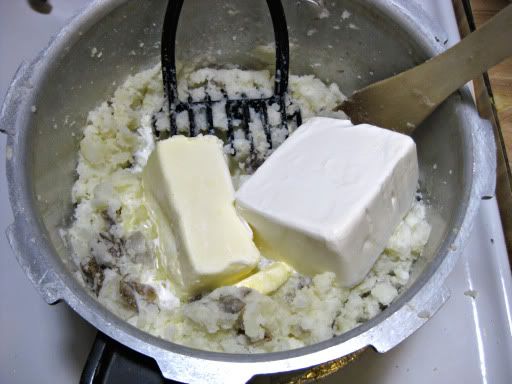 Personally, the potatoes were a little too thick for me at this point. So I added some milk to thin them out. Just add a little at a time until you're happy with them.

At this point you can either serve them OR store them for later. If storing, place in an oven-safe container and cover with plastic wrap.


When you need them in a day or two, remove the potatoes from the fridge a few hours before cooking. Then heat in a 350 degree oven for 20-30 minutes, or until warmed through.

Now for the gravy. Things got a little crazy toward the end of my meal prep so I don't have any pictures of the gravy, just the stock. I warned you before, these posts would be a bit ghetto-fabulous.

My recipe for gravy and giblet stock comes courtesy of Ms. Martha Stewart herself.
http://www.marthastewart.com/recipe/marthas-ultimate-thanksgiving-menu-riesling-gravy

For the stock
Brown the turkey giblets (heart, gizzard- NOT liver) and neck for ~8 minutes in a large stockpot. (Apparently the liver can make the stock bitter. You can cook it up separately if you like it. Personally I hate liver so mine went straight into the trash- sorry mom!) Google "giblets" if you wanna know what the heart and gizzard and liver look like.

Add veggies, water and herbs to the pot. mmmm, delicious vegetables...


Cook for a few hours until reduced and delicious. I cooked mine for quite a while and got a very concentrated stock. About 2X as concentrated!! Whatever- it didn't hurt. But the gravy did have a very strong mushroom flavor- YUM!

Strain the liquid and that's it, you now have fresh turkey stock. Store for a few days in the fridge, or freeze for longer. Technically this recipe gives you ~9 cups of stock, twice as much as you'll need for the turkey gravy. So freeze or use the rest for soup or whatever you like.

OK- that was all I made in preparation for Thanskgiving. As I said before, all I had to do the day of was (1) pop the mashed potatoes in the oven and (2) make gravy from the turkey drippings + pre-made turkey stock.

To make the gravy, you have to wait until your turkey is all done cooking. Then get started on the gravy ASAP while the turkey is resting.

Remove the turkey from the rack and place the juices from the roasting pan in a fat separator. Let the liquid sit for a few minutes, allowing the fat to rise to the top. Now just pour to separate all the delicious turkey juice from the fat. I had ~1 cup of fat from my 18 pound turkey!

Then just follow Martha's recipe. It turned out like a charm. :)

My favorite part of the gravy was that I could seriously taste the mushrooms (which were used in the broth). SOOOOOOO freaking good!! I wish I had a picture. It was dark and creamy and delicious.

Recipes

Mashed Potatoes, adapted from Pioneer Woman

Ingredients

5-6 pounds potatoes, peeled or unpeeled
3/4 cups Butter
1 package (8 Oz.) Cream Cheese, Softened
1/2 (to 3/4 Cups) Half-and-Half
1 tsp Lawry's Seasoned Salt, or more to taste
1 tsp Black Pepper, or more to taste

Instructions
Cut the potatoes into similarly sized pieces. The smaller the faster they'll cook. I like ~2" cubes. Add potatoes to a large pot and cover with cold water. Bring to a boil and cook for 30 to 35 minutes, or until done. When they're cooked, a fork should easily slide into the potatoes with no resistance, and the potatoes should almost, but not totally, fall apart.

Drain the potatoes in a large colander. Place back into the dry pot and put the pot on the stove. Mash the potatoes over low heat, allowing all the steam to escape, before adding the other ingredients.

Turn off the stove and add butter, cream cheese and 1/2 cup of half-and-half. Mash and mix together. Next, add 1 tsp Lawry's Seasoning Salt and 1 teaspoon of black pepper. (Add more to taste. You can also add in any other spices/seasonings/herbs/roasted garlic/whatever you like.)

Stir well and place in a medium-sized baking dish. Throw a few pats of butter over the top (optional) and place them in a 350-degree oven and heat until butter is melted and potatoes are warmed through.

Note: When making this dish a day or two in advance, take it out of the fridge about 2 to 3 hours before serving time. Bake in a 350-degree oven for about 20 to 30 minutes or until warmed through.

Giblet Stock, from Martha Stewart
Makes about 9 cups

Ingredients

1 tablespoon extra-virgin olive oil
Neck, heart, and gizzard from turkey
3 celery stalks, halved crosswise
3 carrots, halved crosswise
1 medium onion, quartered
8 ounces white mushrooms, halved
4 quarts (16 cups) water
2 bay leaves
1 teaspoon whole black peppercorns
1/2 bunch fresh thyme
12 fresh flat-leaf parsley sprigs
1 tablespoon coarse salt

Directions

1. Heat oil in a stockpot on high. Add turkey parts, and cook until browned, about 8 minutes. Add remaining ingredients. Bring to a boil. Reduce heat; cover partially. Simmer gently, skimming foam from surface as needed, for two hours.
2. Pour stock through a fine-mesh sieve into a bowl, discarding solids. Place bowl in an ice-water bath to cool. Stock can be stored in an airtight container in the refrigerator for up to 5 days or in the freezer for up to 3 months.



Riesling turkey gravy, from Martha Stewart



Ingredients

Roasting pan with juices from Roasted Turkey
1 cup dry Riesling
4 1/2 cups Giblet Stock
6 tablespoons all-purpose flour
2 tablespoons unsalted butter

Directions

1. Remove vegetables from roasting pan and discard. Pour pan juices into a glass measuring cup or gravy separator, and let stand until separated, 10 minutes. Pour off fat.
2. Place roasting pan over 2 burners on medium heat. Add wine, and simmer, stirring and scraping pan constantly for 2 minutes. Add the reserved juices and 4 cups stock, and bring to simmer.
3. Meanwhile, whisk together remaining 1/2 cups stock and the flour in a bowl until smooth. Whisking constantly, slowly add flour mixture to pan. Simmer until gravy is reduced by half and coats the back of a spoon, 10 to 12 minutes.
4. Remove from heat, add butter, and swirl pan until it has melted. Pour through a fine sieve, discarding solids. Serve immediately or keep warm over low heat. (Gravy can be refrigerated in an airtight container for up to 1 week.)