A few days after Thanksgiving I realized I don't love turkey that much. Don't get my wrong- I love turkey when you get to eat it right out of the oven. But turkey that's been in the fridge and re-warmed, even on the stove-top (vs. a microwave, which I think should NEVER be used to warm up poultry) never tastes that good. The leftover mashed potatoes and gravy I could have eaten for weeks afterwards (luckily for my butt I didn't have THAT much left over). But eating leftover turkey plain, meh, I could do without it.

It goes against everything I was raised with to throw away perfectly good food though. So that's when I went hunting for leftover turkey recipes. And not the kind that tell you to make a sandwich. I know how to make a freaking sandwich. I mean a recipe to REALLY use the turkey.

And then the Pioneer Woman wrote a blog post about how she used HER leftover turkey: turkey pot pie.

OMG- I loooooooove turkey pot pie. And amazingly, I had all the ingredients on hand. So right then and there I popped downstairs and used up the last bit of my leftover turkey. And holy cow, was it good.

No, it's wasn't good. It was amazingly delicious. So delicious in fact, I wanna cook another turkey just so I have leftovers to make this recipe again...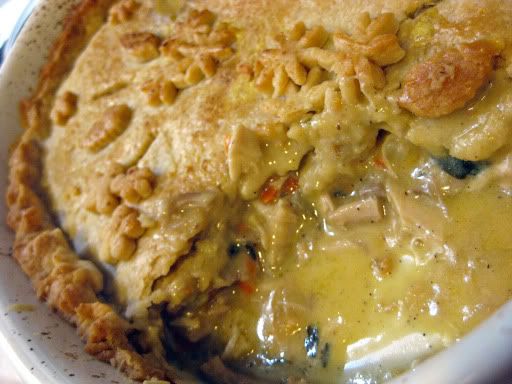 Ready to make some turkey pot pie??

I'll start of by saying two things:
1. This is the best pot-pie ever. (OK fine, it's the only time I've made pot pie before, but it was freaking amazing. Although I may give Ina Garten's chicken pot pie recipe a try sometime because the reviews are ridiculously positive.)

2. The crust for this is called "perfect pie crust" by the Pioneer Woman, but I would NOT call it perfect. Easy to make? Yes. Flaky with a great texture? Yes. Delicious? Eh, not so much. The problem: it didn't have much flavor. The reason: no butter! I should have realized when the recipe only called for shortening, but I didn't listen to my gut and followed the recipe anyways. I highly recommend using an all butter or mostly butter (or even some butter) pie crust recipe so that the top of the pot pie can nicely complement the creamy filling.

OK, time to get started.

First, go ahead and make the pie crust. This involves using a pastry cutter (or forks) to work the flour into the shortening (or butter).

It starts off like this (a bunch of flour with some fat)...

... and after a few minutes it should look like this.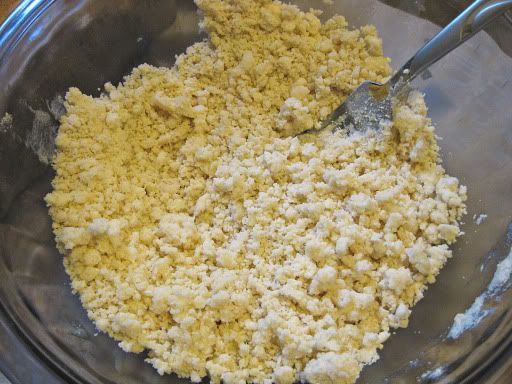 The texture should be nice and crumbly, like a coarse sand.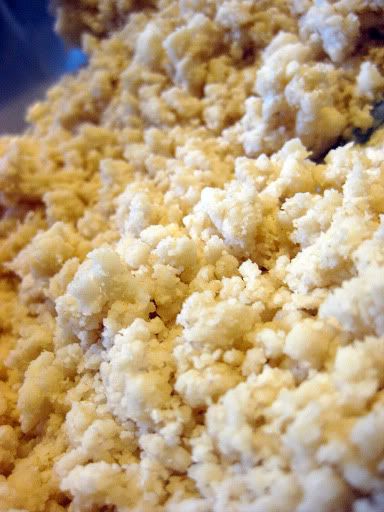 Once you add the egg and cold water (slowly so as to not get overly-wet dough) it'll come together into a nice ball.


OK, the dough is all done (see, that was easy)! Now wrap it in some plastic wrap, put it in the fridge and start making the pot-pie filling.

This is mostly what you'll need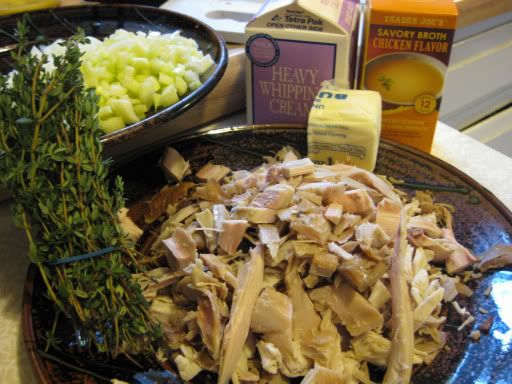 Melt butter in a pot and cook onions, celery and carrots (or whatever you have). Here I have onions and celery. I was using my leftover carrots to make carrot cupcakes so no carrots for the pot pie.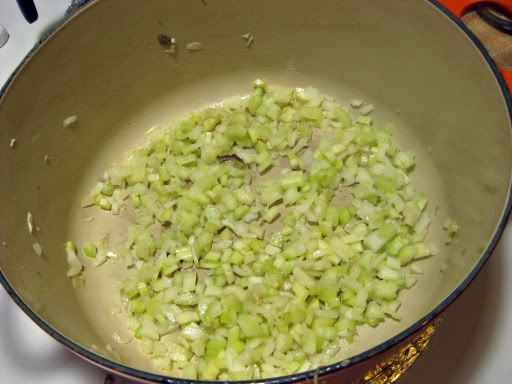 But it looks too... blah. So I threw in a little bit of the shredded carrots for a splash of color.

Ahhhh, much better.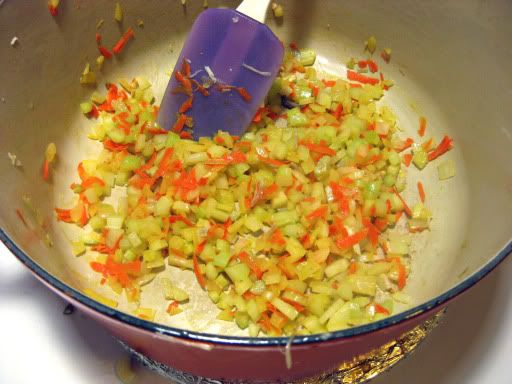 Once they're nice and soft throw in your leftover turkey. This can be either cut into chunks or shredded, whichever you prefer.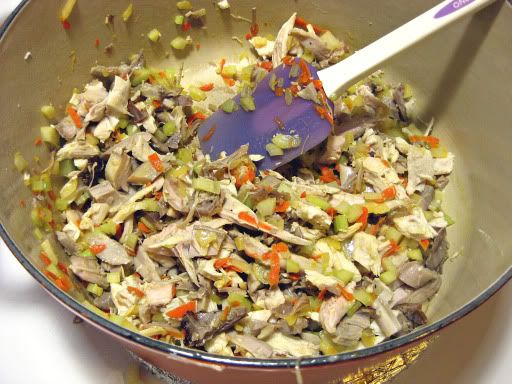 Then add some flour and cook for a few more minutes.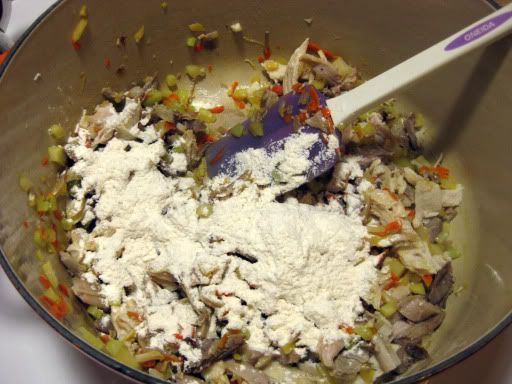 Add some chicken broth (or leftover turkey broth)...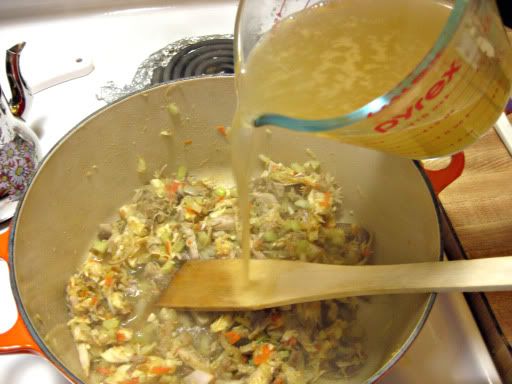 ... and then some cream.


Bring to a SLOW boil and cook for a bit longer to really thicken the sauce. Once it's thickened, add pepper and thyme. You can add salt, but I think (non-homemade) chicken broth, even the reduced sodium kind, has plenty of salt. Just add whatever you like, to taste.


Make sure it's nice and seasoned. Because the crust doesn't have any spices in it you definitely don't want your creamy filling to be under-seasoned. Then place the filling in a baking-safe dish.

I love that you can see the fresh thyme and pepper. sooooo delicious.


OK- now grab your dough from the fridge and roll it out. To make transferring the dough to the dish easier, roll it out on a piece of plastic wrap. Just make sure it's big enough to cover your baking dish.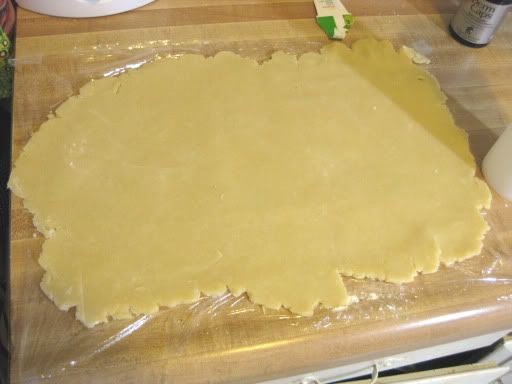 Then just grab the dough (plastic wrap and all) and FLIP it over on top of your baking dish. It doesn't have to be perfect- just make sure to generally center it to cover the dish.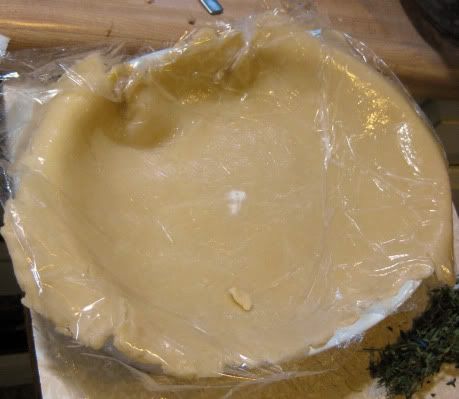 Now just remove the excess dough and crimp the edges to look purty.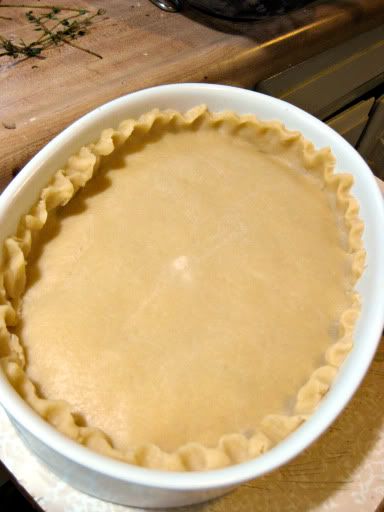 Its nice, but it looks kinda nekked, doesn't it?! And there's all this leftover dough- what to do with it??

The cake decorator in me instantly thinks to spice it up a bit. This part is totally optional. But highly recommended :)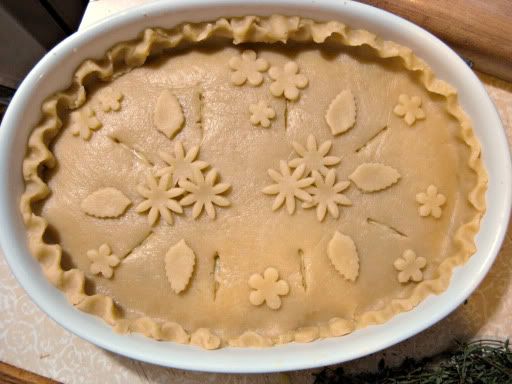 Decorate the dough as simple/ornate as you want- but always make sure to cut slits in the dough to allow air to escape during the baking process.

After a 30 minute trip in the oven, it'll look like this. SOOOO GOOD, just look at the filling oozing out...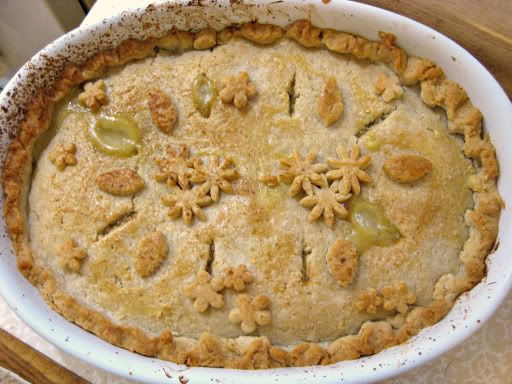 (Honestly, I think it could have used an egg wash to give the crust a nice sheen. To do that, beat 1 egg with 1 tablespoon water and brush on the dough before baking. Next time... next time.)

And now the hard part: waiting before you can cut in. Ugh, the torture! To keep yourself busy, take pictures of your beautiful creation.

Oh hello flower. Soon you shall be in my tummy.


After what seems like 4826925 hours, dig in. It doesn't look quite so pretty anymore, but oh man, it was SOOOOOOOOO GOOD!


And if you listen closely enough you can hear a "thank you" coming from the turkey, now deliciously hanging out with some veggies, broth and cream.

You're welcome I say.

Now get in my belleh!


Jackie

Turkey Pot Pie, from Pioneer Woman
http://thepioneerwoman.com/cooking/2009/11/quick-recipe-leftover-turkey-pot-pie/

1 pie crust (any recipe you like, or even the frozen kind you buy)
1/2 stick butter
1/2 cup finely diced onion
1/2 cup finely diced carrot
1/2 cup finely diced celery
2 cups leftover turkey, light and dark, diced or shredded (or both!)
1/4 cup flour (Note: to make gluten free, replace with 1/4 cup cornstarch in a few TBSP liquid and add with the cream)
2 cups low-sodium chicken or turkey broth
splash of white wine (optional)
1 cup heavy cream
Frozen peas (optional)
Fresh thyme, chopped
salt and pepper to taste

Preheat oven to 400 degrees.

* Melt butter in a large skillet or dutch oven. Add onion, carrots, and celery, and cook until translucent (a couple of minutes.)

* Add turkey and stir. Sprinkle flour over mixture and cook over medium heat for a couple of minutes, stirring constantly.

* Pour in chicken or turkey broth, stirring constantly. Add wine (if using) and the cream. If you like, you can add frozen peas at this point too.

* Bring to a slow boil and allow mixture to cook and thicken for a few minutes. Add salt and pepper to taste (do not under-season), and fresh or dried thyme to taste. Do one final taste at the end and add what it needs.

* Pour mixture into a casserole dish or deep pie pan.

* Roll out crust so that it's about 1 inch larger than the pan you're using.

* Place the crust on top of the pot pie mixture, and press crust into the sides of the dish. Cut vents in the top of the crust. Brush the top with an egg wash (optional).

* Bake for 30 minutes or until very golden and bubbly.

* Allow to cool for a little bit before serving.