A while back I was glancing through Stacey's Martha Stewart magazine and saw this recipe for Clementine Vanilla Quick Bread. O-M-G.

I often come across recipes I want to make (and then they sit there in my "to-make" catalog for months, or years). But it's rare that I'll see a recipe and then within a week or two go out and buy stuff to make it. And that's exactly what I did with this recipe!

Unfortunately I accidentally bought quince instead of clementines. Which lead to another recipe (I'll post that soon-ish...)

So the NEXT week I went and bought tangerines to make this bread.

And I can't say I'm sorry. :)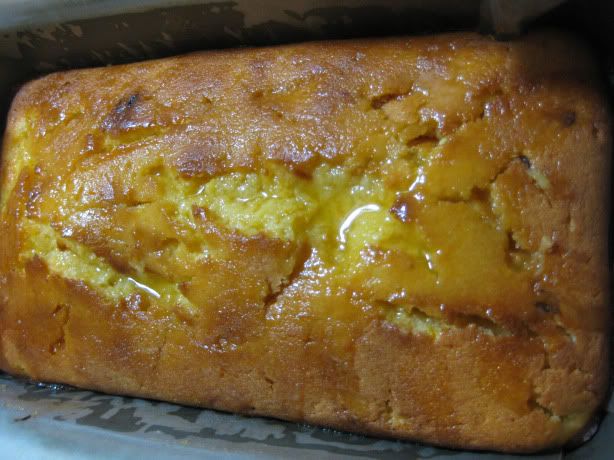 Note: it's called bread but it's one of those cake breads. Like a muffin, or banana bread. But denser. MUCH denser... and a little sweeter and fruitier. Kind of like a citrus-y pound cake.
What I loved about this cake was all the fruit.

And using the zest...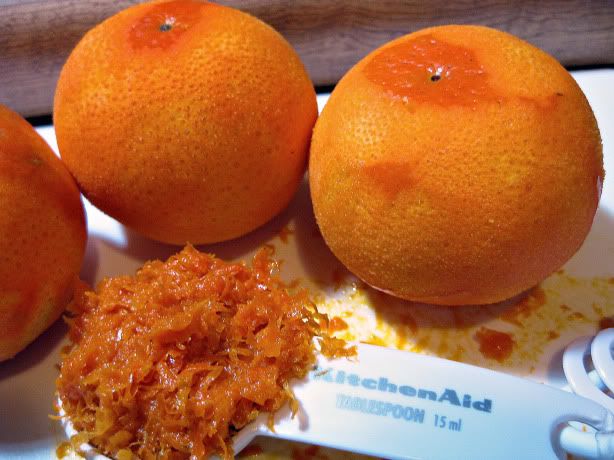 ... in addition to the juice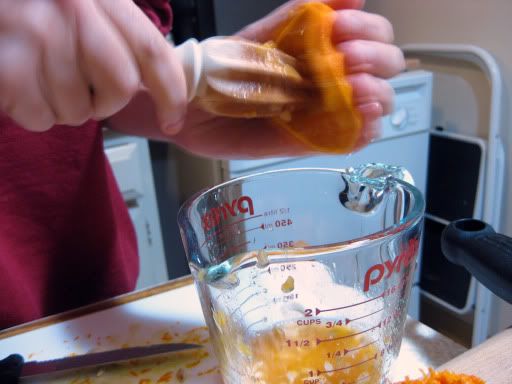 Drain the pulp to get pure tangerine juice. Martha tells you to toss the pulp but that's pure nonsense. I ate it. :)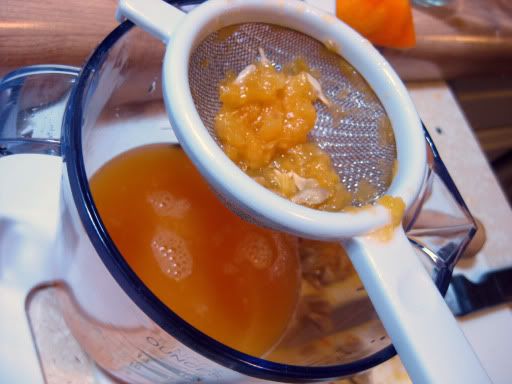 Now the recipe also calls for tangerine segments. You could use canned segments, but we're gonna be like Martha and do it all from scratch. She said to use only 2 tangerines but I used 3. Could have used even more in my opinion. (I loved the little segments of whole fruit in the bread).

So HOW do you segment a tangerine (or any citrus for that matter)? Well, that's what I'm here for: step-by-step directions.

1. Cut top/bottom off the citrus and lay flat on cutting board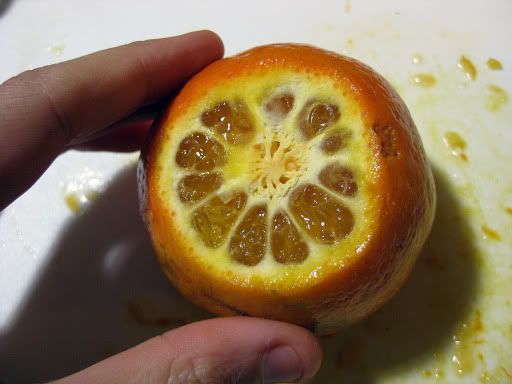 2. Cut away the peel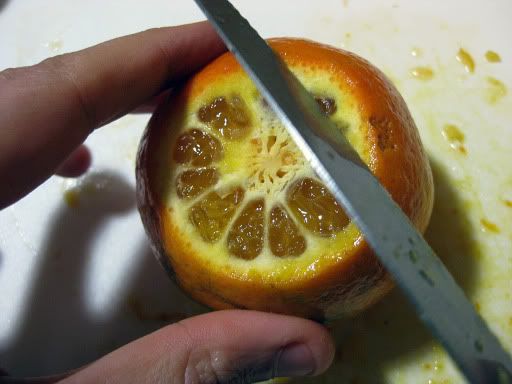 Make sure to cut it deep enough to completely remove the pith (the lighter orange skin underneath the peel).


See?


3. Continue until you've removed all the peel.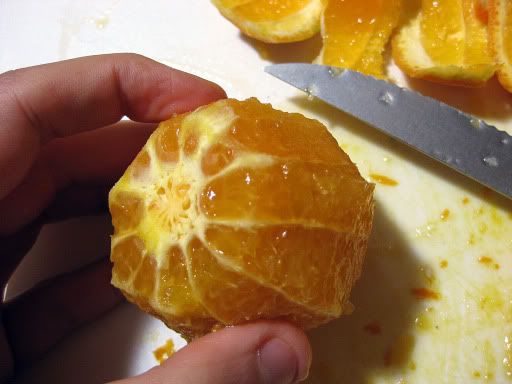 4. Now it's time to remove the individual segments. Cut on the right side of a segment (along the pith in between the segments).


5. Then cut the left side.


6. Carefully remove each segment.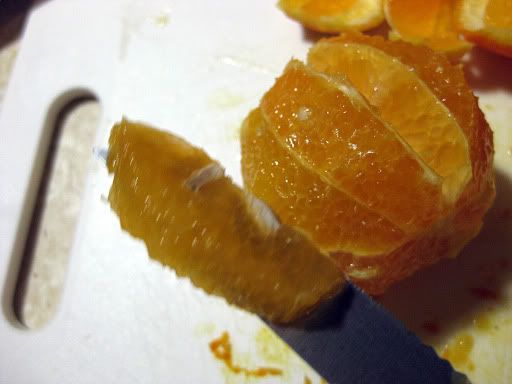 After a while you'll have a little bowl full of tangerine segments.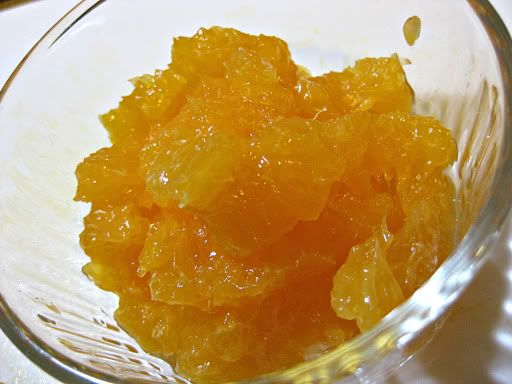 You have NO IDEA how much willpower it took to not shove the whole thing in my mouth. I love tangerines.

So yes, this takes a little while, which is why I think you could use the canned stuff (drained) if you wanted. But oh man is it delicious- which is why I decided to use even more than Martha suggested.

Then prepare the bread:

Mix citrus juice and vanilla with the cream. How cool does that look!!


Butter + sugar + ZEST (I also used more than Martha called for. I love zest!)


After beating. The zest makes it orange!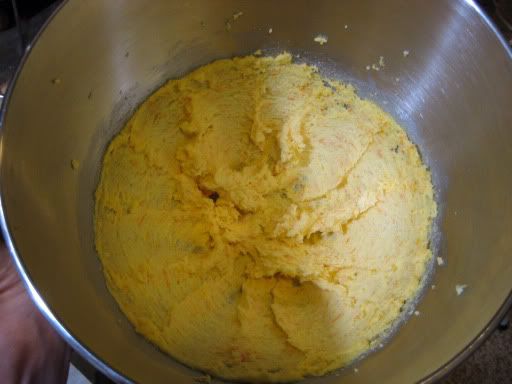 After adding the eggs, one at a time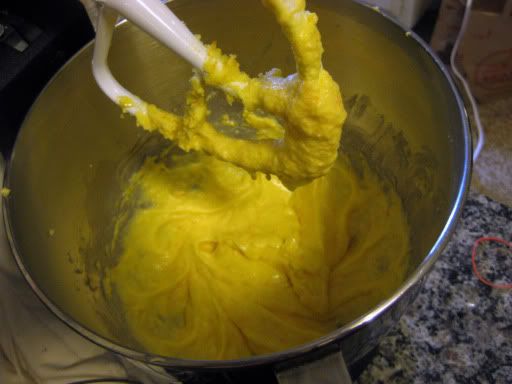 Add the cream and flour mixture, alternating, until all incorporated.


Now fold in all those delicious tangerine segments.


Can you see the little segments in the batter?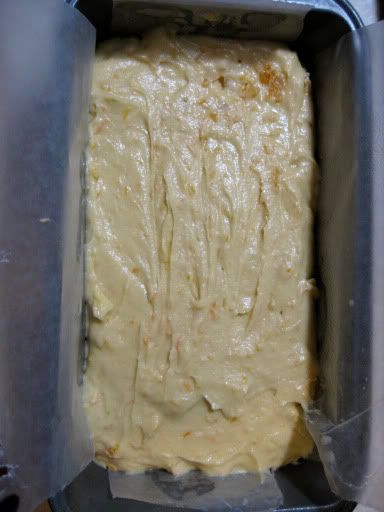 While the bread is baking prepare your tangerine glaze. From experience I know that recipes always call for WAYYYY too much sugar in these glazes. Well, too much sugar for me. I don't like them super sweet. She calls for 1 cup sugar : 1/2 cup juice. Ummmm, that's insane. I don't remember how much I used, probably more like 1/4 cup, if that. But that's personal preference. Add a little bit of sugar and taste to see if you want more.

Cook the juice and sugar until it thickens up a bit.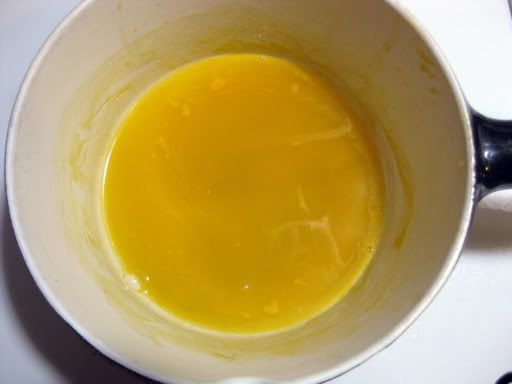 Then when the bread comes out of the oven...


... you can poke the daylight out of it and drench it in the glaze. Look how shiny!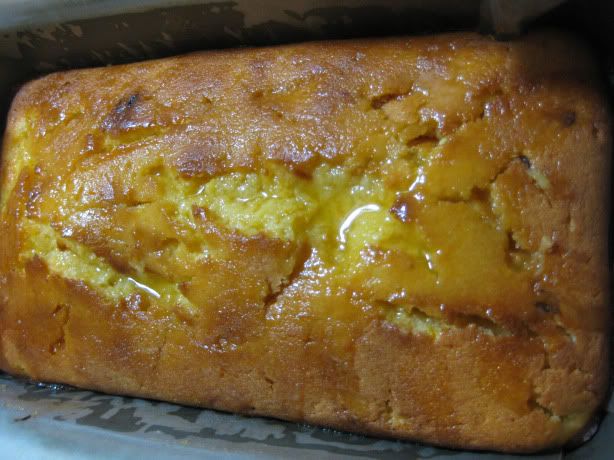 So to summarize: delicious!

Changes I made:
* I didn't have fresh vanilla beans so I just eliminated the vanilla beans. Feel free to use them, it can only make it better.
* As I said, I cut the sugar WAY down in the glaze. Feel free to use no sugar, the full amount or anything in between.
* I used more zest and more tangerine segments than called for. Honestly, I think it could have used two, or even three times as many segments. I dunno, maybe that's just me. But tangerines are teeny and the segments all fall apart in the process so there wasn't as many fruity pieces in the bread as I thought after reading the recipe.
* It took less tangerines to make this recipe than called for. Perhaps my tangerines were a littler larger than average. I just followed the cup amounts for juice vs. fruit amounts.

Jackie

Clementine-Vanilla-Bean Quick Bread from Martha Stewart
http://www.marthastewart.com/recipe/clementine-vanilla-bean-quick-bread

Makes one 5-by-9-inch loaf

* 10 clementines or tangerines
* 3/4 cup heavy cream
* 1 tablespoon pure vanilla extract
* 2 cups all-purpose flour, plus more for pan
* 1/4 teaspoon baking powder
* 1/4 teaspoon baking soda
* 1/4 teaspoon salt
* 4 ounces (1 stick) unsalted butter, plus more for pan
* 1 1/4 cups sugar
* 2 vanilla beans, split and scraped, pod reserved for another use
* 2 large eggs

Directions

1. Preheat oven to 350 degrees. Butter and flour a 5-by-9-inch loaf pan. Zest 4 clementines to yield 1 tablespoon zest. Juice 2 zested clementines and 6 remaining unzested clementines to yield 3/4 cup juice. Cut pith from 2 remaining zested clementines. Slice fruit along membranes to release segments into a bowl; discard membranes and any seeds.
2. Combine 1/4 cup clementine juice, the cream, and vanilla extract in a medium bowl. Whisk together flour, baking powder, baking soda, and salt in another bowl.
3. Beat zest, butter, 1 cup sugar, and the vanilla seeds with a mixer on medium speed until combined, about 4 minutes. With machine running, add eggs, 1 at a time. Reduce speed to low, and beat flour mixture into butter mixture in 3 additions, alternating with cream mixture, beginning and ending with flour.
4. Fold clementine segments into mixture, and pour into pan. Gently smooth top using an offset spatula.
5. Place pan on a rimmed baking sheet, and bake until a tester inserted into center comes out clean, 55 to 65 minutes. Meanwhile, bring remaining 1/2 cup clementine juice and cup sugar to a boil in a small saucepan over medium heat. Reduce heat, and simmer for 3 minutes.
6. Remove bread from oven, poke top all over with a skewer, and brush with half the clementine syrup. Transfer pan to a wire rack; let cool for 15 minutes. Invert pan to remove bread. Let cool completely on wire rack, top side up.
7. Brush remaining clementine syrup onto sides and again on top of bread. (Bread can be stored, wrapped, at room temperature overnight or refrigerated for up to 5 days.)