I knew I wanted to do cupcakes for Thanksgiving (easy to serve, could use my cute chocolate leaves I made a few weeks ago for simple yet elegant decoration). But what flavor?? The only cupcake recipe I've personally been 100% satisfied with is a Cooks Illustrated dark chocolate cupcake one. Cupcakes tend to be a bit dry and are never turn out as well as I'd like.

I also realized that I didn't have any pumpkin dessert on the menu, so could I find a recipe for pumpkin cupcakes?!? Luckily, Smitten Kitchen came to my rescue.

These cupcakes are ridiculously good, even more so if you love pumpkin flavored stuff. I don't hate it, but I don't LOVE pumpkin desserts like some people do. But I REALLY liked these cupcakes, and others even said they loved them. They were ridiculously moist, not super sweet and had the PERFECT amount of spices (not too bland, not overly whack-you-over-the-head-with-spice flavor). And they paired perfectly with a cream cheese frosting. YUM!

As I always mention, I'd highly recommend checking out Smitten Kitchen's website for her pumpkin cupcake post. Her pictures and blog are amazing. I have very few pictures this time and most of them are lame-O (with so much to do, picture taking wasn't on the top of my list this holiday...)

But I did manage to snag a picture of the final product. Delicious!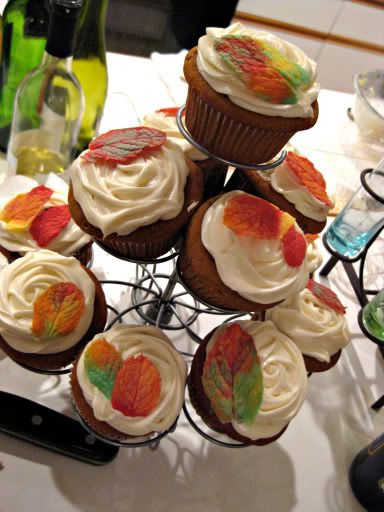 One thing I loved was the use of brown sugar. Here's the butter + brown sugar mixture.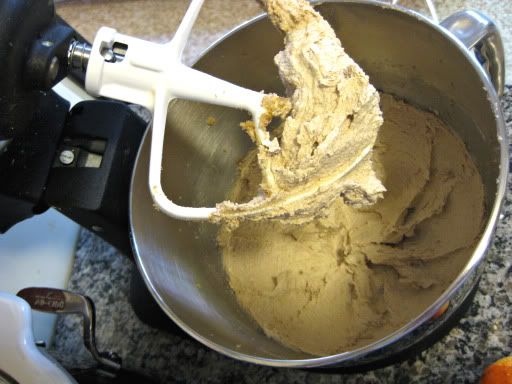 The key to this recipe was the perfect amounts of spices. Cinnamon, ginger, nutmeg, cloves, salt and pepper (along with baking powder and soda). They smelled, and looked, delicious...


It amazes me how different cake/cupcake batters can be. Some are super thick, some are super liquidy. This batter was super smooth. This was the batter just before the addition of pumpkin puree. Not sure why I didn't take a picture afterwards- it was such a cool orange color!! I guess now you'll just have to make it yourself to see what I'm talking about.


Another picture of the final product- with me looking all crazed in the background. (Too bad you can't see my apron in all it's 1950's housewife sexiness)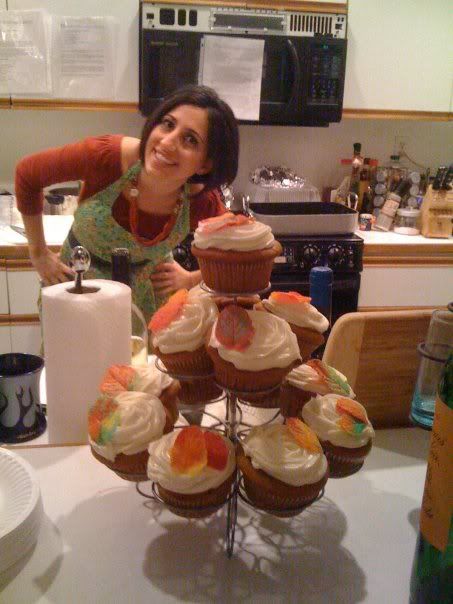 And that's how pumpkin cupcakes are made.

I leave you with a funny pic I got from an e mail forward with the subject line: how pumpkin pies are made.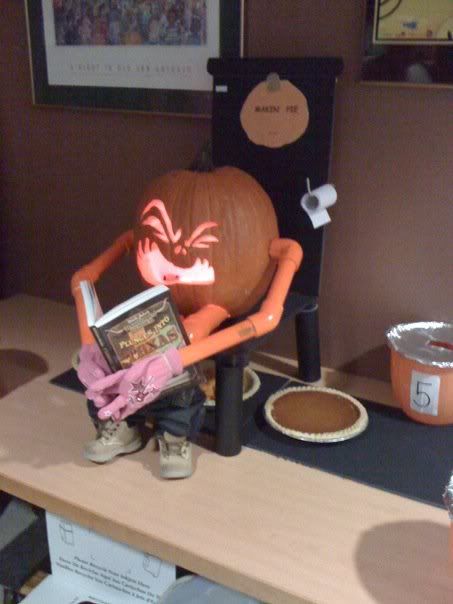 Jackie

Pumpkin Cupcakes With Maple–Cream Cheese Frosting from Smitten Kitchen

Yield: 17 to 18 cupcakes

1 stick unsalted butter, room temperature
1 cup firmly packed dark-brown sugar
1/3 cup granulated sugar
2 cups cake flour
2 teaspoons baking powder
1 teaspoon baking soda
1 teaspoon ground cinnamon
1 teaspoon ground ginger
1/2 teaspoon ground nutmeg
1/8 teaspoon ground cloves
1/2 teaspoon salt
1/4 teaspoon freshly ground black pepper
2 large eggs
1/2 cup buttermilk mixed with 1 teaspoon vanilla
1 1/4 cups canned solid-pack pumpkin (just shy of a 15 oz can)

Frosting
Two (8-ounce) packages cream cheese, softened
1 stick unsalted butter, room temperature
2+ cups confectioners' sugar (more to taste)
1/4 cup pure maple syrup (optional)

Make the cupcakes:
1. Preheat the oven to 350° (175°C). Line a cupcake pan with 18 liners.

2. In a stand mixer, beat the butter and sugars on medium speed until fluffy, about 5 minutes. Meanwhile, sift the flour, baking powder, baking soda, cinnamon, ginger, nutmeg, cloves, salt, and pepper into a medium bowl.

3. Add the eggs 1 at a time to the mixer, scraping down the sides after each addition. Alternate adding the flour and milk mixtures, beginning and ending with the flour. Beat in the pumpkin until smooth. Scoop the batter among the cupcake liners — you're looking to get them 3/4 full. Rap the filled pans once on the counter to release any air bubbles. Bake the cakes until a toothpick inserted into the center comes out clean, about 20 to 25 minutes. Cool the cupcakes on racks completely.

Make the frosting:
In a stand mixer beat all the ingredients on medium until fluffy. To assemble the cake, frost the top of one cake, place the other cake on top. Frost the sides and top, swirling decoratively. Refrigerate the cake for 30 minutes to set up frosting.

Jackie's notes:
1. I don't know if I really tasted much of a maple flavor from the 1/4 cup syrup. Can't hurt to use it but you could just use more powdered sugar instead. Also, I found the frosting wasn't sweet enough for me as written (which is odd- usually frostings are too sweet for me). Just add sugar to taste.
2. This was a LOT of frosting- and I used more frosting on the cupcakes than I normally do. The recipe could be cut in half or by 1/4 with plenty of frosting for use. I just froze the leftover frosting. An excuse to make these cupcakes again I guess...