This was the first time I've not only made stuffing from scratch, but EATEN stuffing from scratch (that I know of). The boxed stuff isn't bad, but WOW, this stuff is amazing. Seriously seriously good. And soooooo easy to make.

I got this recipe from Pioneer Woman (she really helped me out this Thanksgiving, I used a lot of her recipes) http://thepioneerwoman.com/cooking/2007/11/stuffing_dressing_my_favorite_thanksgiving_food/ Check out her blog- it's awesome!

I didn't get a great picture of the stuffing, but it was on the table when I took a group food photo. Here's the cropped shot. It may be small and out of focus, but even from here you can see the delicious celery and fresh herbs in the stuffing. YUM!


Note: the Pioneer Woman makes this with a loaf of french bread and a batch of her corn bread. (1) I don't like cornbread, so I veto'ed that decision. (B) I'm not a masochist and already had more than enough to prepare for Thanksgiving, let alone make cornbread, so I just doubled the french bread part of the recipe.

To make this I used a combination of white and wheat french bread. Next time I'll be completely "healthy" and make it all with wheat bread. You'll need almost 2 loaves.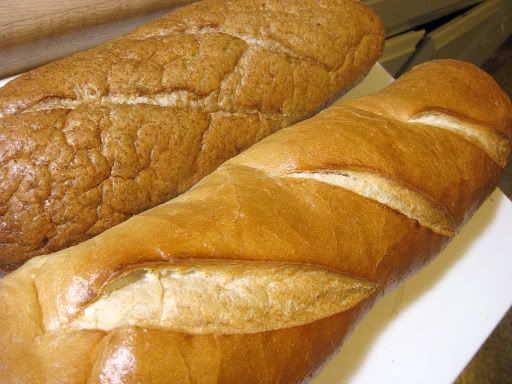 Cut them up into 1" cubes. Chop chop chop. You'll need 16 cups worth (or 8X what I'm showing you here)!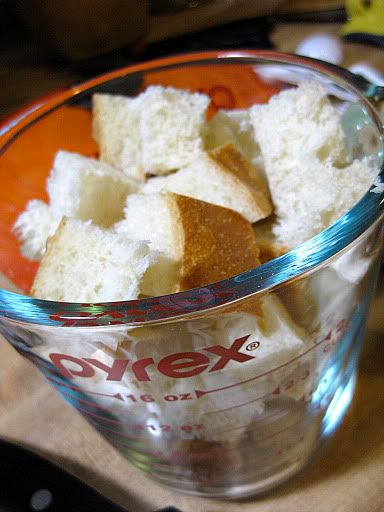 Now just lay them out for a few days to dry. I'd give them 1-3 days, depending on how fresh the bread was and how humid it is. In 2 days mine were perfectly dry. And just look how happy they are!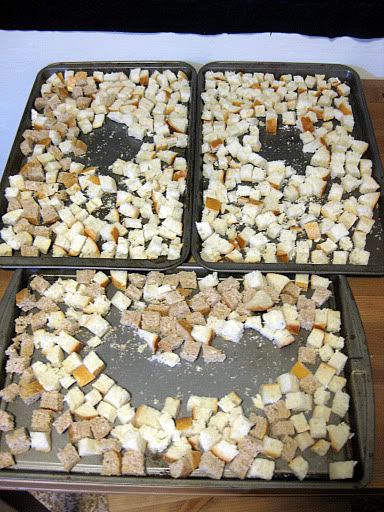 Extreme food closeup!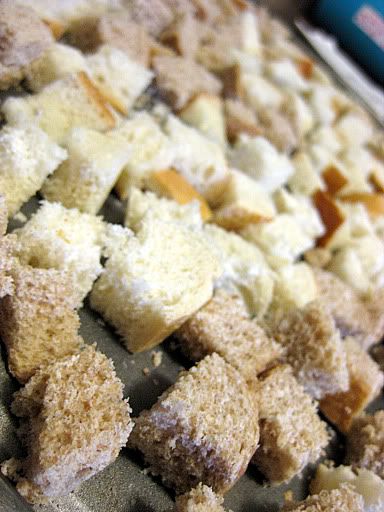 I did this all in advance so on Thanksgiving all I had to do was prepare the liquid for the stuffing. So ~30 minutes or more before I popped the stuffing in the oven I continued with the recipe.

Melt butter in pan and cook onions and celery until soft. Add chicken broth and bring to a boil. Add the herbs and you're done. This smelled HEAVENLY!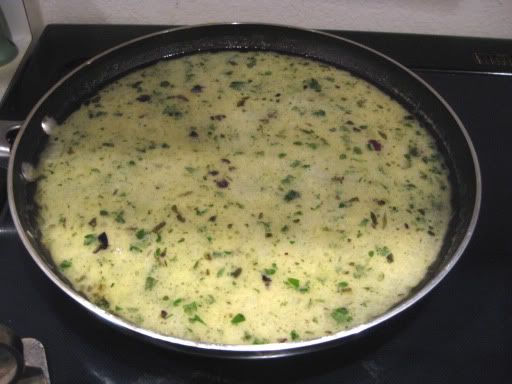 Then slowly ladle the liquid over the dried breadcrumbs, tossing the crumbs to get them nice and soft from the liquid. You don't want it soggy, but you want them moist. I had to add a teeny bit of extra liquid. You could add extra chicken broth but I just used water. I mean there's more than enough flavor already on them.

Then either place into the bird or on a baking dish to cook. We just popped all ours into a baking dish in the oven. (One normal 9x13 dish was the perfect size. You need a giant bowl to mix the bread in but they "deflate" a bit after absorbing the delicious broth.)

My verdict: Usually I'm not the biggest stuffing fan out there. I mean I like it just fine and I'll eat it come Thanksgiving day, but it's not something I normally crave. This stuff though, oh man, it may have been my single most favorite dish of the night. I've been holding off making it again so soon after the gluttony of Thanksgiving. Soon, I'm sure I'll cave.

Overall a wonderful recipe. And definitely one worth scaling down to use up crusty, leftover bread. Stuffing isn't just for Turkeys anymore...

Jackie

Stuffing, adapted from Pioneer Woman

Ingredients

~2 loafs French Bread, Somewhat Crusty
1 stick Butter
1 whole Medium Onion, Diced
2 cups Celery, Chopped
4 cups Low Sodium Chicken Broth
1/4 cups Fresh Parsley, Chopped
1/2 teaspoons Dried Basil
2 teaspoons (to 3 Teaspoons) Fresh Rosemary, Chopped
1/2 teaspoons Thyme
Pepper, to taste
Salt, to Taste (likely not needed as chicken stocks are usually salty enough)

Instructions

Chop the French bread up into 1-inch cubes. Spread them out on three baking sheets and let them dry for ~1-3 days.

Warm up a large skillet over medium heat and add butter. Cook the onion and celery for a few minutes until onions are almost translucent. While it's cooking chop up any fresh herbs you will be using.

Add chicken broth and bring to a boil. Add basil, thyme, rosemary and parsley. Stir until combined.

Place all of your dried bread cubes into a large bowl. Gradually ladle the broth mixture into the bread, tossing lightly as you go. Keep gradually adding the broth mixture, tasting as you go and adding more seasoning and herbs if needed. If the mixture is not quite moist enough add a bit more chicken broth (or water) and stir.

Stuff the bird and bake according to directions and/or place in a baking dish and bake at 350 degrees for 20 to 25 minutes or until golden brown on top.