These toffee cookies are the easiest dessert ever.

OK, they're not as easy as dipping pretzels in chocolate, but they're pretty damn close. I'd say in ~30 minutes, start to finish, you'll have a tray-full of "cookies," tempting you to eat them all in a single sitting.

Although I like to make cakes and desserts for people, I'm not the biggest sweet fan. (Like I always say, I prefer my desserts fat-ass vs. super sweet.) Which means I'll take bread pudding or a cream puff over a cookie any day. But this toffee cookie is dangerous, even for me. Soooo delicious and oh-so addictive. (This picture doesn't even do it justice, make sure to check out all the pics from this post to see what I'm talking about...)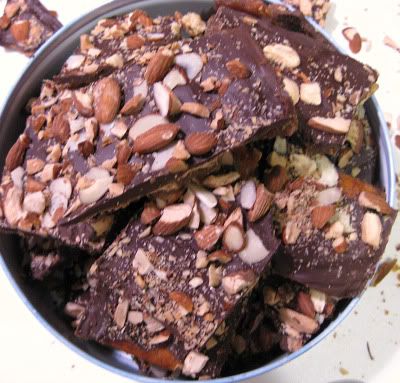 I first saw this on the blog
Sweet Savory Life
then realized that
Smitten Kitchen
had made them as well, and appropriately calls them CRACK(ers) since they're so freaking addictive. They seem to be pretty popular in the blog world- but whatever. I'm writing it up anyways!
So you may be wondering at this point why I call it 1-cup crack. Well, read on to find out!

This is all you'll need to start.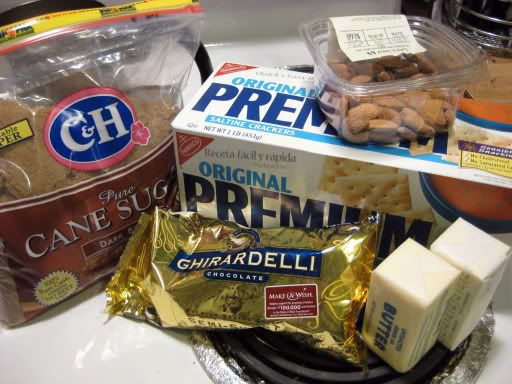 Yes, those are saltines. As in salty crackers. But do not turn away in fear. Trust me, and everyone I've made these for that fall in love at first bite, they're delicious. (And for all my Jewish friends out there, Smitten Kitchen replaced saltines with matzo for Passover-friendly cookies.)

Now you know why people call them crack(ers). But why 1-cup? Well, you basically need 1 of everything: 1 cup butter, 1 cup brown sugar, 1 cup almonds, 1 cup chocolate and 1 sleeve of saltines. That's it!

1 sleeve saltines? Check!



Put 'em, single layer, on a WELL GREASED cookie sheet (I like using baking spray- it's like Pam with flour in it for cake pans, etc)


1 cup packed dark brown sugar? Check!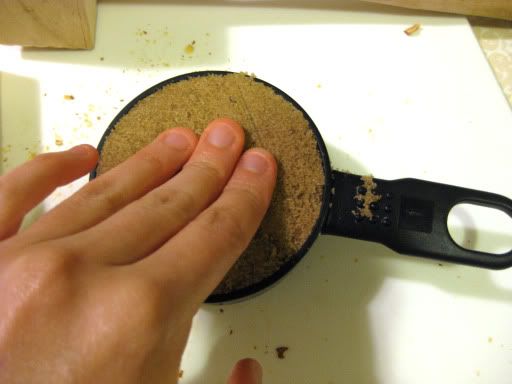 Add it to 1 cup of melted butter.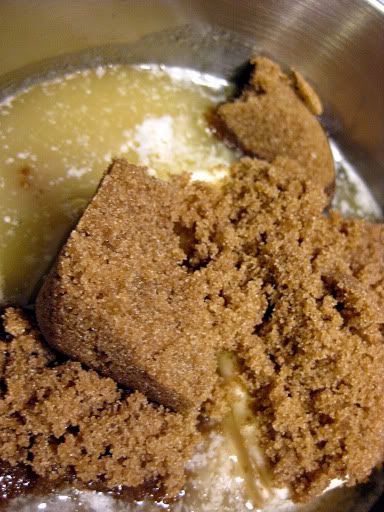 Now just stir the sugar and butter to combine over medium-high heat. At first the butter and sugar will be separate entities.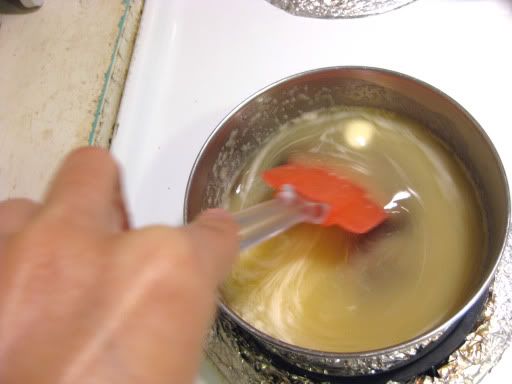 But as time goes on (keep stirring), the mixture slowly comes together into a thick-sauce.

Almost there (some butter is still "separated" from the sugar)


After 3-5 minutes (it should bubble in the process) it'll resemble a caramel sauce.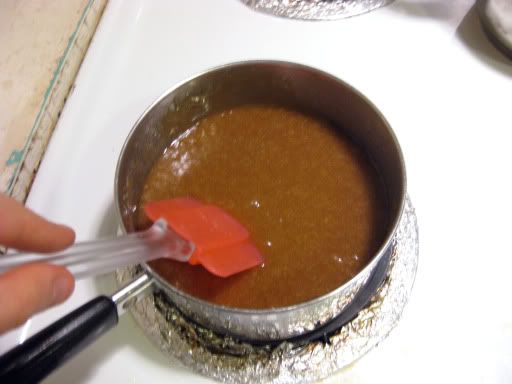 See how smooth it is?


Now just carefully pour it over the crackers.


And smooth it out to cover the crackers.


Pop in the oven and cook for 15 minutes. In the meantime, get your other ingredients ready.

Measure 1 cup of chocolate chips and smash up 1 cup of almonds. Go ahead, get out all your aggressions on those almonds!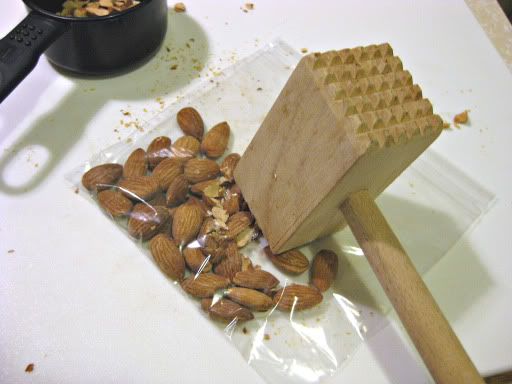 After 15 minutes, the toffee is nice and bubbly.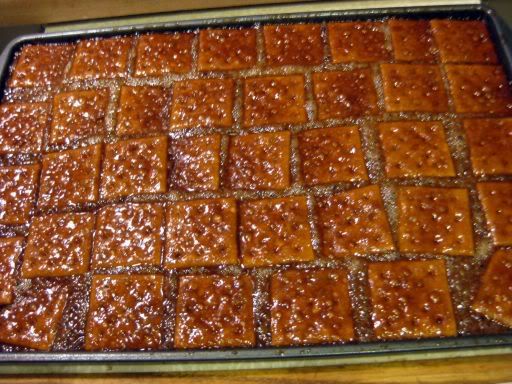 You may notice the saltines are "floating" on the sugar mixture at this point. Don't worry- that's normal.

Pour the chocolate all over the crackers immediately after removing it from the oven. (Note: I used two cups of chocolate chips the first time I made the recipe- so it looks like a lot of chocolate because it is. See my note at the end of the recipe post)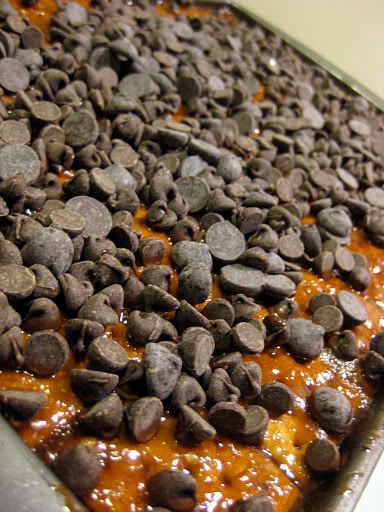 Wait 5 minutes (or 2 in my case since I'm impatient), and smooth the chocolate all over the surface.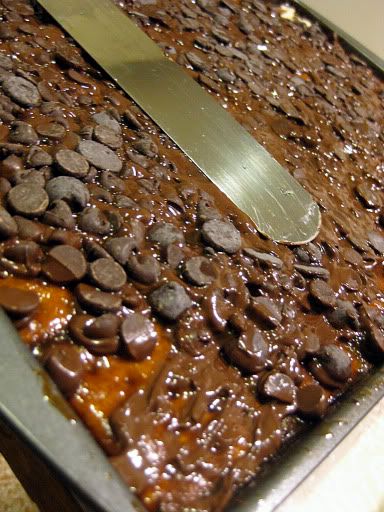 Soooooo smoooth.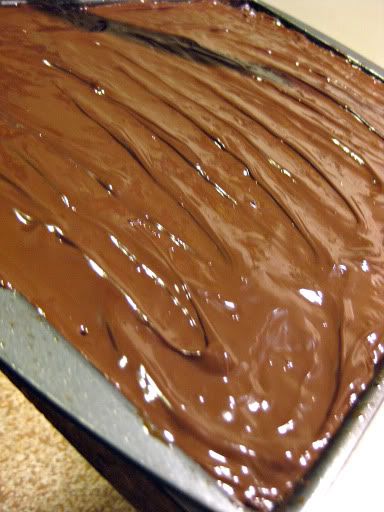 Then cover with the chopped almonds.


Now just let it cool. You could do this at room temp, but I couldn't wait to dig in. So I popped it in the fridge for a little bit, just until the chocolate had set.

At this point you could just pop the whole thing out of the baking sheet (like an ice tray, just twist the baking sheet to release the toffee.) Here's the backside of my entire sheet. That's one big cookie!!!


Alternatively, you can just take a knife to it and start breaking it apart in chunks.

Don't even try to get nice, evenly shaped pieces. It's not gonna happen. Instead, embrace the "rustic" nature of these cookies with their jagged and oddly sized pieces.

But seriously, how could you resist something that looks THIS good?!?


Jackie

Toffee Cookies, aka 1-cup crack (adapted from Sweet Savory Life and Smitten Kitchen)

Ingredients:
1 sleeve of saltine crackers
1 cup butter
1 cup packed brown sugar (dark or light, I used dark)
1 cup chocolate chips (see below)
1 cup chopped almonds, toasted

Directions:

* Preheat oven to 350 degrees F.
* Spray cookie sheet with non-stick or baking spray.
* Line crackers on cookie sheet, making sure crackers are all touching. One sleeve will not cover your entire pan- that's OK.
* Melt butter in a saucepan on medium (to medium-high) heat. Add sugar and stir until the mixture begins to bubble/boil. Once it has begun boiling, let it bubble for three more minutes, stirring it constantly. It will thicken a bit as it cooks and turn into a caramel looking sauce. (Sweet Savory Life notes that she used generic brown sugar without success. She recommended using C&H brown sugar, which is what I did).
* Pour the sauce over the crackers and spread with a knife to cover them completely.
* Bake for 15 minutes. Watch the pan carefully to make sure the edges do not brown too quickly. If so, turn the heat down a little.
* Remove from oven and immediately sprinkle chocolate chips over the cookie sheet. Let stand for ~5 minutes and spread the melted chocolate over the crackers.
* Top with crushed almonds and lightly "press" them into the chocolate. (This way the almonds don't all fall off when you start to break apart the toffee.)
* Cool completely, break into pieces... and try not to eat the entire tray. :)

Note: I suggest 1 cup of chocolate chips but other recipes I've seen use 1 1/2 or 2 cups. Feel free to use more chocolate if you like. I used 2 cups the first time I made this recipe but thought it was wayyyy too much chocolate. The second time I made them with 1 cup and I felt it was a perfect balance between the sugar toffee and chocolate.

Note 2: I never had a problem with my cookies coming out of the baking pan, but my friend has had some issues. Not sure why (she used PAM, whereas I used baking spray). So if you have issues then you may want to try the foil set-up that Smitten Kitchen used (http://smittenkitchen.com/2009/04/chocolate-caramel-crackers/)