Thank goodness for firemen!
What do firemen have to do with carrot cupcakes? Let me explain...
During Thanksgiving I bought a ton of carrots for various dishes. So of course I was left with a bunch of leftovers. I could have simply eaten the carrots, but that wouldn't have been nearly as much fun (and fat-ass) as baking carrot cupcakes.
Looking through my favorite blogs I was left deciding between a Smitten Kitchen recipe and a Pioneer Woman one. They both looked great- so I decide to "merge" the two recipes into one. Big mistake.
Adjusting the spices wouldn't have been a big deal. However, I decided to break the cardinal rule of baking: messing around with the proportions of ingredients (especially the leavening agents like baking powder and baking soda). I thought to myself "how bad could it really be?!"
Ummmm, pretty bad.
I mean they tasted OK but their texture was totally off. I'm critical of my own cooking to begin with; you throw a "fail" into the mix and I seriously can't enjoy it.
But luckily I know some firemen that enjoy any desserts that I bring to them. I felt embarrassed sharing the cupcakes, but they assured me that they loved them and were delicious. I'm not sure I'd go that far, but as long as they enjoyed them then I'm a happy camper!
One thing I was happy with though: my decoration.
Ready for the fail???
So both recipes were basically the same. You start off by mixing sugar + oil until it forms a slushie-looking mixture. Then add the eggs. Then the dry ingredients (flour, spices, leavening agents) to make the base of the batter.
Once that's done just fold in the grated carrots. It looks like a lot of carrots, but I only added 2 cups (all I had). Smitten Kitchen suggests 3 whopping cups!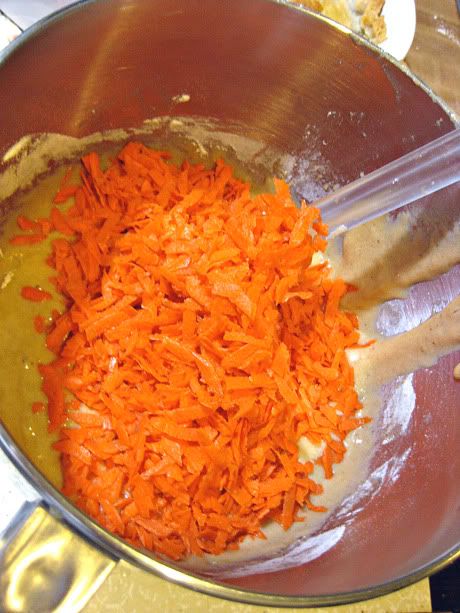 And that's it.
At this point they look pretty delicious.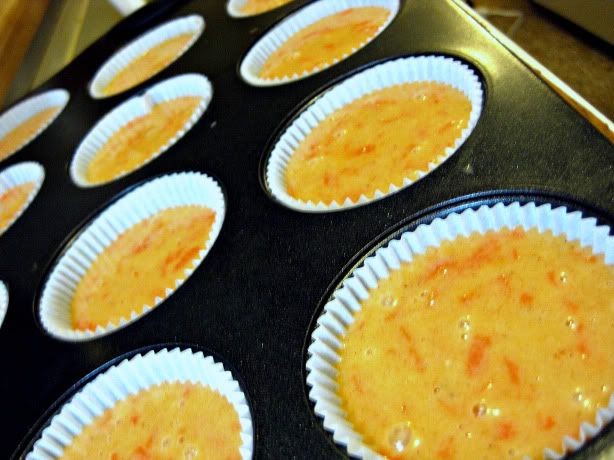 So where does the fail come in?!?
Right now...
As the cupcakes cooked, they rose too fast b/c I added too much baking powder/soda, which led to the tops completely caving in. The fast rise also led to a weird cake texture: insanely crumbly cake with giant air pockets. Plus, the tops of the cupcakes cooked up like sugar cookies: hard and cruchy and sticky. It took me forever to cut the cupcakes out of the muffin tin....
But it's amazing what a little bit of frosting can do to mask cupcake fail!!
It's also amazing how quickly 3 guys ate up all the cupcakes. Like I said, thank goodness for firemen!
I won't be including my hybrid recipe since it was just such a failure. Next time I know better than to play around with the amount of leavening agents. But hey. You cook, you learn!
You can find the Pioneer Woman's recipe for carrot (cup)cake
here
And Smitten Kitchen's recipe is
here.
I'm including her recipe here b/c I liked all the extra carrots and spices she used in her recipe. I'll have to try these again next time, making sure to completely follow the recipe as written!
Jackie
Carrot Cupcake, from Smitten Kitchen
. Makes 24 cupcakes or one two-layer cake (instructions at end)
2 cups all purpose flour
2 teaspoons baking soda
1 teaspoon salt
2 teaspoons ground cinnamon
1/2 teaspoon ground nutmeg
1 teaspoon ground ginger
2 cups sugar
1 1/4 cups canola oil
4 large eggs
3 cups grated peeled carrots
1 cups coarsely chopped walnuts (optional)
1/2 cup raisins (optional)
Preheat oven to 350&176;F.
Line 24 cupcake molds with papers, or butter and flour them.
Whisk flour, baking soda, salt, cinnamon, nutmeg and ginger in medium bowl to blend. Whisk sugar and oil in large bowl until well blended. Whisk in eggs 1 at a time. Add flour mixture and stir until blended. Stir in carrots, walnuts and raisins, if using them. Divide batter among cupcake molds, filling 3/4 of each.
Bake cupcakes 14 to 18 minutes, or until a tester inserted into the center of one comes out clean. Let cool in pans for five minutes or so, then transfer cakes to a cooling rack. Let cool completely before icing them.
To make a carrot layer cake: Butter two 9-inch-diameter cake pans instead of cupcake molds. Line bottom of pans with waxed paper. Butter and flour paper; tap out excess flour. Divide the batter between the prepared pans, and bake the layers for about 40 minutes each, or until a tester inserted into center comes out clean. Cool cakes in pans 15 minutes. Turn out onto racks. Peel off waxed paper; cool cakes completely.