For someone who doesn't love cookies I sure am posting a lot of cookie recipes right now. Blame the holidays- but I was in a cookie-baking mood in December (and am finally getting around to working up my posts).

Today's featured recipe is a Dutch spice cookie- similarish to a gingerbread cookie (but with more of a spice punch). I have no idea how to pronounce it, but they're called Kruidnootjes. (For more info, visit the Dutch Girl Cooking blog and search for "Kruidnootjes") I like cookies that tend to be crunchier and ones that aren't very sweet, so these sounded like a perfect match. Plus, they're so teeny, you get a TON of cookies. Great for work or large parties, where you don't want to show up with simply a dozen sweets.

They're also perfect for dipping in chocolate or leaving plain. The perfect trifecta dessert!


First off you need to prepare the spice mixture, called "speculaas". It's a wonderful mixture- and I think can be quite versatile for any recipe calling simply for cinnamon or a combination of a few spices). Here we have cinnamon, cloves, nutmeg, pepper, ginger, cardamom, allspice, anise seed and coriander.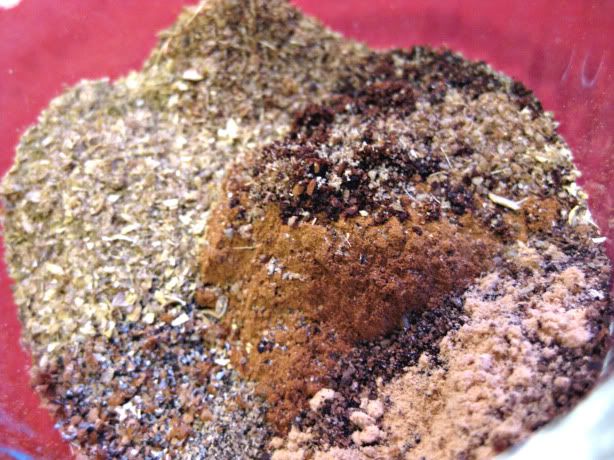 Once you've got the spices ready, just sift those along with flower, baking powder, salt and brown sugar. Add butter and milk and you're done.
mmmm, butter....
My picture is kinda crappy, but hopefully it gives you a little idea of the texture you want the dough. It shouldn't be dry, but not too wet either. (Mine was probably on the wetter side and everything turned out fine, so I'm sure it's a pretty forgiving recipe.)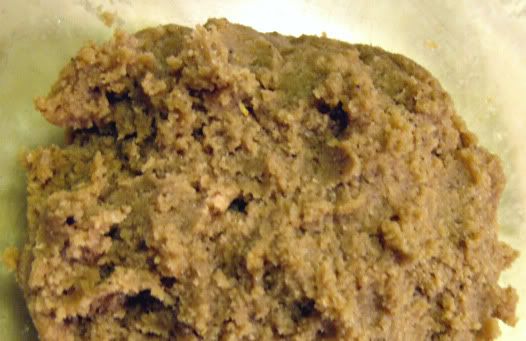 Then just form the dough into small balls and flatten them a bit. I have no idea what the actual size is supposed to be (5 grams was what she said), so I just tried to make the cookies small and about the same size.
Now just line them up on your cookie sheet. They probably could have been spaced a little closer since this isn't the kind of cookie that spreads, but better safe than sorry. (I can't remember exactly how many cookies I got out of this recipe, but somewhere around three trays worth I think (~70+ small cookies)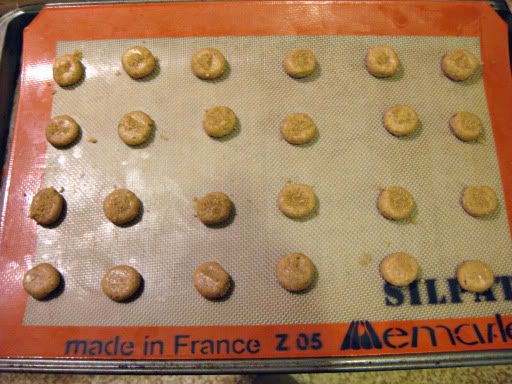 The cookies themselves are not very sweet, so if you want to give them a little extra kick, here's your chance. Just top them with a little extra bit of brown sugar.
Or better yet... sprinkles!
Bake for 15 minutes and they're done. A nice little crispy cookie!
Hot tip: since it takes a while to form all the cookies, pop the first batch in the oven and then start rolling the next batch. By the time they've finished baking your next tray will be ready for a trip in the oven.
After they've cooled, you can also dip them in chocolate. The spice flavor is pretty potent in these little suckers, so the chocolate is a great way to temper the flavor a bit.
I tried the cookie in both white and dark chocolate. To be honest, I
thought
I was going to prefer the dark chocolate cookie (I love dark chocolate), but I felt that the chocolate flavor overpowered the spices in the cookie just a tad too much for me. But the white chocolate was absolutely perfect! The sweetness of the white chocolate mellowed out the spice flavor but didn't mask it.
The final product, in order of how much I loved them:
I may have loved the white chocolate ones the best, but I obviously had NO problems eating all three varieties...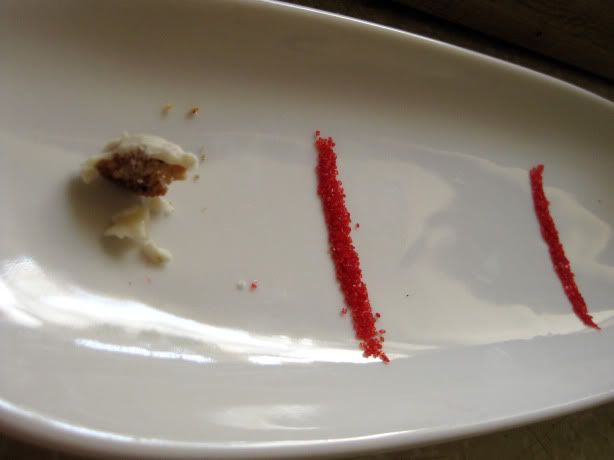 Buen Provecho,
Jackie
Dutch Kruidnootjes, adapted from Dutch Girl Cooking
Ingredients:
2 cups flour
3 tsp baking powder
1 1/2 TBSP speculaas spice (see below)
1/2-1 tsp salt (1 tsp salt if you enjoy the slightly salty-sweet combo)
2/3 cup brown sugar
1 stick of butter, softened
4-6 TBSP milk
Optional: chocolate (white, dark, milk, etc), sugar, sprinkles
Directions:
Preheat over to 320 degrees F.
Sift flour, baking powder, speculaas spice, salt and brown sugar into large bowl and stir to combine. Add softened butter and 4 TBSP milk. Start kneading the mixture. Add more milk, ~1/2 TBSP at a time, until the dough is wet but not too sticky.
Roll the dough into little balls and flatten them with your fingers. Top with extra sugar or sprinkles (optional). (Traditionally, kruidnootjes are ~5 grams a piece. I have no idea how big that is, I just used her photos as a guideline).
Bake them in the preheated oven for 15 to 20 minutes.
Once cooled, cookies can also be dipped in chocolate.
Speculaas Spice
note: this makes more than you'll need for one cookie recipe. Go to Dutch Girl Cooking for a
speculaas muffins recipe
for more ideas on using this awesome spice mixture
4 tsp cinnamon
1 tsp cloves
1 tsp nutmeg
1/4 tsp white pepper (I used regular pepper)
1/2 tsp ginger
1/4 tsp cardamom
1/4 tsp mace or allspice
1 tsp anise seed (optional)
1 tsp coriander seed (optional)