I heard in passing that today is Valentine's day. Is that true?? I'm not quite sure what this "Valentine's Day" thing is all about- but for me February 14 is my birthday (and Hallmark can suck it).
To celebrate, I decided to have a little dual-evening of fun. First part would be pizza and cake at my place in the early evening (for all the Palo Alto peeps) on February 13. Then for those who wanted an excuse to get dressed up in fancy attire, we headed up to San Francisco for a masquerade event at Ana Mandara. Luckily the company was awesome, because the "ist-ist-ist" techno music was not to my taste. At midnight (well, 12:02 b/c I missed it) we celebrated my 30th!
We then bounced from the lame semi-douchy party and had burgers at In and Out and the best Irish coffee at Buena Vista. Delicious and delicious!
What I did though didn't really matter. The fact is I was surrounded by so many friends (some who drove out from as far as Fresno) to celebrate a new decade of my life.
I won't share all the pics from the evening, but I wanted to share a few:
Here I am, ready for a night out in the town. (Ignore the ridiculous look on my face...)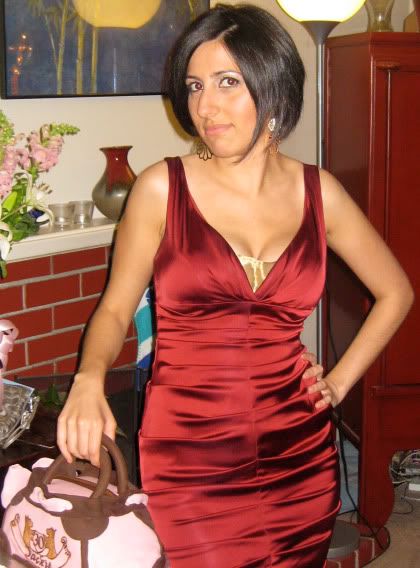 How do you like my purse???
Wanna hear a secret? It's not really a purse! It's the surprise b-day cake I got from the cake exchange we did with my cake club!!
You know, decorators NEVER get nice cakes for their own birthdays. So we arranged an exchange in which you get a cake that's a TOTAL surprise. (You don't know the flavor, you don't know the decoration.) A fellow cake decorator Aimee made my cake. Doesn't she rock?!? People didn't even realize it was a cake- they just thought someone had put their purse on the table.
See, Jesse is holding the cake while I pose:
The very happy birthday girl with her cake. (I felt like a little kid!)
And now, some more photos of the cake. (Click on the first cake for a close-up slideshow of images)
I have to admit- the entire cake was awesome but the little details made me the happiest. The stitching was rockin'. And the zipper?!? Insane. The zipper was my favorite!
Buen Provecho!
Jackie