I'll be honest: I'm not really a giant cookie fan. I like some more than others, but overall, meh- they're not my favorite dessert. Don't get me wrong, I'll never turn down a cookie, but there's lots of fat-ass desserts I'd rather stuff my face with (tarts and eclairs and cream puffs anyone?!). BUT, I love me some oreo cookies. Ohhhhh-reos, because that's the sound my mouth makes when I eat them. Throw in a tall glass of cold milk, and I'm in heaven.

But there is something I don't love about oreos: the cream filling. Yes, it's probably sacrilege to say that to all you double-stuff lovers out there. But I don't care: I want my oreos NO stuff (well, more like 1/3 stuff. I just want a teeeeny itty bit of the sugary lard in between my chocolate sandwich). So when I read this recipe for home-made oreo cookies I knew I had to make them. 2 years later I finally got around to it...

So do they actually taste like oreos? Well, I'll be honest: it's hard to replicate perfection. But they're a pretty damn good cookie.

They're not exactly like an oreo (they're softer), but they do share a similar intense and not-too-sweet chocolate flavor. And they're ridiculously easy to whip up.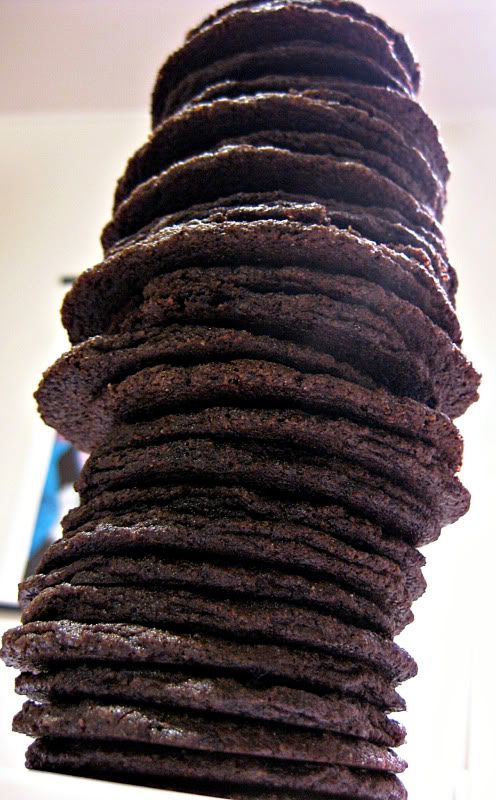 Continue after the jump for the recipe and more pictures.
All you need is flour, cocoa, baking soda, baking powder, salt, sugar, butter and an egg.
Combine the first 6 dry ingredients then pulse in the butter until your flour mixture is the consistency of lightly damp sand.
But once you add the egg, the mixture very quickly comes together.
Before the egg: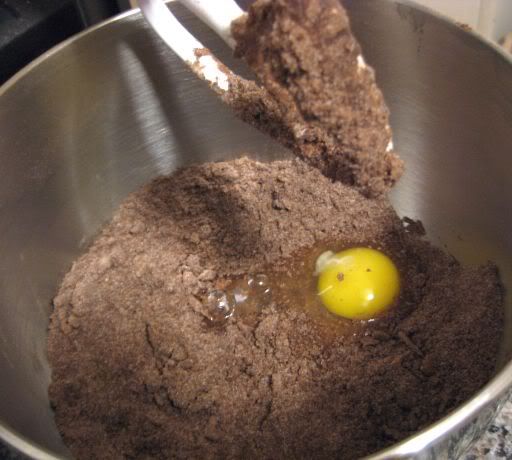 And after:
As you can see, the dough tends to stick together into a massive clump and works its way up your mixer. Once that happens, it's done.
At this point you can make the cookies as large/small as you want. I think I made them on the slightly larger side. My cookies were about a heaping teaspoon of dough.
Just roughly shape and slightly flatten the cookies on a parchment (or silicon) lined baking sheet. But make sure they're separated by quite a large space...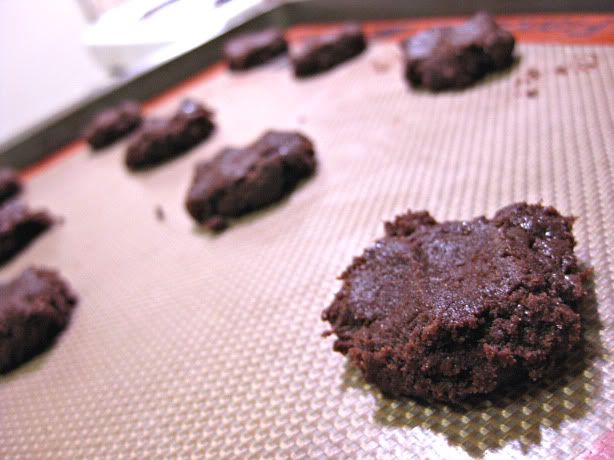 ...because these suckers spread OUT!
Just look how big they are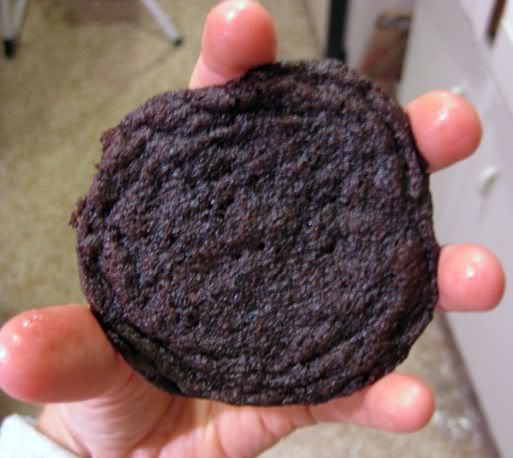 Although mine were quite large, I still got a lot of cookies from the single recipe (probably close to 3 dozen). So expect for a lot more if you make them truly oreo sized.
Buen Provecho!
Jackie
Note: the recipe calls for 1- 1.5 cups sugar, depending on your taste (and if you'll be using the filling or not). I went on the low end of the scale with 1 cup when making my cookies, even though I wasn't going to be filling them, because I don't like super sweet desserts. However, they probably could have used a tad more sugar, perhaps 1 1/4 cups would have been ideal (for me). You may want to stay on the lower end of the scale though if you're going to be making these with the cream filling.
I'm also including a copy of the cream filling, because while it's not something I'd enjoy- I figure most people out there would want it.
Homemade "oreo" cookies, from Smitten Kitchen
Makes 25 to 30 sandwich cookies
For the chocolate wafers:
1 1/4 cups all-purpose flour
1/2 cup unsweetened Dutch process cocoa
1 teaspoon baking soda
1/4 teaspoon baking powder
1/4 teaspoon salt
1 to 1 1/2 cups sugar [see recipe note]
1/2 cup plus 2 tablespoons (1 1/4 sticks) room-temperature, unsalted butter
1 large egg
For the filling:
1/4 cup (1/2 stick) room-temperature, unsalted butter
1/4 cup vegetable shortening
2 cups sifted confectioners' sugar
2 teaspoons vanilla extract
1. Set two racks in the middle of the oven. Preheat to 375°F.
2. In a food processor, or bowl of an electric mixer, thoroughly mix the flour, cocoa, baking soda and powder, salt, and sugar. While pulsing, or on low speed, add the butter, and then the egg. Continue processing or mixing until dough comes together in a mass.
3. Take rounded teaspoons of batter and place on a parchment paper-lined baking sheet approximately two inches apart. With moistened hands, slightly flatten the dough. Bake for 9 minutes, rotating once for even baking. Set baking sheets on a rack to cool.
4. To make the cream, place butter and shortening in a mixing bowl, and at low speed, gradually beat in the sugar and vanilla. Turn the mixer on high and beat for 2 to 3 minutes until filling is light and fluffy.
5. To assemble the cookies, in a pastry bag with a 1/2 inch, round tip, pipe teaspoon-size blobs of cream into the center of one cookie. Place another cookie, equal in size to the first, on top of the cream. Lightly press, to work the filling evenly to the outsides of the cookie. Continue this process until all the cookies have been sandwiched with cream. Dunk generously in a large glass of milk.