Sometimes deciding what to bring to parties can be a bit stressful for me.

It's not that people expect me to bring awesomely decorated treats every time they see me, it's just that I feel a little bit obligated to do so. Plus- I rarely take the time to decorate a cake or cookie, so what better time to do so than a big gathering?

OK- so I've finally come to terms with the fact that most times I go to group functions I'll "force" myself to make something. The next question then becomes: "What do I make?!?"

That's when I start my internet hunt for ideas. The problem with me is that a million things look like adorable/cute ideas and I want to do them all. But some (i.e. individually decorated cookies) just take too damn long. So a few days before the Superbowl this year, I still didn't know what I was going to make.

Ahhh! The stress of it all!!

And then, while perusing some of my favorite blogs, I saw THIS.

(cue spiritual music as a beam of light breaks through dense clouds)

Oreo... football... truffles. OMG- perfection!

Look how cute they turned out!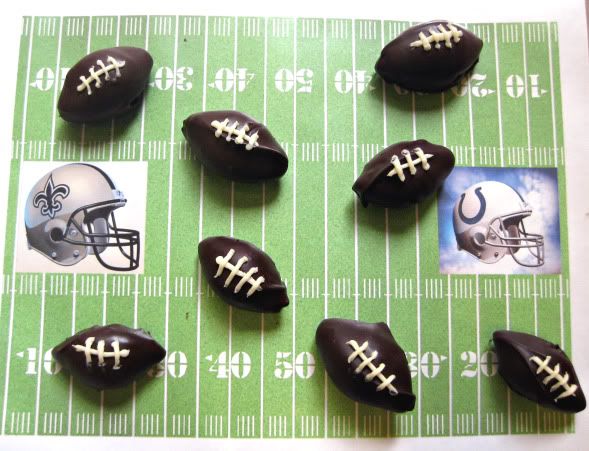 And what's even better- they required only THREE ingredients, all of which I magically had on hand. It truly was a Superbowl miracle.
Now I realize that 99% of you out there won't want to take the time to make/decorate football shaped truffles. That's fine- I totally understand.
BUT please do not let that deter you from making these truffles. They're ridiculously simple if you just make them into simple, round chocolate-dipped balls.
Wanna see????
First off you'll need a package of oreos
Damn you wretched cream! When will they make 1/4 stuff Oreos?!
Now just dump them into a food processor and pulse until fine.
Don't you love my old-school Cuisinart? It's my nana's- and it's probably almost as old as I am. If you don't have one- fret not. Just stick them in a bag and smash them to smithereens!
The Oreos will look like chocolate flavored sand at this point. Resist the urge to eat it by the hand-fulls.
Now, just add an 8 oz package of cream cheese, softened. Trust me...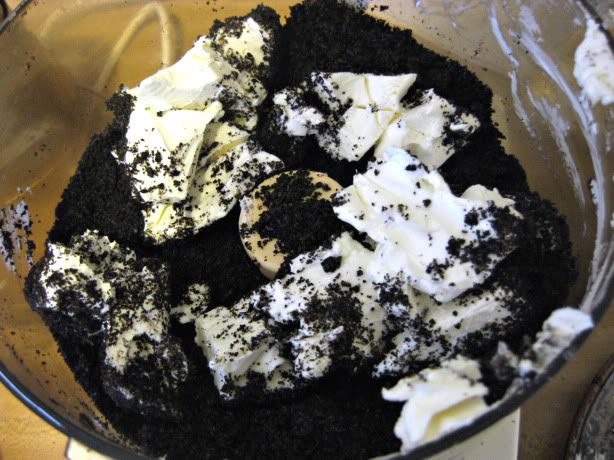 Then just pulse until combined. You'll notice that it turns into a giant clump at this point. This is exactly what you want. Creamy Oreo deliciousness.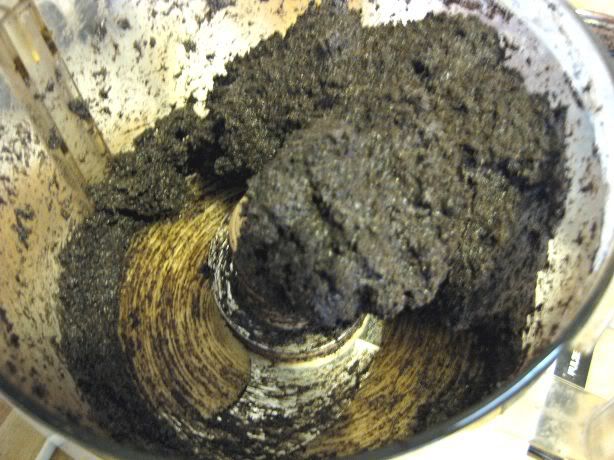 (Again, fret not if you don't have a food processor. Just mix by hand using the back of a spoon to really smush the cream cheese into the Oreo crumbs.)
At this point, for everyday desserts, you can just:
1. Roll or pipe the mixture into balls (refrigerate for a teeny bit if rolling by hand).
2. Pop 'em in the fridge or freezer to harden them up a bit.
3. Dip in melted chocolate and place on wax or parchment paper. Allow to harden.
4. Store in fridge (since they've got cream cheese in them).
But for the Superbowl, I first formed the Oreo mixture into miniature footballs.
After a few minutes in the fridge they were ready for dipping. I had some issues at first and then I found the magic trick for dipping and not messing the footballs as you put them on the wax paper. Wanna see?
Step 1: Stick a fork in the "flat" part of the football (i.e. the part that it's been resting on)
Step 2: Dip the football in melted chocolate. Not 100% all the way, just mostly covering the football (as shown)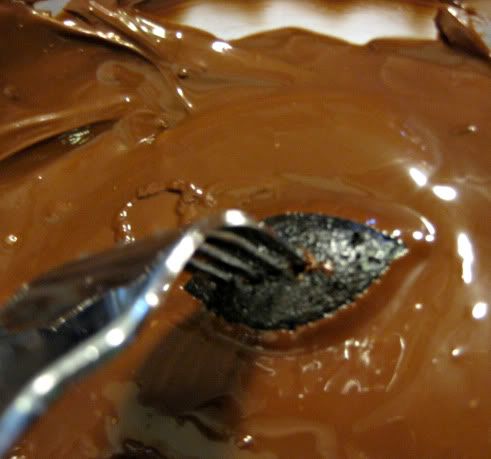 Now you have a perfect football!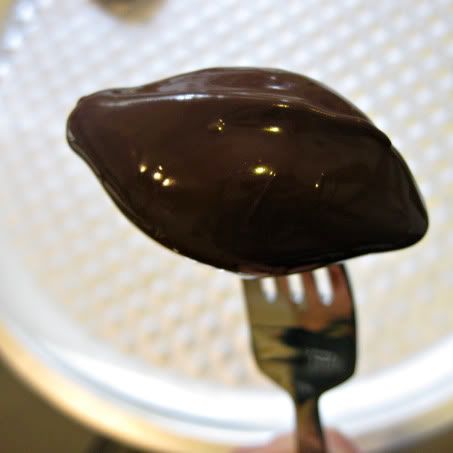 But using your fingers to transfer it to wax paper tends to get overly messy. The magic trick: another fork.
Step 3: Use fork #2 to remove the truffle from fork #1 and gently slide the football off the second fork and onto the wax paper.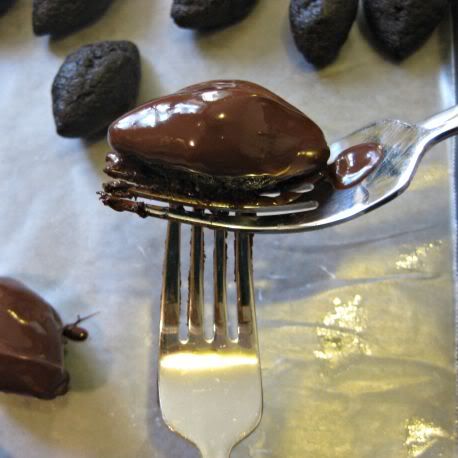 This looks like it takes forever, but it's seriously a breeze. Before you know it all 30+ Oreo balls will be dipped in chocolate.
Then I just used some white chocolate to pipe laces on the footballs. This was probably the most annoying step, as my hands/apartment are so cold the chocolate constantly hardens in the little baggie!
But all the effort was totally worth it. Just look how awesome they turned out.
And everyone at the party knew exactly who brought them :)
Buen Provecho,
Jackie
Oreo Truffles, adapted from Bakerella.
Ingredients
1 package Oreos
1 8 oz package cream cheese, softened and cut into 8 pieces
chocolate, for dipping (white, milk, dark, whatever)
Directions
Add Oreos to food processor and pulse until fine crumbs are formed. Add the softened cream cheese and pulse until the mixture comes together into a ball, like dough. (Alternatively, Oreos can be crushed and mixed with the cream cheese by hand.) Pipe immediately into balls or chill for a little bit, then roll by hand. Once the balls are formed, freeze for a few minutes, or refrigerate, to slightly harden the soft Oreo mixture. Dip in melted chocolate and place onto a waxed baking sheet. Allow chocolate to harden (either at room temp or in the fridge). Store truffles in the refrigerator.