Around here there's this great Jamaican restaurant called Back-a-yard that makes amazing jerk chicken (along with awesome rice and beans, oxtail, corn festivals, etc). Not only is their chicken cooked perfectly (so juicy!) but their jerk marinade is garlicy and delicious.

So delicious in fact, when I had some leftover jerk sauce with my takeout meal I couldn't get myself to throw it away. It was this little teeny tiny plastic container of jerk sauce, less than 2" in diameter, so there wasn't much sauce. But their jerk is strong, so I knew a little could go a long way.

The only jerk I like:

Well, ~ 1 week after my takeout I found myself with no plan for dinner one night. So I cooked up some pasta (whole wheat), added a little bit of olive oil and the leftover jerk sauce and some black beans. Then I just added some parsley I had laying around to freshen up the flavor a bit.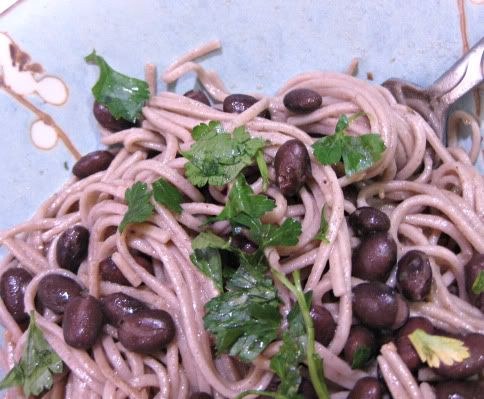 WOW! That little bit of sauce really gave the pasta a spicy kick. The flavor wasn't overpowering at all, but just enough where you could really taste it. And the black beans were a great combination with the heat/flavor of the jerk sauce.
I'm gonna have to go to Back-a-yard again soon just to get their jerk marinade. Then I could have their delicious chicken
and
make myself some leftover jerk pasta.
So next time you're about to throw away some random sauce you get with your takeout meal, think twice. You never know what you can whip out with it!
Buen Provecho,
Jackie