Every year, my former PI takes the entire lab on a yearly retreat to Tahoe. In a few weeks it'll be my first time in 5 years I haven't gone to Tahoe with them. [tear]

We really did a lot of great stuff together on these trips. The entire lab (+/- 15 people) would make the 4 hour drive for a long weekend full of winter activities, amazing sights, ridiculously delicious food and bonding time. I had some great times skiing (my first time ever on skis was during a lab trip), watching movies in the giant movie room, soaking in the hot tub, playing board games with everyone and laughing at all the inappropriateness with work colleagues.

The view from the house didn't suck either.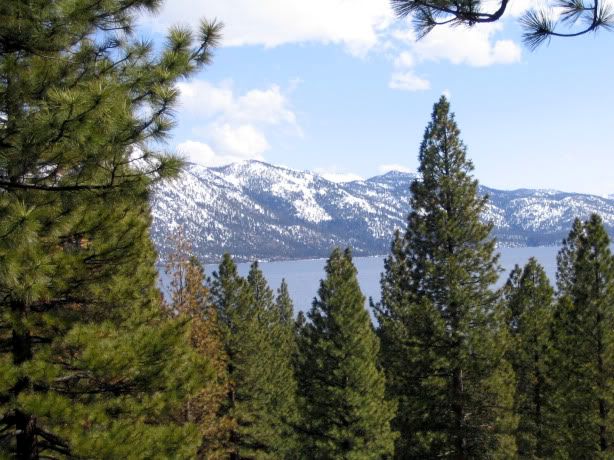 Blew me away every year.
OK, enough reminiscing, back to food! You may be wondering why I'm bringing all this talk about my old lab. Well, I mentioned that we'd have ridiculously delicious food each year. But what I didn't tell you was that it wasn't from a fancy schmancy restaurant; it was all cooked by us (with a higher percentage of the ridiculously amazing dishes coming from my PI).
Herb crusted and roasted lamb, duck with pomegranate sauce, sushi, whole baked salmon, mussels, homemade mushroom ravioli, sangria, oriental noodle salad, wild mushroom risotto, lasagna, Puerto Rican empanadas, French cheese fondue, Danish aebleskiver, Japanese tempura and miso soup, and
Assyrian dolma
were just
some
of the treats we made over the years.
Who knew scientists could create such mouth-watering meals? :)
Years ago I had the idea to try to compile all the recipes we made during our retreats. It was a semi-success. I made one recipe book back in 2006 (my pre-blog really!) but have only gathered the recipes intermittently in the years since (and unfortunately lost a batch from last year's retreat...) My next goal is putting what I have together into one compilation. And not have it take forever to complete...
I recently was looking through that original (complete) recipe book and was instantly transported back all those years ago. And then I saw it: a recipe for one of the most delicious things I'd ever eaten.
It's from my PI, called potato and leek al forno (like a scalloped potato). I can't even tell you why I love it so much. But the combination of potatoes with leeks and mascarpone makes it one of the most delicious side dishes ever.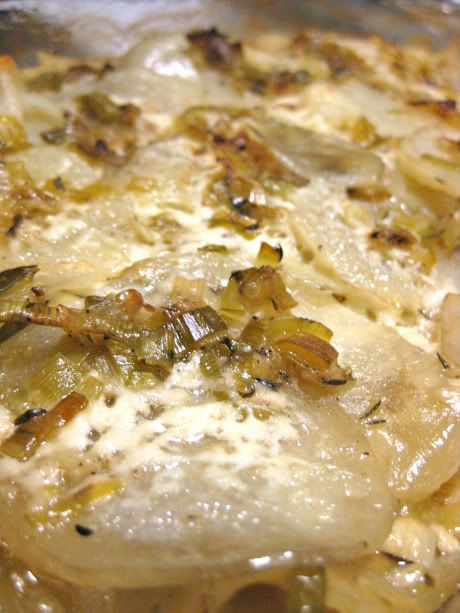 I made it again last week after all these years and the second I had the first bite I just about moaned from the deliciousness. If you make only
one
thing from my blog- I think this would be the dish I'd recommend.
To start, you'll need to sautee some leeks in butter.
Look at my new shiny and gorgeous All Clad stainless steel pan. I LOVE IT!
Artsy butter shot.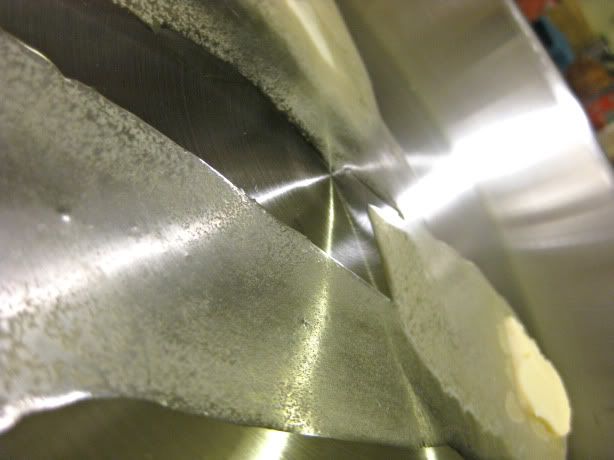 To prepare the leeks, just slice them up. But beware, leeks are a dirty dirrrrrty vegetable. See all that sand in between the leaves?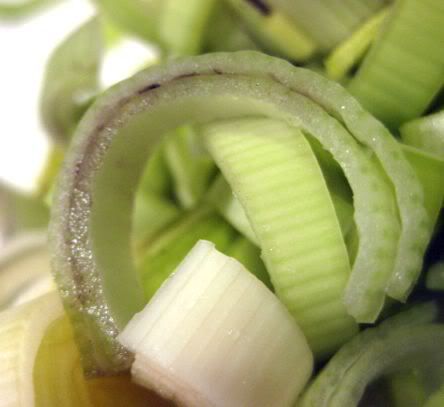 After slicing the leeks you NEED to give them a nice water bath. Just soak them in some cold water, making sure to break apart the layers to make sure no grit is stuck between the leek layers.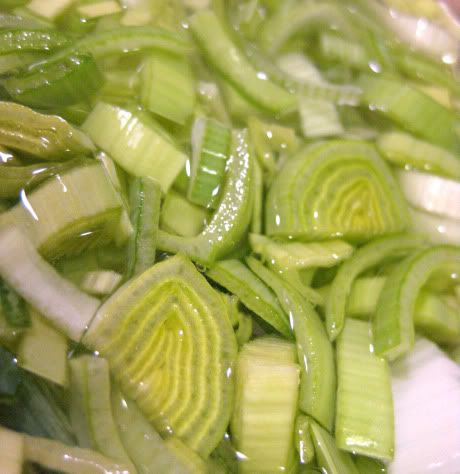 Once you've done that, drain the leeks and add to your pan with butter.
While those are sauteing, start prepping your potatoes. I usually get lazy and leave potato peels on but this is one time I made sure to use nekked potatoes.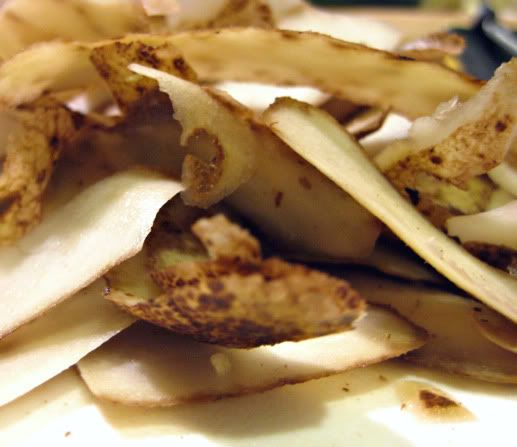 You'll next want to slice those potatoes very thinly. You can do this (carefully!) with a knife or buy yourself a handy-dandy mandoline like I did. Cooks Illustrated said that the Oxo V-blade one is the best. And at $35-40, the price is perfect!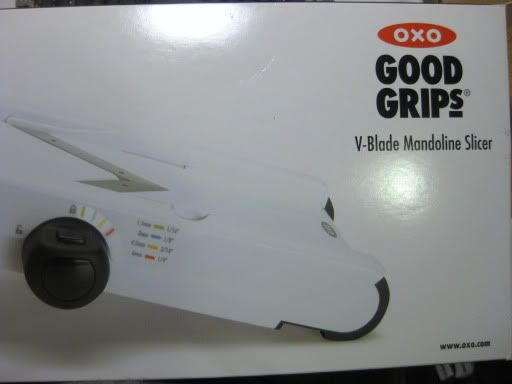 Potato, meet your doom! Your flesh is no match for the V-blade.
Look how perfectly thin these slices come out.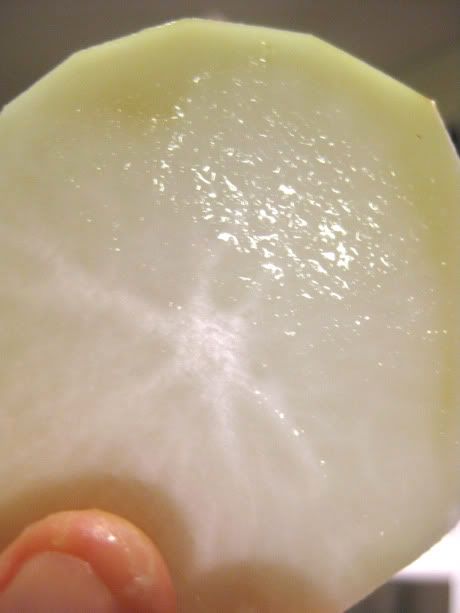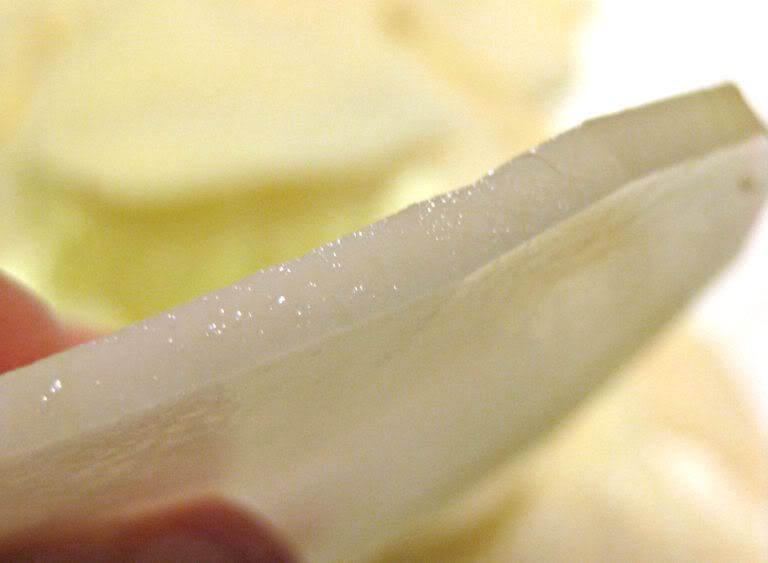 If I make nothing else in my life with this mandoline other than to prepare this dish it will be worth every penny.
Once you're done slicing it's time to start the preparation. It's kinda like making lasagna, with layers of potato alternating with leek and mascarpone.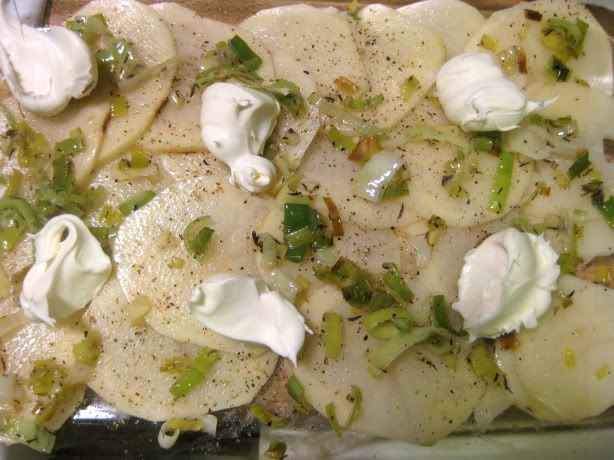 Creamy, delicious mascarpone. I'm sure you might be able to find a replacement for the mascarpone in this recipe, but I won't even recommend any because it's so perfect I think messing with the recipe would be a travesty.
After pouring some veggie (or chicken) stock atop the potatoes, the "lasagna" is ready for the oven.
The smell, the texture, the taste. I can't even describe to you how good this is.
So few ingredients, but I'd have to say the leeks are the star of the show. Well, that and the fat-ass mascarpone. It just ties it all together.
And the thinly sliced potatoes just melt in your mouth.
I don't know what else to say other than next time you're going to a pot-luck, bring this dish. You
could
make it for yourself at home, but if you do what I did (and eat the
entire
batch in a few short days) your thighs may not thank you as much as your friends will...
Buen Provecho,
Jackie
Potato and leek al forno
, from the boss-man. (He's British- can you tell from the recipe?)
Ingredients:
3 TBSP butter
0.9 lb (400 g) leeks (halved, sliced, rinsed and dried)
3 garlic cloves
1 TBSP thyme (or dried thyme, usually 1/3 the amount called for with fresh)
2.2 lb (1 kg) potatoes
0.75 lb (350 g) mascarpone cheese
1 cup vegetable stock (I used chicken stock)
Directions:
* Preheat the oven to 350˚F.
* Mandoline the potatoes or slice thinly.
* Cook leeks in butter on low heat for 10 minutes. Add garlic, herbs, and salt/pepper to taste. Cook an additional 2 minutes.
* Arrange 1/3 of the potatoes in a baking dish. Salt/pepper the potatoes to taste. Top with 1/3 leek mixture and 2 dollops mascarpone.
* Repeat two times with remaining potatoes, leek mixture, and mascarpone cheese. Top with remaining mascarpone.
* Pour vegetable stock over the potato layers.
* Cover with foil and bake for 1 hour. Remove foil and bake an additional 15 minutes until golden brown.
Note: I halved the recipe and it fit well in a pyrex baking dish (approx 9 x 13). If you follow the full recipe it'll probably also fit in the dish but will be a bit more full. You could also split the recipe.