I was at the library the other day getting books on photography (I'm *this* close to buying a fancy SLR camera) and decided to peruse the Cooks Illustrated magazine they have in the reference section. I no longer get the magazine at home (I decided to just pay for access to the recipes online), but there's just something about reading through the recipes in the magazine I love.

And that's when I came across a recipe for creamy leek soup, ironically sans cream. It went on my "instantly make" list and the next week I made a batch! So glad I did- this soup is delicious. Top it with some fried leeks (or croutons or anything crunchy) and it's devine.


It's also versatile. You can serve it hot or straight from the fridge cold! That was a realization I made today as I wanted to eat the soup but didn't feel like eating a hot dish after walking around and sweating in this gorgeous 70+ degree weather. So I decided to just eat it cold and I must admit, I think I like it even better that way.
So whether it's hot, cold or even Chicago weather outside (hot and cold in a 12 hour period of time), this soup is perfect... and simple.
The star of the dish: leeks.
All you do is sautee leeks and onions until soft then add broth and seasoning. To thicken up the soup you add a little bit of potatoes (sliced thin so they cook fast).
Once they're cooked you add the secret ingredient: bread. Just a slice of ghetto-fabulous white bread. (Although I'm using a delicious one from Trader Joe's called Shepherd's Bread. It's amazing made into grilled cheese sandwich!)
Once the bread gets nice and soaked, just puree the soup in a blender or with an immersion blender and you're done... kinda.
Now, you could go ahead and just serve the soup as is. But it's just a simple, creamy soup that needs something. A punch of flavor or a crunch from a crouton or fried garlic or fried leeks. I chose to use friend leeks. I'll include the recipe Cooks Illustrated gave, but I completely forgot to coat them in flour before frying! I just took the thinly sliced leeks and tossed them straight into the hot oil to get them nice and crispy.
Luckily they came out AMAZING. I could snack on them all day.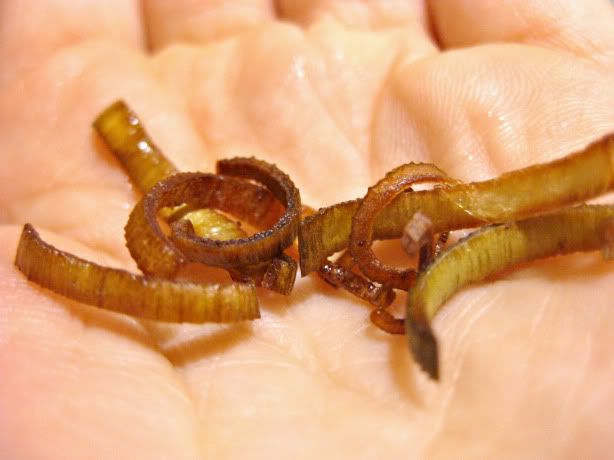 Just top each bowl of soup with a sprinkling of the onions and you've got a winner!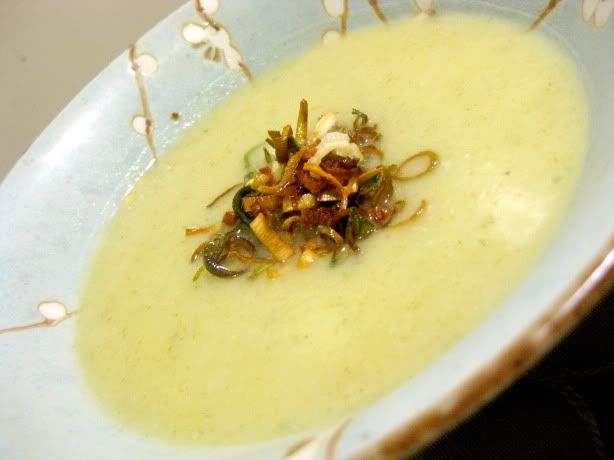 Buen Provecho,
Jackie
Creamy leek (and potato) soup
, from
Cooks Illustrated
.
Notes from CI: A garnish is essential to add texture and flavor to this soup. We like Fried Leeks (recipe follows), crisp bacon bits, a dollop of sour cream, or freshly chopped chives. The soup can also be garnished with Garlic Chips or Garlic Croutons.
Ingredients
3-4 medium leeks , white and light-green parts halved lengthwise, washed, and sliced thin (about 4 cups), dark green parts halved, washed, and cut into 2-inch pieces
2 cups low-sodium chicken broth (or vegetable broth)
2 cups water
4 tablespoons (1/2 stick) unsalted butter
1 medium onion, chopped medium (about 1 cup)
Table salt
1 small russet potato (about 6 ounces), peeled, halved lengthwise, and cut into 1/4-inch slices
1 bay leaf
1 (4-inch) sprig fresh thyme or tarragon
1 large slice high-quality sandwich bread, lightly toasted and torn into 1/2-inch pieces
Ground black pepper
Directions
1. Bring dark-green leek pieces, broth, and water to boil in large saucepan over high heat. Reduce heat to low, cover, and simmer 20 minutes. Strain broth through fine-mesh strainer into medium bowl, pressing on solids to extract as much liquid as possible; set aside. Discard solids in strainer and rinse out saucepan. (Jackie's note: I'm not sure how much of a difference this step made so I think it could probably be eliminated. To save time, just go straight to step 2.)
2. Melt butter in now-empty saucepan over medium-low heat. When butter foams, stir in sliced leeks, onion, and 1 teaspoon salt. Reduce heat to low and cook, stirring frequently, until vegetables are softened, about 10 minutes.
3. Increase heat to high, stir in reserved broth, potato, bay leaf, and herb sprig and bring to boil. Reduce heat to low and simmer until potatoes are tender, about 10 minutes. Add toasted bread and simmer until bread is completely saturated and starts to break down, about 5 minutes.
4. Remove and discard bay leaf and herb sprig. Transfer half of soup to blender and process until smooth and creamy, 2 to 3 minutes. Transfer to large bowl and repeat with remaining soup. Note: Don't fill the blender by more than two-thirds with hot soup; if necessary, process in three batches. You can also use an immersion blender to process the soup directly in the pot.
5. Return soup to saucepan and bring to simmer; season with salt and pepper to taste. Serve with garnish.
Fried Leeks, from Cooks Illustrated
Ingredients
1 medium leek , white and light-green parts halved lengthwise, washed, dried, and sliced into very thin 2-inch strips
2 tablespoons unbleached all-purpose flour
Table salt and ground black pepper
1/2 cup olive oil
Directions
Toss leeks, flour, and pinch each salt and pepper in medium bowl. Heat oil in 12-inch skillet until shimmering. Add half of leeks and fry, stirring often, until golden brown, about 6 minutes. Using slotted spoon, transfer leeks to paper towel-lined plate; sprinkle with salt and pepper to taste. Repeat with remaining leeks.