Today is my 100th post!!!!
And I don't want to think about how many hours of my life that equals... But I love it, and I hope all of you out there do to.
I'm excited that my 100th post is a pretty unique one too. Today I give you the secrets to creating your very own homemade roe (
that you saw in yesterday's frushi post
).
They're fruity, delicious, fun to eat... and also serve as great models for your 100th food blog post.
You may wonder how I even came across this idea. Well, they're an adapted
molecular gastronomy
spherification technique (where ultimate chemistry meets cooking). But instead of using random chemicals to form these little spheres of liquid, the recipe I found a recipe that uses gelatin.
I'm not creative enough to think of all the crazy different ways in which you could use these little gelatinous globules, but you can make them sweet (pomegranate, orange juice), tart (lemon juice) or savory (think: balsamic vinegar, coffee, mint). The flavor and usage possibilities are endless... all that limits them is your creativity.
A neat idea I saw used them in the bottom of a fruity martini. You can also use them to top a hot meal, cold dessert, cold meal or hot dessert. :) Anywhere where you'd want a little punch of a flavor you can use these gelatin balls.
You wanna learn the magic to these little suckers??
You'll need this to get started:
1. squeeze bottle, with a very small hole
2. unflavored gelatin
3. your liquid of choice (sweet or savory)
4. grapeseed oil, or some type of oil without too much flavor
5. an ice bath (ice, water, salt)
6. a smaller vessel to fit inside a larger one.
7. a fine strainer
Setting up my ice water bath with a bowl of cold grapeseed oil in the center.
Squeeze bottle with the gelatin liquid mixture, all ready to go. (You can see how little I actually used!)
First drops of gelatin into the oil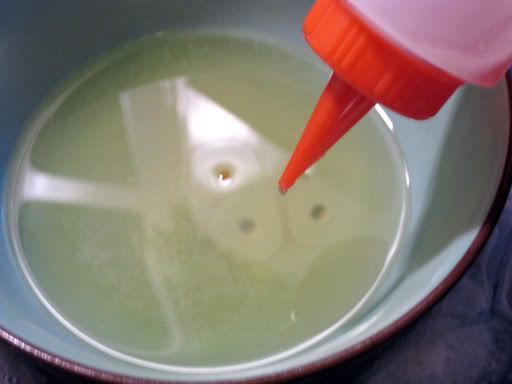 My squeeze bottle tip was super small so these little suckers didn't easily sink to the bottom of the oil at first.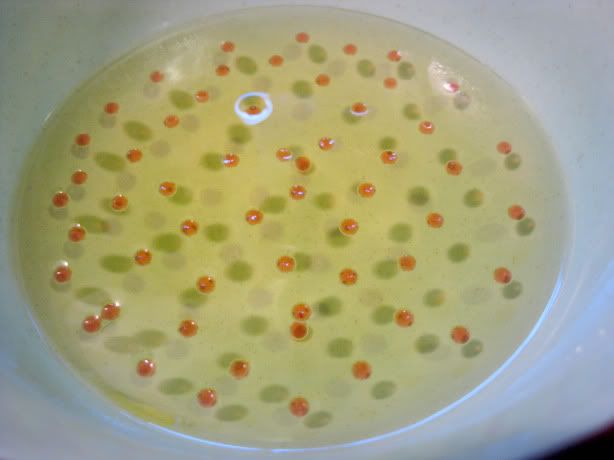 But I was having issues with it clogging up, so after I cut the tip just a teeny bit more they started behaving a bit more normally (float for a few seconds, then sink to the bottom of the bowl).
Since I had such a small amount, I made all the "caviar" at once (the recipe suggests doing it in two batches), so the bottom of my bowl was covered with little caviar balls.
Then you just strain them and pop them in the fridge to finish hardening for a little bit. (Note: don't rinse the residual oil off the caviar. Just let them strain.)
Sure they have a nice punch of flavor, but they're also so damn cute!
I'm pretty sure with a little touch like this you'll ohhh and ahhhh your guests at your next dinner party.
The only thing I really wish I had while making these was a digital repeater pipette. Guaranteed perfectly sized spheres from 10 micro liters to 100 micro liters! What I'd give to have a line of food safe lab style equipment...
Buen Provecho,
Jackie
Fake (gelatin) caviar, as seen on LiveJournal
(Note: I'm using the proportions given where I first saw this recipe posted on
LiveJournal
. When I made it at home I cut it down by 1/8 because I only wanted a small amount). Feel free to cut the recipe down as much as you'd like. Since it's basically just jello, the amounts of water and gelatin should be used in the same proportions, but they don't have to be SUPER exact. So scaling the recipe up or down is not a problem.)
Ingredients
1 qt grapeseed oil, or any flavorless oil
4 tsp plain gelatin powder
3 TBS cold water, or any flavored liquid
3 fluid ounces hot flavored liquid
ice and salt (for icebath)
Directions
1. Chill 1 quart of grapeseed oil in the fridge until very cold (at least a few hours.)
2. In plastic squeeze bottle with a very fine tip, mix 4 tsp plain gelatin powder and 3 TBSP cold water, or the liquid of your choice (I used vitamin water). Mix together to soften the gelatin.
3. Heat up 3 fluid ounces of your liquid of choice and add to the squeeze bottle. Mix until smooth. Allow to sit at room temperature until it has cooled (to just about room temp).
4. While gelatin is cooling, prepare your ice bath. Place the grapeseed oil in a smaller container (preferably metal) to fit within a larger bowl. Fill the other bowl with ice cubes, some water, and a generous amount of salt. (This lowers the temperature of the ice water to make it super cold.)
5. When the gelatin mixture is ready, carefully drip one drop at a time of the gelatin mixture in to the oil. The globules will sit at the surface of the oil for a moment and then sink (larger blobs sink faster). Continue with the drops, moving the squeeze bottle around.
6. When about half of the liquid has been used, let the "caviar" sit in the bowl for another 5-10 minutes to make sure they are nice and solid.
7. Using the strainer, strain the caviar (reserving the oil) and place them in the fridge for another 10 minutes. DO NOT rinse the grapeseed oil off the caviar.
8. Continue with steps 5-8 for the remaining liquid.
9. Store caviar in covered container, for over a week. The grapeseed oil can be saved in the fridge as well for re-use.
Note: if your gelatin starts to harden when in the squeeze bottle, just put it in the microwave for a few seconds to re-heat and melt the gelatin. Wait until slightly cooled and continue on your merry way.