One of my favorite blogs, Not So Humble Pie, has featured a lot of recipes from this cookbook called Luscious Lemon Desserts.

As I love anything tart/citrusy, ESPECIALLY in my desserts, every time she posted a recipe from the book (like this tart and this mousse) I'd just sit and drool.

So I decided to buy the book... along with the author's other book: Luscious Creamy Desserts (a whole book on fat-ass desserts?!?! OMG I'm there!) I guess she has a whole line of these Luscious dessert cookbooks (chocolate, berries, etc) but lemon and creamy describe my ultimate dessert preferences.

Fortunately for my purchase everything in the lemon cookbook looks amazing. Unfortunately for my ass, everything in the lemon cookbook looks amazing.

To break in my new book purchase, I decided to make the same lemon tart Not So Humble Pie blogged about (although my pictures are nowhere near as awesome as hers).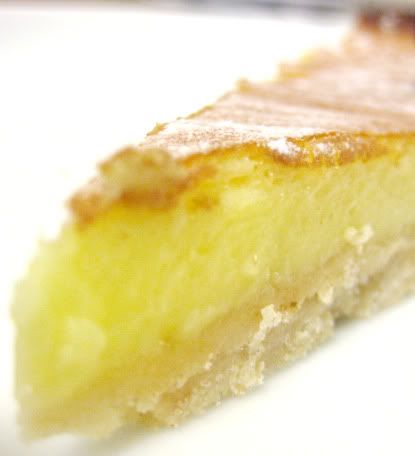 In the words of Usher and will.i.am:
Oh... my.... gosh.
It's similar in taste to lemon squares, but creamier. And better.
Oh, oh, oh, oh, oh, oh, oh, oh, oh, oh, oh, oh, oh, oh, oh, oh, ohh my gosh. (Sorry, I hear that song every day so it has a tendency to stick in my head.)
Why was it so good? Well, other than the butter, sugar and heavy cream, I'm going to say it was the star of the show: lemons.
Lemon juice AND lemon zest made an appearance in the recipe.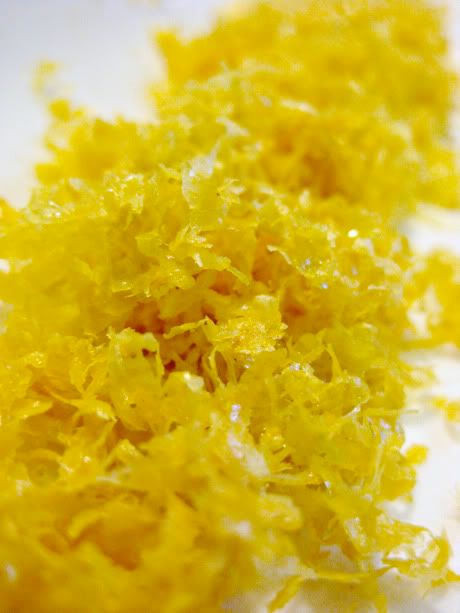 I had a few issues with the recipe, mostly because I was being stupid. My first issue was that I used my 9" pie tart when it calls for an 11" tart shell.
(I'm seriously considering buy an 11" tart shell specifically for this recipe it's just that good.
I just bought new pan to make all the tarts requiring larger pans!) Using my 9" tart pan I should have cut the recipe down by a factor of 1.5 since that's the difference in area between the 11" and 9" pan. I should have figured this out BEFORE I made the tart, but live and learn...
My second issue was that at one point I also realized that when I was adding my filling to the baked tart that I hadn't mixed it properly. So I ended up pouring the filling out of the crust back into my bowl, mixed it better, and poured it back into the crust. Needless to say I (a) made a mess and (b) cussed up a storm.
But in the end all turned out amazing. Seriously amazing.
The best part of this recipe is that lemon gets infused in everything. Lemon zest goes into the crust.
Lemon zest gets incorporated in the sugar in the filling.
And the filling gets an entire CUP of lemon juice.
Out of the oven, I also feared I had overcooked the tart, as mine got a slighly browned on top and the photo in the book didn't look quite so brown. Although looking back the top was also slightly brown in
NSHP
's blog entry as well. I guess that's what the powdered sugar topping is for.
(Side note: The only reason my crust is overly brown is because this is where filling spilled all over the place when I poured it out of the tart back into my bowl. Just me being stupid. Luckily it didn't affect the taste, just the aesthetic quality.)
However, once you cut into it, it turns out that the tart was PERFECTLY cooked inside.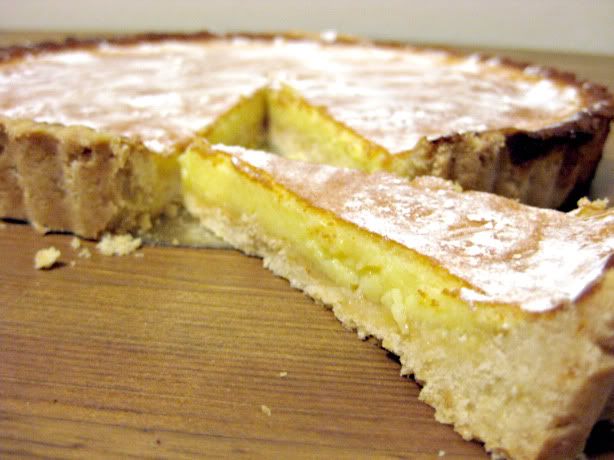 Seriously, so so sooooo good!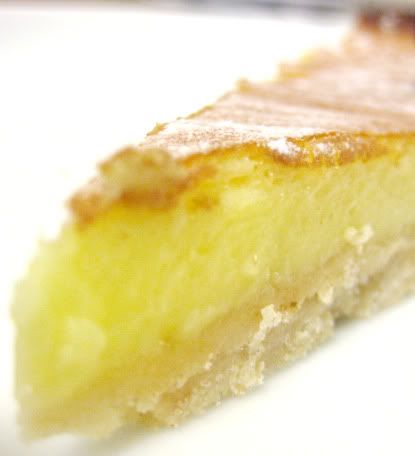 Buen Provecho,
Jackie
Perfect lemon tart
, From Luscious Lemon Desserts
Ingredients
1 stick butter, at room temp
2 TBSP lemon zest
1 ¾ cup flour
1 ¼ cups sugar
2 pinches salt
6 large eggs
1 cup fresh lemon juice
½ cup heavy whipping cream
Directions
1. Position rack in the middle of the oven and preheat to 350 degrees. Have ready an 11" tart pan.
2. Melt butter in small saucepan over medium heat, add 1 TBSP of the zest, and let stand for 5 minutes.
3. Whisk together the flour, ¼ cup sugar, and a pinch of salt in medium bowl. Pour in the butter mixture in a fine stream, stirring with a fork, and continue stirring until the dough begins to come together when a small bit is pressed between your fingers. (This can also be done in your food processor.) Transfer mixture to the tart pan and press it with your fingers evenly up side and into the bottom. Bake for 20 minutes, or until light golden brown. Let cool on wire rack while making the filling.
4. Process remaining 1 cup sugar and remaining 1 TBSP zest in food processor until zest finely ground. Set aside.
5. Whisk together eggs, sugar and zest mixture, the lemon juice and another pinch of salt in medium bowl until smooth.
6. Beat the cream by hand or using hand-held mixer in medium bowl just until it forms soft peaks*. (I tried using my kitchen aid, but 1/2 cup just wasn't enough volume to whisk properly.) Whisk cream into egg mixture just until blended.
7. Place a baking sheet in the oven, place the crust on the baking sheet and pour the filling into the still warm crust. Bake for 25-30 minutes or until the filling is just set in the center. Let the pie cool on a wire rack.
8. Just before serving, generally sift powdered sugar over the tart. Cut into wedges and serve.
*Note: What's the difference between a soft peak and a hard peak? When you're whipping your cream (same holds true for egg whites), stop once in a while and do the following test. Dip your whisk into the cream (or egg), and flip the whisk over. Soft peaks should form a peak that "fall" a bit because it's too soft to hold the weight of itself up. Hard peaks will stay firm and have a nice point on them that sticks straight up.
T
his blog entry
has nice pictures of the difference between soft and hard peaks.