With all the cake decorating I do I've tried out a lot of recipes over the years. So far I've found a few go-to recipes for cake (I'm super picky when it comes to cake from scratch). My favorites are (in no particular order) (1) old-fashioned chocolate cake, (2) dark chocolate cupcakes and (3) rich and tender yellow cake. All the recipes are from Cooks Illustrated (no surprise) and all have gotten RAVE reviews from friends (even beating out fancy-schmancy bakery cakes...)

But a while back I was reading a blog that I really like (Smitten Kitchen, check it out, she's amazing!) and she posted her favorite yellow cake recipe. I was intrigued. Her recipes always look amazing, and I know people who have made some to great success, so could HER yellow cake recipe beat MY yellow cake recipe?!?

There was only one way to find out: a yellow cake throw-down!

I was making a b-day cake for a friend that was composed of two 9 x 13 cakes. So I figured I'd make one using the Cooks Illustrated (CI) recipe and one using the Smitten Kitchen (SK) recipe and compare.

On the left we have MY yellow cake recipe, courtesy of Cooks Illustrated. On the right we have Smitten Kitchen's yellow cake recipe. Let the match begin (ding, ding, ding)!!

In the mixer they don't look THAT different...


... but the Smitten Kitchen recipe (at right) yields more batter (not surprising, since it did call for more flour)

They also bake up with very different heights. As you can see the SK cake towers over the CI cake.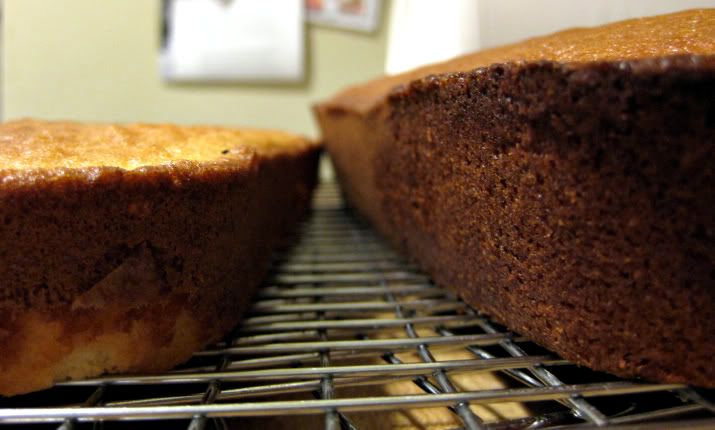 But it's not all about size (that's what she said). So what about the cakes themselves? Let's check out the outside first.

SK (at right) browned a bit more and had a "crust" that developed on the cake. CI (at left) stayed quite soft on top and baked up very flat.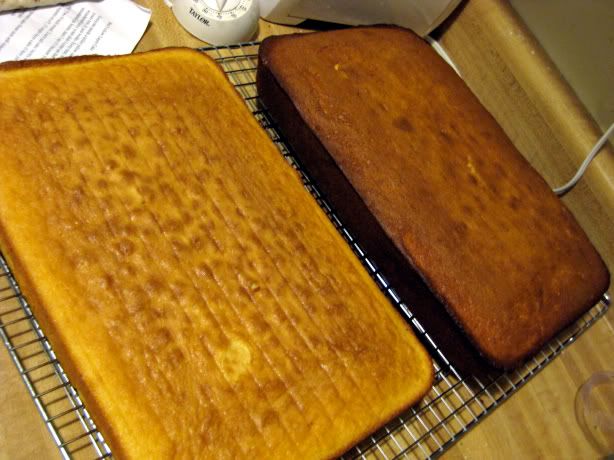 But when it comes down to it, I don't care about the height or look of the cake, I care about taste. So which one won the taste test?!?

It was a bit of a draw (honestly, BOTH recipes were freaking awesome) but the slight edge went to the Cooks Illustrated recipe (for me at least). But it's all about personal preference.

What made the CI recipe edge out the SK one? Well for starters it was the texture.

CI recipe (at left) yielded a yellow cake that was ridiculously tender and soft with a tiny, even crumb. It's texture was very light and almost sponge-like. The SK cake (at right) had a larger crumb, but was also very tender and yummy. Not quite as spongey though.


On the first day this texture didn't make that much of a difference (I really couldn't decide which cake I liked better). But as the days went on the CI cake retained much more moisture, as compared to the SK cake that dried out a bit. Now I should say, these tastings were done without ANY frosting. Once you put frosting on it it may not make much of a difference...

In addition to texture, the flavor of the CI cake also beat out the SK cake for me (again, only by a hair). The CI cake was a bit more buttery, like a lighter version of a pound cake. So if you like a buttery yellow cake you'll love the CI one. If you're not a giant butter fan, then the SK cake might be the one for you.

So there you have it folks! I'm happy that I still love my go-to recipe, but it's nice to know there are other recipes out there that compare (I hadn't been able to find one yet). So whichever one you try, I can guarantee you'll love both!

Jackie

And now, for all of you following me at home.

Best Birthday Cake, from Smitten Kitchen
Click here for the recipe

Rich and Tender Yellow Cake, by Cooks Illustrated

Note: To quickly bring the eggs and milk to room temperature (65°F), submerge them in a bowl of warm water for about 10 minutes after mixing them together. Adding the butter pieces to the mixing bowl one at a time prevents the dry ingredients from flying up and out of the bowl.

Ingredients
4 large eggs, room temperature
1/2 cup whole milk, room temperature
2 teaspoons vanilla extract
2 1/4 cups sifted cake flour (or
1 3/4 cups [7 ounces] when using unsifted flour)
1 1/2 cups granulated sugar
2 teaspoons baking powder
3/4 teaspoon table salt
1/2 pound unsalted butter (2 sticks), softened, each stick cut into 8 pieces

Instructions
1. Adjust oven rack to lower-middle position and heat oven to 350 degrees. Generously grease two 9-by-1 1/2-inch cake pans with vegetable shortening and cover pan bottoms with rounds of parchment paper or wax paper. Grease parchment rounds, dust cake pans with flour, and tap out excess.

2. Beat eggs, milk, and vanilla with fork in small bowl; measure out 1 cup of this mixture and set aside.
3. Combine flour, sugar, baking powder, and salt in bowl of standing mixer fitted with paddle attachment; mix on lowest speed to blend, about 30 seconds. With mixer still running at lowest speed, add butter one piece at a time; mix until butter and flour begin to clump together and look sandy and pebbly, with pieces about the size of peas, 30 to 40 seconds after all butter is added.
4. Add reserved 1 cup of egg mixture and mix at lowest speed until incorporated, 5 to 10 seconds. Increase speed to medium-high (setting 6 on KitchenAid) and beat until light and fluffy, about 1 minute. Add remaining egg mixture (about 1/2 cup) in slow steady stream, about 30 seconds. Stop mixer and thoroughly scrape sides and bottom of bowl. Beat on medium-high until thoroughly combined and batter looks slightly curdled, about 15 seconds longer. (To mix using hand mixer, whisk flour, sugar, baking powder, and salt in large bowl. Add butter pieces and cut into the flour mixture with a pastry blender. Add reserved 1 cup of egg mixture; beat with hand mixer at lowest speed until incorporated, 20 to 30 seconds. Increase speed to high, add remaining egg mixture, and beat until light and fluffy, about 1 minute. Stop mixer and thoroughly scrape sides and bottom of bowl. Beat at high speed 15 seconds longer.)

5. Divide batter equally between prepared cake pans; spread to sides of pan and smooth with rubber spatula. Bake until cake tops are light golden and skewer inserted in center comes out clean, 20 to 25 minutes. (Cakes may mound slightly but will level when cooled.) Cool on rack 10 minutes. Run a knife around pan perimeter to loosen. Invert cake onto large plate, peel off parchment, and re-invert onto lightly greased rack. Cool completely before icing.