So I went a little overboard with kale... and I must admit I love the stuff.

When I was at Whole Foods a few weeks ago I bought it for the first time and made this soup. But the recipe used up only one bunch and I had bought two. Hmmm, what other unique way could I use kale?

I went to a few of my favorite blogs and did a search for "kale" and found a barley risotto recipe from Smitten Kitchen that sounded delicious. Ironically, she didn't even use kale in her recipe, but it was randomly mentioned in her blog entry. But her use of escarole (a leafy form of endive) made me realize I could just replace that with kale as the heartiness of barley would go well with the heartiness of kale.

For once, I took a lot of liberties in making this recipe. Smitten Kitchen suggested a lot of the changes I made in her entry, so I can't really take all the credit. But I was super happy that playing around with a recipe this time worked in my favor... unlike previous attempts.

While risotto is typically made with arborio, a short-grained white rice, this risotto is made with barley.

Pro: Barley is a whole-wheat grain, which makes this a lot healthier than risotto made with white rice. I think it also fills you up more and makes for a heartier meal. Con: Since barley is a heartier grain, the barley risotto is not quite as soft and melt-in-your-mouth smooth as regular risotto. Instead the barley still has a little bit of "bite" to it, even after cooking and stirring for wayyyy too long.

My suggestion: try risotto both ways. I really like them both, but for different reasons. Yes, it's a cheesy answer. Whatever. I'm just practicing for when I have kids and they ask me who I love more...

OK- so how do you turn plain old barley...

... into this??
A few key ingredients, time and love.
First thing I did was sautee some onions. I decided to give them a few extra minutes this time to caramelize them a teeny bit.
Note: if you want an amazing step-by-step tutorial on how to properly brown onions (good for indian dishes) check out this blog:
Tigers and Strawberries
. I didn't quite brown them as much as she says I should, but figured a little extra color couldn't hurt.
Add the barley, cook for a few minutes, and then add some wine.
A little bit for me... a little bit for the risotto.
Cook until the wine is absorbed, then add broth (I used beef broth) 1- 1/2 cup at a time, stirring after each addition until the liquid is absorbed.
Risotto is not the type of dish that you put in a pot and forget about. It's like a high-maintenance girlfriend: it requires CONSTANT attention and love. (The only difference is that risotto will actually give you something awesome in return. High-maintenance girlfriends are always crap in the end.)
While the risotto is cooking, take the time to cook up anything you may want to add to the dish. (You could add the mushrooms earlier in the cooking process along with the onions, but I didn't think about using them until later...)
Today, I decided to sautee some mushrooms until golden and delicious.
(Side note: Giada from the Food Network makes the
most amazing mushroom risotto
. Try her recipe- it's amazing and beats out every single risotto dish I've tried at restaurants. Her recipe is what gave me the idea to use mushrooms in this risotto- it's a great flavor combo. She also has a recipe for
stuffing balls of left-over risotto with cheese, breading and frying it
. Haven't tried it yet but sounds amazing!)
And then I gave my kale a little heat as well, until it was almost fully wilted.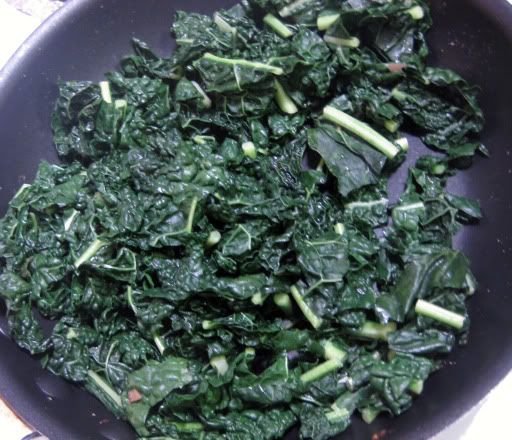 Add in the mushrooms and kale with your last addition of broth. Then when it's all cooked up- just add the butter and Parmesan cheese (I didn't have any so I didn't use it).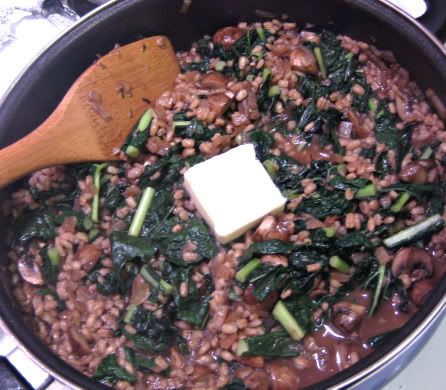 Feel free to not use the butter. But the butter, even using just a little bit, gives the risotto a creaminess that is unmatched. (Especially the barley risotto, which doesn't get as naturally creamy as its arborio counterpart.) Whatever- I used barley- so it's freaking healthy even with the pat of butter.
Doesn't it look absolutely delicious?!? That's because it is!
Buen Provecho,
Jackie
Barley risotto with mushrooms and kale, adapted from
Smitten Kitchen
(and
inspired by Giada)
5 cups low-sodium beef stock (or chicken or veggie)
2 tablespoons extra-virgin olive oil
1 medium onion, chopped
1/4 teaspoon thyme, fresh (or 1/8 tsp dried)
1/2 cup red wine (or white wine or no wine)
1 cup pearled barle, rinsed
mushrooms, quartered
kale, roughly chopped
1/2 cup freshly grated Parmigiano-Reggiano cheese, (optional)
2 tablespoons unsalted butter, softened (optional)
Salt and freshly ground pepper
In a medium saucepan, bring the stock to a simmer and reduce heat to low and keep warm.
In a large skillet heat the olive oil. Add the onion and thyme and cook over moderate heat, stirring occasionally, until the onion is softened, about 6 minutes. (Mushrooms can be added and cooked at this point along with the onions, or cooked and added separately later on.)
Add the barley and cook, stirring, for 2 minutes. Add the wine (if using) and cook, stirring until absorbed, about one minute.
Add 1 cup of the warm stock and cook, stirring, until nearly absorbed. Continue adding the stock 1/2 cup at a time, stirring until it is nearly absorbed between additions. Most recipes will tell you this takes only 30 minutes. They lie. It's never taken me less than 45 minutes. (Feel free to not use the last 1/2-1 cup of stock if you like your barley more al dente.)
Stir in the cooked mushrooms and kale with the last addition of wine. Stir in the Parmigiano-Reggiano and the butter (optional) and season with salt and pepper. Serve at once, passing more cheese at the table.