Nutty bar date- sounds like a blind date from hell.

These are much better than that.

I first saw these on the Pioneer Woman's site as a guest blog post from IvoryHut. (Sommer and Jarod- my offer still stands :)

I like desserts that tend to be more rich than sweet (just like my men... hahahaha- just kidding!!!), so these went straight on my "to make" list. I finally got a chance to make them for a Superbowl party (along with my football truffles).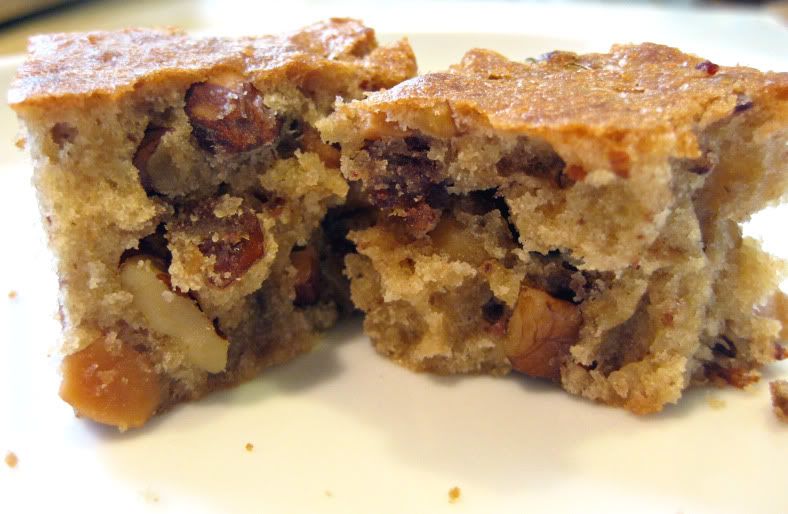 These bars were very good, not too sweet and not too buttery. Wanna see how I made them?
The great thing about this recipe is that the base batter is very simple, and the amount and combination of fruit/nuts you use is up to you. Use as little or as much as you want, for a sweet or not-as-sweet treat. If you try this at home, feel free to throw in some dried fruit, or replace the nuts with other types, or even add some chocolate chips. Whatever you want- go for it!
This time around I *basically* stuck to the recipe.
I think mine could have used a little more sweetness to balance all the nuts I used, so I'm making my recommended changes in the final recipe. But it's all a matter of taste. I have a feeling my mom would have died for these- as they really were not very sweet at all.
First chop up some dates and nuts (I used a combo of almonds and walnuts) and set aside.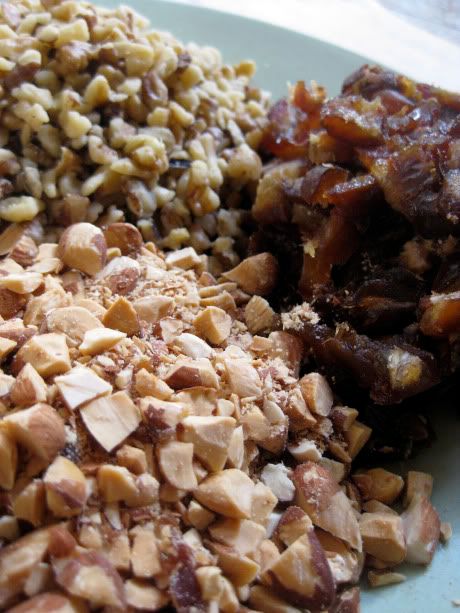 Hot tip: buy some pre-chopped nuts to save you some time. They're also often cheaper than buying whole nuts.
Oh how I love you Trader Joes.
Melt 3 sticks of butter (yes, it's a lotta butter) until it's nice and.... melty.
Then add in the white and brown sugars.
Blend the butter and sugar until it comes together into a nice caramel-syrupy looking mixture.
*Drip*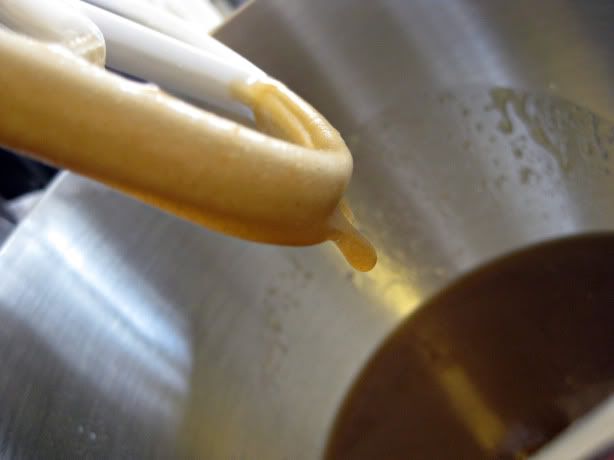 Then add eggs, one at a time, until incorporated.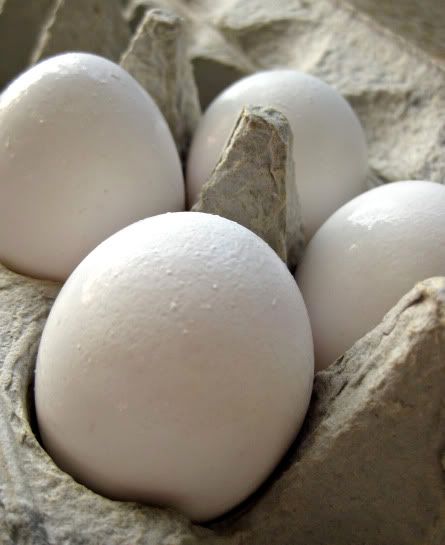 Prepare the dry ingredients (flour, salt, baking powder) and use ~ 1/4 cup of the flour mixture to coat the date and nut pieces. This is so the heavy bits won't fall right through the batter and all end up in the bottom of your bars. (The flour allows the pieces to stay suspended long enough for the batter to cook.)
Once that's all done, fold in the rest of the flour mixture (flour, salt, baking powder) into the butter/sugar/egg mixture until the flour is almost completely incorporated. Don't overmix!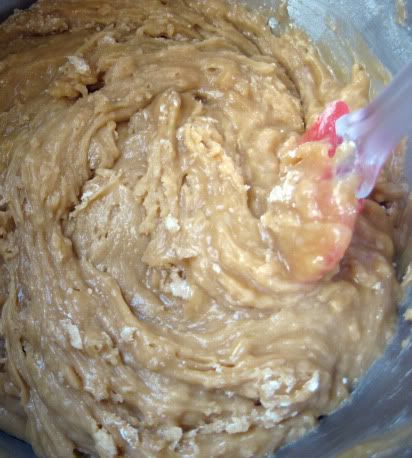 The batter is going to be quite thick at this point (close to a "wet" peanut butter consistency). Don't worry- it's normal!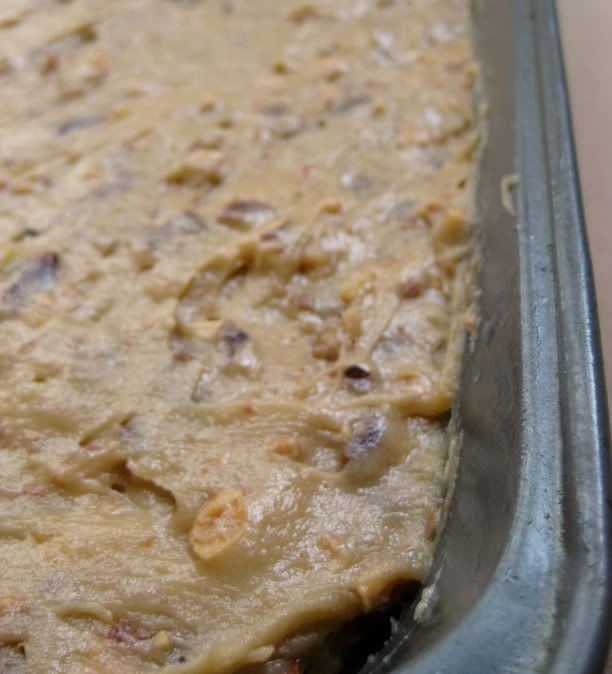 Just bake until light golden brown and they're done.
Buen Provecho,
Jackie
Date nut bar
, adapted from
IvoryHut
(as seen on Pioneer Woman)
Ingredients
3 sticks Butter
8-16 ounces, weight Pitted Dates, Chopped Coarsely (at least 1 1/2 Cups)
1 cup Walnuts, Chopped (or less)
1 cup almonds, Chopped (or less)
½ teaspoon salt
¼ teaspoon Baking Powder
2 cups All-purpose Flour
1 teaspoon Vanilla
4 whole Eggs At Room Temperature
¾ cups Packed Brown Sugar
¾ cups White Sugar
Directions
1. Preheat oven to 350 degrees F.
2. Melt the butter and let it cool. Take some of of the melted butter and brush your pan (one 9×13 pan or two 8×8 pans), making sure to grease the sides as well.
3. Coarsely chop the pitted dates, walnuts, and almonds. Set aside in a bowl. (If the dates you are using are too dry, you can soak them in a little bit of liquid. Make sure you drain them before mixing them in with the nuts.)
4. Sift the flour, salt, and baking powder into a bowl. Set aside.
5. Mix melted butter and sugar until well incorporated. Add the eggs one at a time, mixing well after each addition. Add in the vanilla.
8. Using 1/4 cup of the flour mixture dredge the date and nut mixture. Use a bit more of the flour mixture if needed.
9. Mix in the rest of the flour mixture with the wet ingredients. Do this gently, by hand, until just incorporated.
10. Fold in dredged dates and nuts with the batter. Pour the batter (it will be very thick) onto the buttered pan(s).
11. Bake for 25-30 or more minutes, until light golden brown and a toothpick inserted in the center comes out with moist crumbs. (Note: in the original recipe she says it can take up to 40 or so minutes to cook, so keep checking. I checked mine at 28 minutes and they were already done, possibly even a tad overdone. I used a metal pan vs. her glass ones, so I don't know if that could speed up the cooking process. I'd start checking them after 25 minutes.
12. Let cool, and cut into squares or bars. Traditionally, these are then individually wrapped and either stacked in a gift basket, or simply served on a platter.
Store these in an airtight container. They will stay moist if wrapped tightly.