A few weeks ago I found a new blog called Matt Bites, a professional food photographer who happens to be a bit of a foodie. Uh-mazing photos. (Him and Tartlette so far are some of my favorites as far as food photography setup, etc is concerned.)

Anywhoo, one of the first posts I read on his blog was a recipe for salted blood-orange caramels. Sounded really unique and delicious so I had to try it out. (I'm a sucker for anything citrus.) Bonus: blood oranges are in season right now!

So how were they?? I think it depends on your personal taste. To be honest, I think many people were turned off by the salty and sweet combination of the caramels. Normally I'd be one of those people, but for some reason I LOVED these candies!


But the great thing about this recipe is that you can easily not add the salt, or add more salt, or not use any almonds, or use a different type of nut. What I'm saying is, the basic recipe for making these citrus-y caramels is freaking DELICIOUS. Add as little/much of the other stuff as you want, depending on your taste.
Want one? Take it!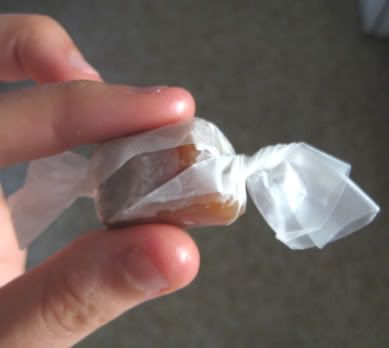 What really makes this candy unique is the use of boiled and concentrated orange juice.
Blood orange juice to be exact!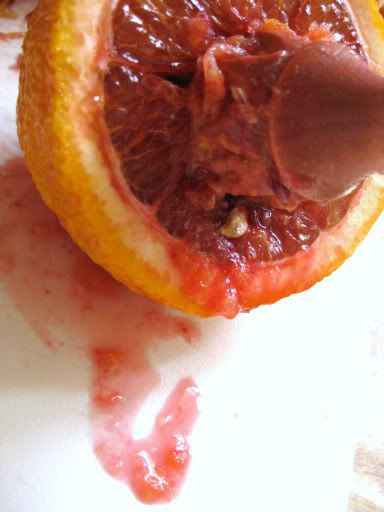 (FYI: You could easily make this recipe from any type of orange. Blood oranges tend to be sweeter and less tart than the regular variety, which is why they work so well here. But I think there are lots of sweet oranges out there that would work quite well in a recipe like this.)
It's not completely clear from this photo, but these oranges were GINORMOUS! I'm talking softball sized (and closer to Chicago-style 16" softball, not the regular kind). Almost as big as my head.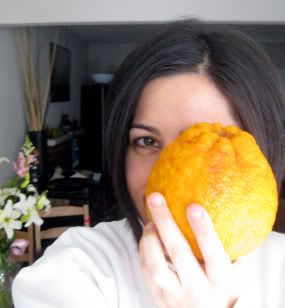 Sadly though the oranges were deceiving. The fruit inside was normal sized, it's just the peel that was super thick.
But look how pretty the blood oranges can be.
They definitely come in a variety of colors on the inside. This one clearly lived up to the blood orange name.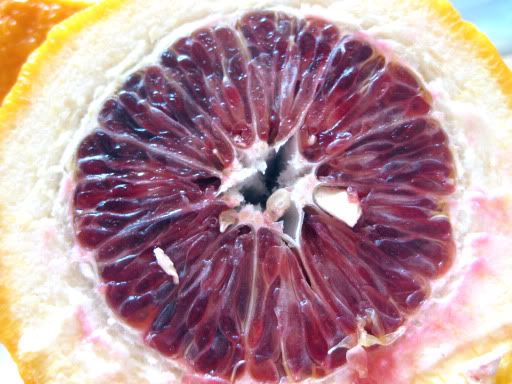 First thing you need for this recipe is 3 cups of juice. That's A LOT of juice. So start juicin' folks:
Unfortunately, these blood oranges were pretty "dry" on the inside. So after I'd gone through all my blood oranges I was only left with 1 3/4 cup of (absolutely beautiful) juice.
I still needed another 1 1/4 cups of juice!! Ahhhhh! What to do???
LUCKILY I was in a citrus craze when I went grocery shopping. So I also had bought tangelos (pictured at left) and something called a cara cara orange (I think). Look how beautiful the cara cara oranges are!! To be honest, I loved their flavor the most- even more than the blood oranges I'd gotten. If you find them try them out. Such a different flavor. Plus they were super juicy...
Luckily just a handful of these oranges were enough to get me to three cups of juice.
Orange carcases...
... leave a mess on my white sweatshirt.
Next thing you want to do is boil the 3 cups of liquid until it reduces to 1/3 cup.
Hot tip: First pour in 1/3 cup into your saucepan so you can get a sense of how small the volume is. Now you'll have a (general) idea of when the liquid gets close to 1/3 cup.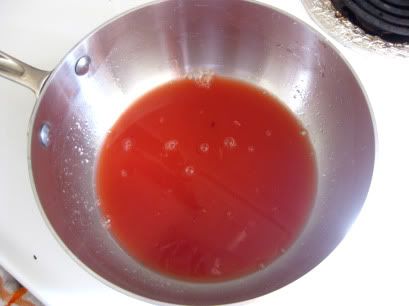 Then pour in the remaining liquid and bring to a boil.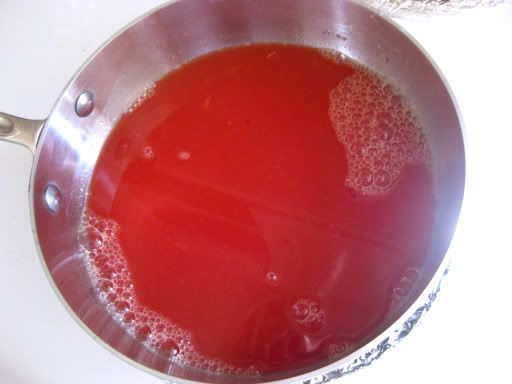 The boiling gets a little violent!
Just show the orange juice who's boss and stir it periodically to keep it from taking over.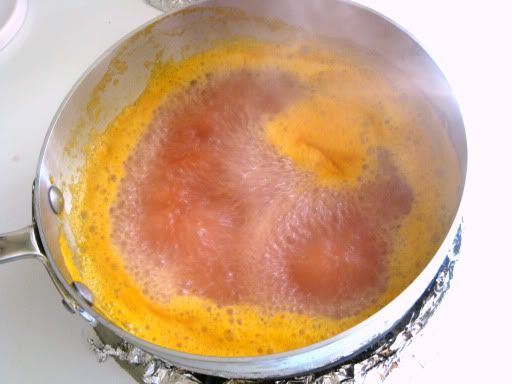 While that's going on (it'll take a while), prepare your 8" pan with almonds (on top of buttered parchment paper).
After it's done reducing it'll be super thick and tart
The juice turned such a deep blood red it reminded me of
my cranberry sauce
. Even had a similar tang to it too. Mmmmmm.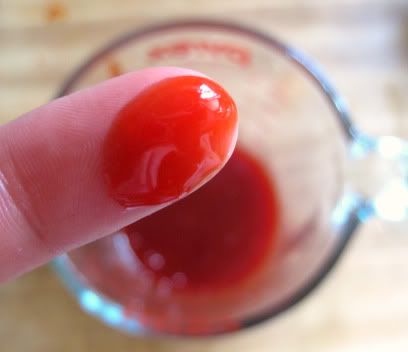 To make the caramels, add butter, cream and sugar to the concentrated orange juice. Using your candy/deep-fat frying thermometer, heat the caramel until it reaches the "firm ball" stage (248 degrees F).
Make sure you're watching and constantly stirring the mixture. It'll take a little while but you don't want the sugar to overheat or else you'll end up with tooth-cracking candy instead of a soft caramel.
Immediately pour the sugar solution over the almonds when it's reached temperature. After a few minutes the almonds, along with some bubbles, will start floating to the surface of the caramel.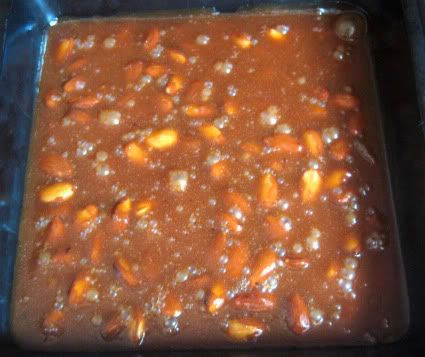 At this point the caramel is done! Just let it cool for a while.
Do something to occupy yourself for the next few hours as you try to NOT think about finally tasting the final product. It's not easy...
When the caramel is cool and set, pop the entire square out of the pan. At this point, feel free to add the sea salt or not, depending on your taste. I went for it.
Giant sea-salt crystals!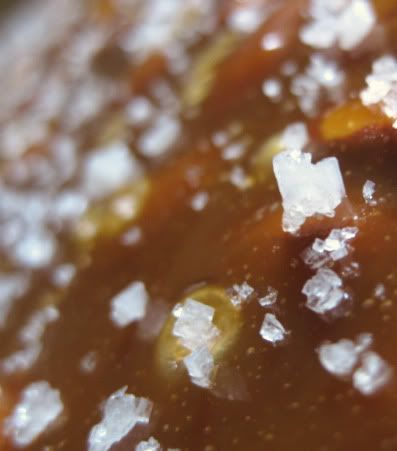 Then cut the caramels in small (or big) pieces. You'll notice these caramels are very soft.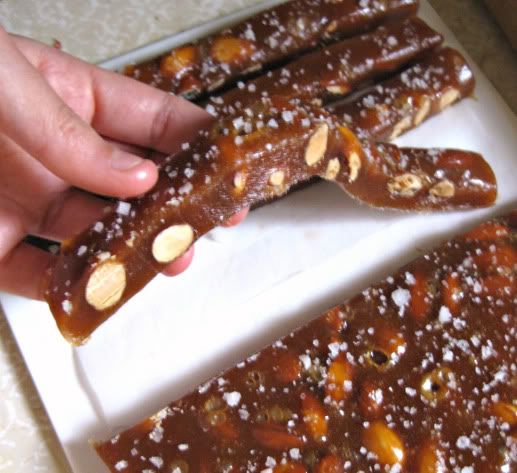 Makes them melt-in-your-mouth delicious.
Then just wrap each in a piece of wax paper.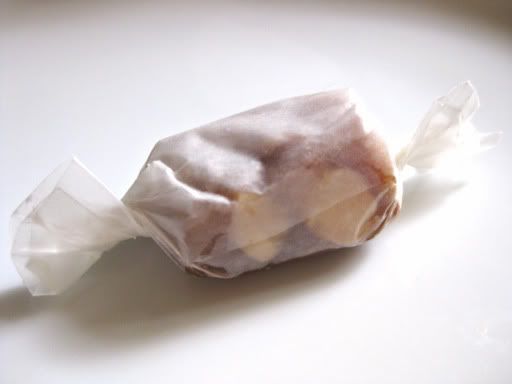 Serve and enjoy!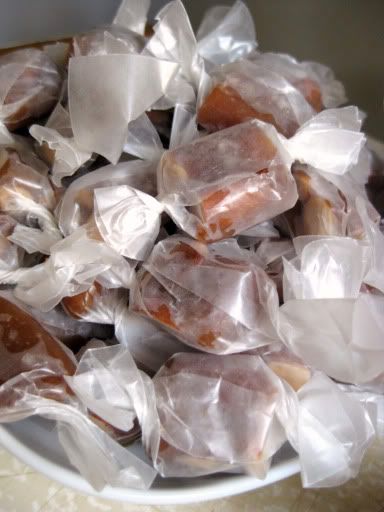 Buen Provecho!
Jackie
Salted blood orange caramels with almonds, adapted from
Matt Bites
3 cups blood orange juice, strained
3/4 cup granulated sugar*
3/4 cup packed light brown sugar
1 stick unsalted butter, at room temperature
1/3 cup heavy cream
1 teaspoon vanilla extract
1 cup toasted almonds (optional)
2 teaspoons sea salt flakes (optional, or less if you want a tiny bit of saltiness)

Place blood orange juice in a 2-4 quart heavy saucepan and bring to a boil over high heat. Let boil until liquid is reduced to 1/3 cup.
While juice is boiling, line the bottom of an 8-inch square baking dish with parchment paper. Butter parchment paper and set aside.
Remove reduced orange juice from heat and stir in sugars, butter, and cream. Return to high heat and bring to a boil, stirring constantly. Turn heat to medium and let boil until a candy or deep fat thermometer reads 248 degrees F (or when a half teaspoon placed in a glass of icy cold water turns into a firm, chewy ball), about 17 minutes.

Remove from heat and stir in vanilla.

Scatter almonds on bottom of parchment paper. Pour caramel over almonds. Let sit until cool and firm, about 2 hours. Remove from baking dish and sprinkle salt flakes over top. Cut into 1-inch pieces. Wrap each candy in a piece of wax or parchment paper.
*Note: You can use more sugar if you want, up to 1/2 cup extra was suggested in the original recipe. However, I think these are perfectly sweet as is and don't need more sugar to hide the flavor of the citrus.