I'm back! After my posting spree the past few weeks life caught up with me and I didn't really have time to blog on some dishes I'd prepared. The next week will probably be a bit slow again, so I wanted to remind you guys that I'm still here. Hopefully I'll get back on the bandwagon of regular cooking/posting very very soon...

Anyways, I think I've discovered my new favorite food: caramelized onions.

OK- maybe not my favorite food. And not by themselves. But using them in dishes, like this savory tart I made, is absolutely amazing! Their deep flavor and sweetness just adds that little extra something that makes a dish extra special. (I also saw my roommate recently used them on pizza- what a genius idea.)


You know what else made this dish amazing? Roasted cauliflower... and cheese... and butter... and my brand-spanking new tart pan.
What a great way to break in my new tart pan- with an unbelievably good tart.
First things first: prepare the crust.
Now I'm going to warn you: this crust was a bit of a failure for me. In the end it tasted fine, but it just never came together. And there was something that struck me wrong with having to KNEAD a butter crust. (I've seen enough of Alton Brown to have a gut feeling that the crust wouldn't be oh-so-flaky)
Who knew it also wouldn't roll out without falling to pieces?
So what's a girl to do? Well, I just kept rolling it out until it was ~12" across (pieces and all).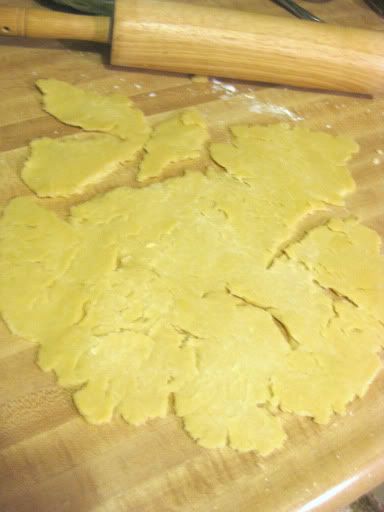 Then I just put the puzzle pieces together in the tart pan...
... and used my fingers to smush it all together into one solid crust (and poped it into the fridge).
Phew! Crisis averted.
Luckily the rest of the tart was a piece of cake in comparison.
All I had to do was roast the cauliflower and caramelize the onions. Easy peasy. The onions do require a little bit of patience and care though, but it's an easy process. (I used
this tutorial
as a general guide on how to properly brown onions).
See how they get deeper and deeper in color?
Sooo delicious. Wanna bite?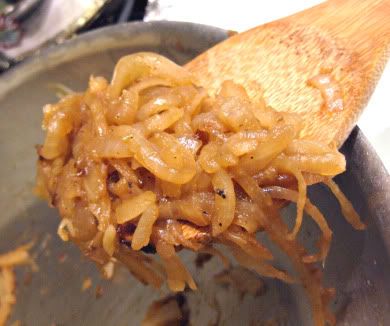 Once everything is done it's time to assemble the tart.
The recipe calls for some dijon mustard on top of the crust. I used it, but only 1/4 of what it called for since I'm not a dijon-y fan. I couldn't taste it at all, so next time I might consider using (almost) the whole amount.
After the mustard layer the onions and cauliflower.
Spread out the mixture, carefully cover with the milky/cheesy/eggy mixture and top with parmesan cheese.
Note: this isn't super eggy though, not like a quiche. It's much more creamy- I'd assume the eggs just help it all bind together.
Don't spill!
A little trip in the oven. Look how toasty and delicious!
And the crust wasn't a complete failure!
I ate my slice for dinner with a big 'ole salad, so I wouldn't feel TOO bad about eating all that fat-ass ness.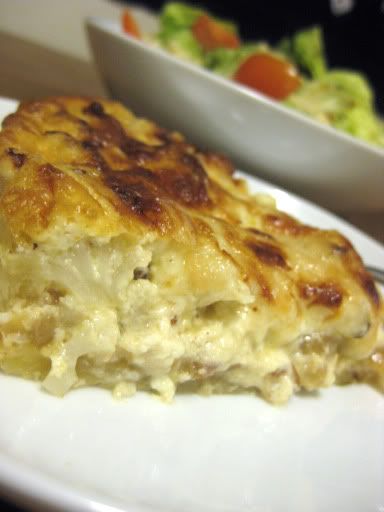 But can I say, as much as I don't want to know the health content of this dish, it was worth EVERY single calorie. You know those dishes that make you go "mmmmm" from the first bite to the last?? This is absolutely one of those dishes. Along with my
potato dish
, another one of my newest favs.
Buen Provecho,
Jackie
Caramelized onion and cauliflower tart, from Smitten Kitchen
1 pound of cauliflower cut into 1-inch flowerets
3 1/2 tablespoons olive oil
1 tablespoon truffle oil or a few pinches of truffle salt (optional, see notes below) (Note: I didn't have this so didn't use it)
1 refrigerated pie crust or a homemade tart shell (recipe below)
1 large onion, halved lenghtwise and thinly sliced
1 tablespoon Dijon mustard (I used 1/4 TBSP)
2 large eggs
1 (~8 ounce) container mascarpone cheese
1/2 cup whipping cream (although any low- or full-fat milk or light cream will work as well) (Note: I used 2% milk)
1/4 teaspoon ground pepper
Pinch of ground nutmeg
1 cup grated Gruyère cheese (Swiss or Comté are great swaps)
1/3 cup Parmesan cheese
Position rack in center of oven and preheat oven to 425°F. Toss cauliflower with 2 tablespoons olive oil in large bowl. Spread on rimmed baking sheet, sprinkle with salt and pepper and roast 15 minutes before turning florets over and roasting until brown and tender, another 10-15 minutes. Cool cauliflower then chop into slightly smaller florets. Drizzle with truffle oil or sprinkle with truffle salt, if using. (See notes below about these ingredients.) Reduce oven temperature to 350°F.
If using store bought pie crust, press it onto the bottom and up the sides of a 9-inch diameter tart pan with removable bottom. Line crust with foil, fill with pie weights and bake 20 minutes. Remove foil and weights then bake until crust is golden, about 5 additionally minutes. Press crust back with the back of a fork if bubbles form. Cool crust and maintain oven temperature.
[When using the homemade tart crust (recipe below), it does not need to be par-baked. It is thin and rather dry so it bakes up pretty crisp. Store bought pie doughs are a little bit softer, so the par-baking keeps it from getting soggy.] Note: I'd suggest trying another savory tart recipe since I had so many issues with this one. But I'll include the recipe below if you're interested.
Heat remaining 1 1/2 tablespoon olive oil in a heavy large skillet over medium-low heat. Add onion, sprinkle with salt and pepper and cook until onion is a deep golden brown, stirring occasionally. This will take ~30-40 minutes. Cool slightly.
Use a knife or brush to spread the bottom and sides of crust with mustard. Spread onion over crust. Arrange cauliflower over the onion. Set the tart on a rimmed baking sheet (to protect against leaks). Whisk eggs, mascarpone, cream and pepper in a medium bowl. Stir in Gruyère. Pour mixture over filling in tart pan, sprinkle with Parmesan. Bake until tart is golden and center is set, about 40 minutes. Transfer to rack and cool 15 minutes before serving.
Do ahead: Onions can be caramelized, dough can be parbaked (or rolled and pressed into pan, if homemade) and cauliflower can be roasted a day ahead. Store a parbaked crust at room temperature, a rolled-out unbaked crust and cauliflower and onion in the fridge. Cauliflower and onion should be kept in separate containers. Whole tart can be made and baked a day in advance, reheated in a low oven before serving.
Note from Smitten Kitchen:
About that truffle oil: You know me, right? I abhor fussy ingredients and truffle oil, although wildly popular everywhere outside my kitchen, is at the top of that list. It's just not my thing. It is expensive, it is synthetic (chemically produced truffle essence), it has a very loud flavor that covers everything around it (aren't cauliflower and caramelized onions delicious enough?) and while I invite you to use it on this tart (reviewers on Epicurious seemed to love it) I can promise you that you will love the tart with or without it.
What I used instead: The single fussy ingredient in the Smitten Kitchen is a jar of truffle salt I bought an eon ago, before I soured on excess for the sake of itself, and that I fell for because instead of being truffle flavored, it actually has flecks of truffle throughout (something like 40 grams of air-dried and crushed black truffle for every 100 grams of sea salt). Seven years later, my bottle is still three-fourths full because the smallest pinch over a dish (or whisked into vinaigrette, oh you must) and your dish (and your fingers) are delightfully truffled without the truffle flavor shouting over anything else. In this dish, I nixed the salt as I roasted the cauliflower and sprinkled truffle salt over it at the end. The truffle flavor was subtle, just the way I like it. If you're looking to buy your own, Amazon still has it for the same price I paid back then.
A Great Savory Tart Shell
Adapted from Le Pain Quotidien
This doesn't need par-baking to keep from getting soggy and barely shrinks in the oven. Sold!
1 1/4 cups flour
1 tablespoon plus 2 teaspoons cornstarch
1/4 teaspoon salt
6 tablespoons butter, diced
1 egg
In a large bowl, combine the flour, cornstarch and one-fourth teaspoon salt. Cut the butter in with a pastry blender, fork or two knives until it is in very tiny bits. Add one egg and mix with a fork until a dough forms. If this does not happen easily, toss it out onto a counter and knead it together. This dough is rather tough but with a little elbow grease, it does come together nicely (although mine never quite came together...) Dough can also be made in a food processor, or as the original recipe suggests, in a stand mixer, though I have not tested in in the latter.
On a lightly floured surface, roll the dough out to a 12-inch circle. Place the dough in a 9-inch pie plate or tart pan and press to remove any air bubbles. Crimp the edges, and refrigerate for 30 minutes. Proceed with a filling of your choice, no parbaking required.