It's "winter" here in California, so although everyone in Chicago would kick my a$$ for saying it's cold over here, it IS cold.

Freezing? No.
Cold? Yes!

I live in a place now with what I like to call "diet seasons." We still have a rainy, cooler winter that nicely juxtaposes with our warmer (sometimes hot) summertime. And just like back home in Chicago, my food cravings mirror the weather outside.

In the winter I'm drawn to comfort food. Recipes for thick soups and stews are instantly attractive to me. Which is probably why I made this roasted vegetable soup less than a few weeks after first reading about it.

Before I continue, I highly recommend that blog I found the recipe on. Tartlette's photos are AMAZING- and her suggestion to pair the soup with polenta croutons is something that I think, in hindsight, would be a great idea. (I just made the soup sans topping...)

The soup, with a few of the roasted onion scraps still stuck to the baking sheet.

The great thing about this recipe is how simple it is.
Turnips, cauliflower, onions and garlic (along with some oil, salt and pepper) go onto a baking sheet. (The recipe also calls for potatoes but I think I spaced and just never used them. Ahhh well.)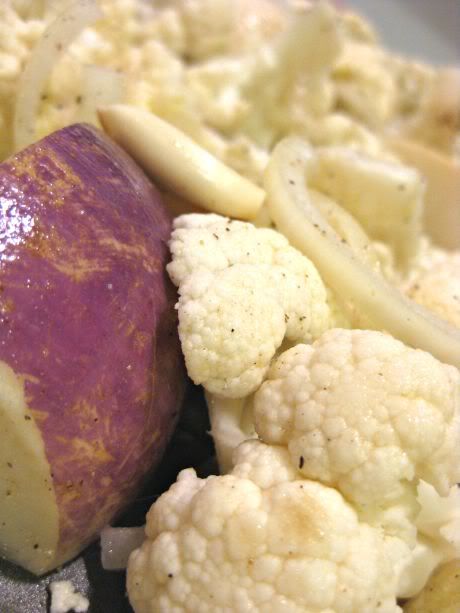 Then magic happens in the oven. The vegetables roast and get a hint of color to them (they probably could have been roasted longer).
There's just something about
roasted (and grilled) vegetables
. I literally could have eaten the entire tray straight from the oven.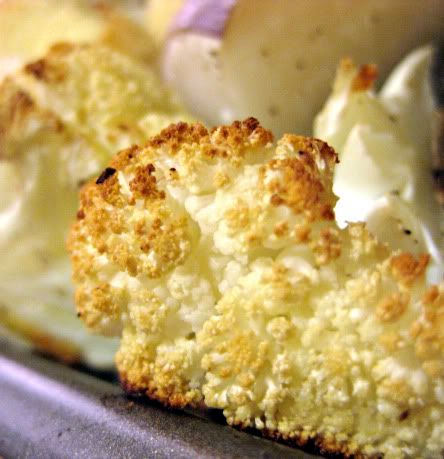 But alas, I was making soup this time. So after roasting I transferred the veggies to a pot and added chicken stock (feel free to use water or veggie stock) and pureed with an immersion blender (feel free to also use a regular blender as well).
I found the amount of water called for in the recipe was not quite enough. After 1/2 cup the soup had the texture of mashed potatoes, definitely not watery enough for soup (see picture below).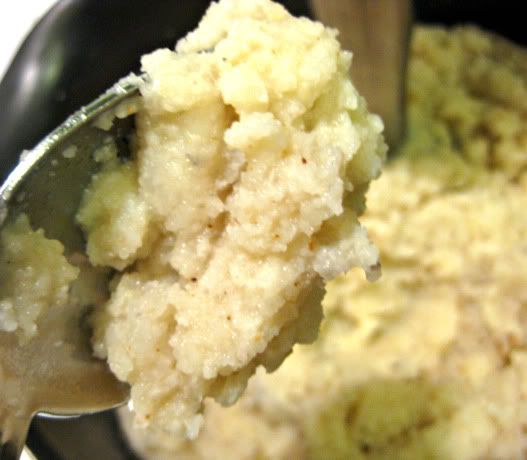 So if you'd want- this soup could actually be served straight up as a side dish (in lieu of mashed potatoes). To make it more soup-like, add broth until you're at the desired consistency.
So what was my final verdict?? The soup was great, but my feelings are a little mixed.
Don't get me wrong: the dish itself was delicious. Super, super good. But I think because I LOVE roasted vegetables (especially cauliflower) so much, that pureeing it after roasted seemed to take a little bit of the roasted deliciousness out of it.
To put in into math terms:
roasted cauliflower (is greater than) steamed cauliflower
pureed roasted veggie soup (is greater than) pureed veggie soup from steamed veggies
but...
roasted cauliflower (is greater than) roasted veggie soup
Perhaps it's also because I didn't make something with a little bit more flavor to accompany the dish (like the
polenta croutons that Tartlette recommends
). I did however top the soup with some of the roasted onion scraps that were stuck to the baking pan. Oh my, it was my best idea of the night!
Those onions were freaking amazing! They kinda made the soup for me, I wish I had more to top the soup with. Next time I'll just make a separate batch of thinly sliced roasted onions to use as a topper. Their caramelized sweetness was the perfect complement to the creamy and subtle soup.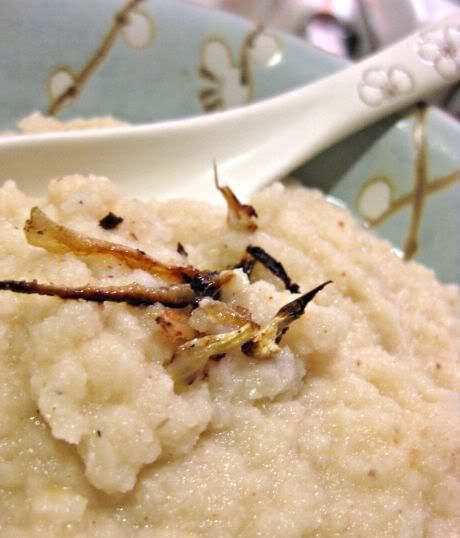 So I'd definitely make this soup again, but next time I'll either make extra onions or croutons to go on top.
Buen Provecho,
Jackie
Serves 4 to 6
1 head cauliflower, broken off into small chunks
4 small-medium turnips, quartered (unpeeled)
4 cloves of garlic, smashed with the back of your knife
4 baby onion (or 1 small onion), sliced lengthwise
2 small potatoes (which I think I forgot to use. whoops...)
2-3 tablespoons olive oil
salt and pepper
1/2 - 1 (or more) cup water (or chicken or veggie stock)
Ideas for garnishes: flavored sea salts, herbs,
croutons
, drizzle of oil (olive, almond, avocado, pumpkin - your preference), caramelized onions.
Preheat the oven to 375 F. Place all the vegetables on a baking sheet or in a pan in one single layer and drizzle with olive oil. Season with salt and pepper. Roast until golden brown, about 30-40 minutes. Let cool to room temperature.
Transfer veggies to a pot and add 1/2 cup water or stock and puree in a blender or with an immersion blender. Check if the consistency and seasoning are to your liking and adjust accordingly.
Serve with croutons and garnishes of your choice.